Hill BJP MP 'hurt' by Dilip comment on CAA
'Gorkhas are with the BJP and the GNLF is very much our ally. The Gorkhas who live in India need not to worry'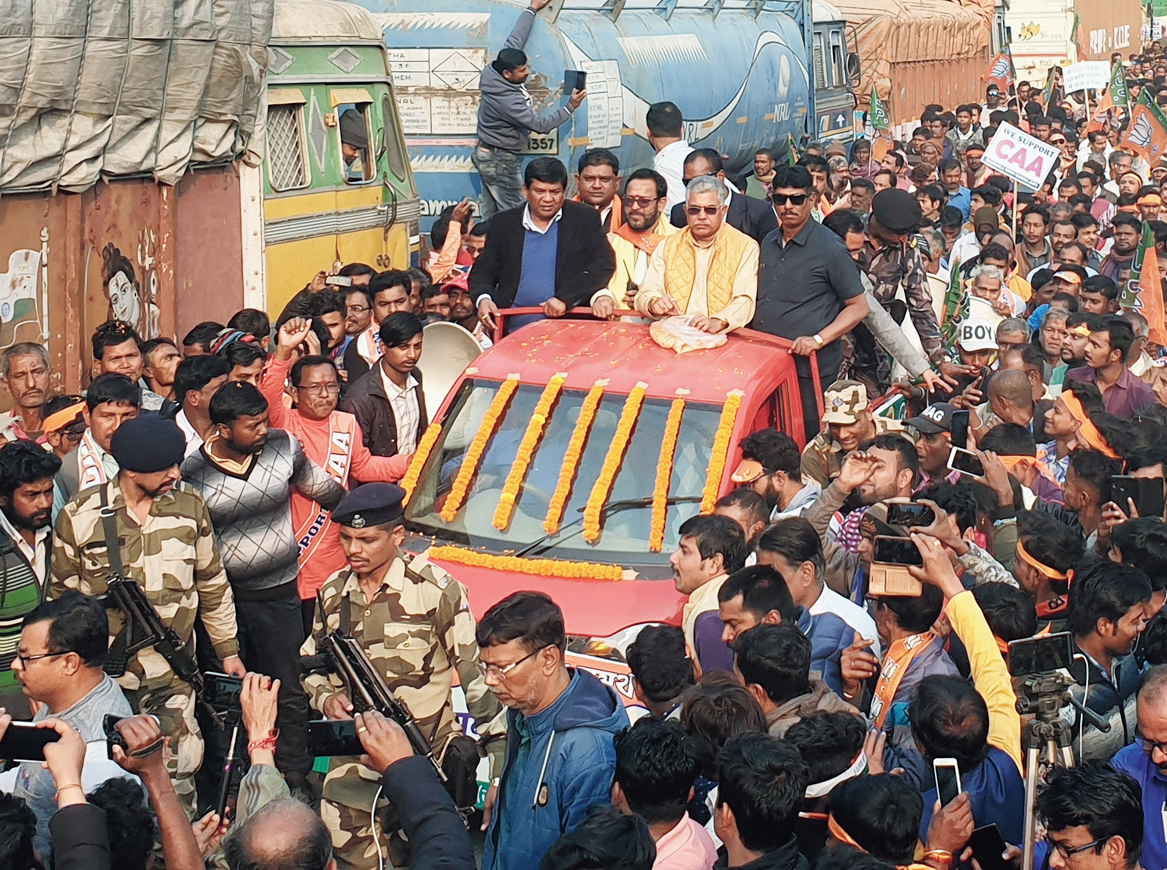 ---
|
Siliguri
|
Published 25.01.20, 06:40 PM
---
Bengal BJP president Dilip Ghosh has said Gorkhas needn't to be worried about the CAA and they are protected by an "old treaty with Nepal", inviting a barrage of criticism from Darjeeling parties and even local BJP MP Raju Bista who said he was "hurt" by and "not at all comfortable" with the statement.
The Gorkha National Liberation Front, an ally of the BJP in the Darjeeling hills, had recently said the Citizenship (Amendment) Act, National Population Register and the National Register of Citizens were "unjust and oppressive" for the Gorkha community.
Asked by journalists about the GNLF's statement, Ghosh said in Siliguri on Friday: "Gorkhas are with the BJP and the GNLF is very much our ally. The Gorkhas who live in India need not to worry. We have an old treaty with Nepal and whoever came from Nepal are safe and are Indians. The CAA is not for them but for minorities of other countries like Pakistan, Bangladesh and Afghanistan."
"The Gorkhas should not feel frightened and they should not believe Trinamul and its stooges. There are 1.25 crore Gorkhas in India and all of them are safe," he added.
According to certain provisions in the Indo-Nepal Friendship Treaty 1950, free movement, residence and involvement in trade by nationals of India and Nepal are allowed in each other's country
The hill parties believe the privileges granted by the treaty lead to the Gorkhas in India being termed as "immigrants" from Nepal and always demand their abrogation.
The GNLF and the Bimal Gurung camp of the Gorkha Janmukti Morcha, which are allies of the BJP, strongly condemned Ghosh's statement. The Gurung camp even suggested that Ghosh first read the history of Gorkhas in India before making any comments.
Darjeeling MP Bista said he, too, was "hurt" and "not at all comfortable with his (Ghosh's) statements".
"I can understand and empathize with the outrage shared by our people over the statement made by state president Dilip Ghosh ji yesterday (Friday). I am hurt and not at all comfortable with his statement, which has the potential of labelling all Indian Gorkhas as having come from Nepal," reads the MP's statement.
Bista said Ghosh's reference to the 1950 treaty had "left Gorkhas like me feeling aggrieved and irate".
Bista went on: "I want to remind our senior party members that Gorkhas are Bhumiputra-Bhumiputri (sons and daughters of the soil) and indigenous to the region, and our nationality as Indians is not because of Indo-Nepal Friendship Treaty of 1950, but because of the fact that Gorkhas have been a part of our nation for as long as our nation has existed."
Bista also said he would meet BJP national president J.P. Nadda to discuss a "proper communication protocol" when it came to addressing any Gorkha-related issue. "I will also be submitting documents detailing Gorkha history, so that everyone who speaks on Gorkha related issues on behalf of the Government or the party is clear about the historical, geographical, social and cultural details of our community," added the MP.
A few weeks ago, another statement by Ghosh on the 2017 statehood agitation had sparked off protests in the hills.