Give us this year our daily bread
Bengal's beleaguered handicrafts and handloom sector awaits rescuing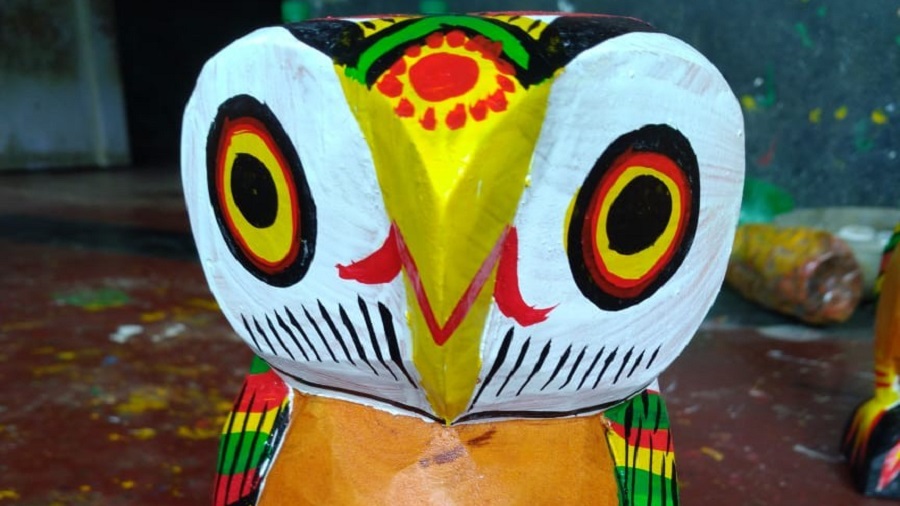 TOUGH FIGHT: Artisans are grappling with the double whammy of Amphan and corona-induced lockdown
Sourced by the Telegraph
---
Published 18.10.20, 01:43 AM
|
---
Bablu, 88, lives in Dhaniakhali, a weavers' town in West Bengal's Hooghly district. In his considerably long life he has seen many things, but nothing has prepared him for this virus onslaught. "Markets have been down for a long time. But I have never seen such a lockdown," he tells The Telegraph.
Typically, Durga Puja is when Bablu and his ilk make earnings for the entire year, but this time it is going to be different. Last year, in the run-up to the Pujas, Bablu had woven 1,000 Dhaniakhali saris, traditional cotton weaves with red or black borders. This year he has woven a few hundred. "Nothing on order," clarifies the man who has a wife and a college-going son to feed and support. What will he do with these saris? "When the trains start running, I will take them to shops in Calcutta," he replies. His team of weavers has dispersed with other jobs. Says Bablu, "Some are working as cooks, some are helping out on the farms or at one of the construction sites."
"The lockdown has driven nails in the coffin that is Dhaniakhali... And to think that the place has one of the oldest cooperatives of handloom weavers; it was set up in 1944," says Kasturi Gupta Menon, who is the honorary president of the Crafts Council of India (CCI) and former development commissioner, handicrafts, in the ministry of textiles.
According to Sujata Goswami, who is the executive director of Sarba Shanti Ayog — a platform of the fair trade NGO, Sasha — "The impact has been enormous and disquieting as this sector [handicrafts and handloom] is the second largest provider of employment in India." She adds, "Small artisans and producer groups do not have the financial cushion to hold through such a crisis." By producer groups she means community-based groups and entrepreneurial units that are run by artisans.
With the traditional markets (fairs, festivals) and contemporary ones (retail places) almost totally closed, the artisans have had minimal cash sales. Says Goswami, "Wholesale buyers are not yet in a position to place new or volume orders. Typically, orders are planned much in advance as the usual lead-time required to complete a production cycle is two to four months."
Sasha has tried to support producer enterprises by settling payments and dues, and also by providing working capital support so they can pay the artisans wages.
Uttam Bhaskar, a woodwork artisan from Kalna, had supplied a six-foot Ravana to the CCI a year ago. He had crafted three-foot Durga, Radha Krishna and Ganesha idols too. Today, he doesn't have the wherewithal to complete a single big order. Says Uttam, "I don't have the cash to buy wood from Nabadwip."
Like the council and Sasha, Biswa Bangla — the state government enterprise to promote textile and handicrafts of the state — has tried to re-strategise. A lot of it involves tying up with e-commerce platforms. Even so, according to Snehasish Sarkar, Biswa Bangla's COO, the brand has been able to achieve only half the business brought in by the brick-and-mortar stores.
Ranjit, who runs a sari shop in Nadia district's Phulia, is waiting for the local trains to start plying. He turns the tap on his list of woes, "We have just about managed to recover from Cyclone Amphan. Trees had fallen, the room where my loom was located was in a bad shape. Now we are confronted with transport issues." Ranjit has tried his hand at online sales, but in that he is the exception, not the rule.
"We are definitely thinking of going online but we have so little manpower," says Nandini Mahtab of Bengal Home Industries Association. And while there are one-off efforts — private enterprise Paramparik Karigar is holding webinars for karigars and hosting online exhibitions for them — as former secretary of CCI Nandita Pal Choudhury points out, "There is a general lack of dynamism where handholding of artisans is concerned."
This year, according to the almanacs, Ma Durga arrives on horseback. Sign of an embattled year ahead; but then everyone including the artisans knows.