Online platform launched to sell local products
Bid to boost business of Karma Tirtha at Raghunathpur ahead of Durga Puja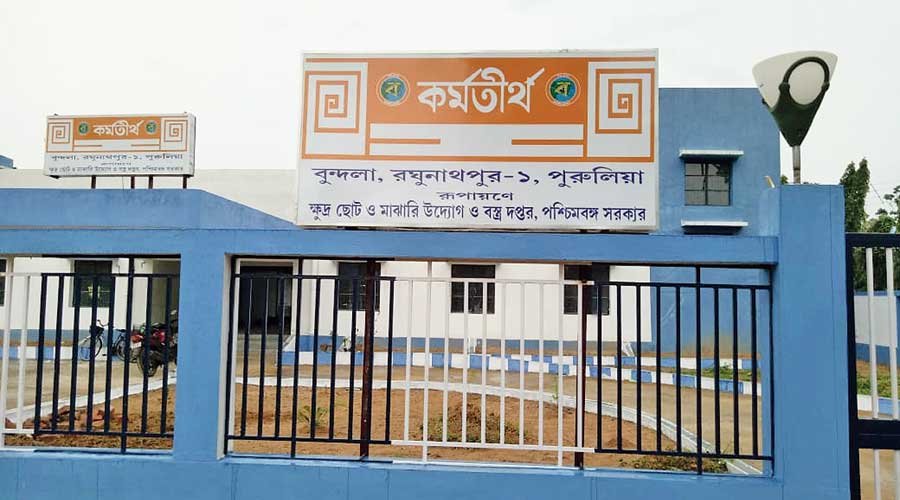 ---
Purulia
|
Published 15.10.20, 04:16 AM
|
---
The Raghunathpur subdivisional administration has launched an online platform to sell the products made by local artisans and entrepreneurs under the Bengal government's Karma Tirtha programme.
The move comes in the wake of repeated efforts by officials to revive economic activities at 175 Karma Tirthas across Bengal in the lead-up to the Puja season. The businesses at such markets have suffered during the lockdown. "We have received explicit orders from state government officials to improve the sales at Karma Tirthas before the Puja," said a Purulia district official.
The Bengal government began setting up Karma Tirthas in 2014 for local entrepreneurs and artisans to advertise and sell their products in each block. Most of the Karma Tirthas are one or two-storey marketplaces accommodating 20-25 stalls.
"We have started the online initiative with the Raghunathpur block and plan to connect with others in our subdivision. A mobile application — also named Karmatirtha — would help the people of Raghunathpur buy different products, including groceries and apparels," Raghunathpur subdivisional officer Divya Murugesan said.
Most of the Karma Tirthas, set up at a cost of around Rs 500 crore, were not functional till recently. "Many Karma Tirthas are situated at deserted places or away from residential localities. As a result, traders were not willing to hire the stalls even for free. However, the state government recently asked us to make all Karma Tirthas functional as soon as possible. It is a challenge for us as we need to ascertain good business for the traders," said a district magistrate in south Bengal, adding that the administration had started hiring delivery boys for online purchases on a commission basis.
"We are campaigning in localities and on social media about the online sale of products at the Karma Tirtha in Raghunathpur," added SDO Murugesan.
Raghunathpur has 26 stalls and the sales figures have not been great even if they were better compared to other Karma Tirthas in the district. "Raghunathpur is a subdivisional town and there are many people who are savvy with online marketing. We are hopeful that the online platform will be successful. If the response is good, we will tag 19 other Karma Tirtha in our districts with the online platform," Purulia district magistrate Rahul Majumdar said.
The traders who operate out of the Karma Tirtha in Raghunathpur said they were expecting better sales online in the run up to Durga Puja.
"Our sales have come down as customers stopped visiting our stores because of the Covid-19 pandemic. It would be better if our products are sold online," said Animesh Mishra, a cloth merchant having a stall at the Karma Tirtha in Raghunathpur.
Sources in the Trinamul Congress said the Opposition parties had recently targeted the ruling party for forfeiting a revenue source because those large trade buildings were lying unused.
"It is important to make the Karma Tirthas functional as the Assembly elections are just a few months away. We need to show that the initiative of the government did not go in vain," said a Trinamul leader.
At a few Karma Tirthas in districts like East Burdwan and Birbhum, rooms have been distributed to small-scale entrepreneurs.
"It is not that all Karma Tirthas are away from populated areas. In those cases, we are asking traders to use the stalls as their workshops for tailoring or making jam or jelly. It would be better if online trade is available there too," said an official in East Burdwan.