Ganga washes away mosque, 30 homes in Malda district
Residents lamented the destruction of the mosque, locally known as Jama Masjid of Lalutola, which was over 100 years old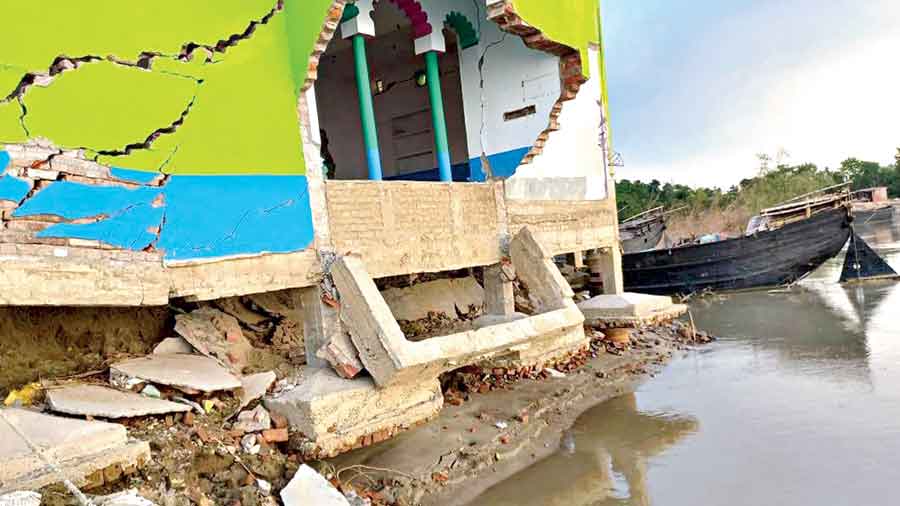 The mosque that was washed away by the Ganga at Lalutola-Bhimagram in Kaliachak 3 block in Malda on Sunday.
Soumya De Sarkar
---
Malda
|
Published 27.09.21, 12:52 AM
|
---
An old mosque and around 30 houses were washed away by the swollen Ganga in Lalutla-Bhimagram village of Kaliachak-III block of Malda district on Sunday morning.
Residents lamented the destruction of the mosque, locally known as Jama Masjid of Lalutola, which was over 100 years old.
The homeless have shifted to other areas. 
The area is located under Birnagar-I panchayat in Baishnabnagar Assembly constituency. During the past few months, erosion has become acute in almost all villages of Birnagar-I and there is fear that the entire panchayat area would be eventually swallowed by the river.
Ainul Haque, the muezzin of the mosque, said the old building had got dilapidated. 
"In 2014, we reconstructed the main building by spending around Rs 8 lakh. But today (Sunday), we lost the mosque," said Haque.
He said that one-and-half months ago, a portion of the mosque had got damaged as the Ganga had eroded away some land.
"We had thought of carrying out repairs around that time and we had been continuing our prayers at the mosque. But today (Sunday), around 9am, the Ganga suddenly started eroding land. Soon, the building of the mosque developed cracks and eventually, it was gobbled up by the river as we helplessly watched the scene unfolding in front of us," he said.
"I have lost around 10 bighas of land owing to erosion earlier but never felt so sad like I did today (Sunday)," added the muezzin.  
The erosion caused by the Ganga also made the residents shift to safer places as it took away around 30 houses, leaving families homeless.
"The erosion continued for around four hours during which we lost our house. We don't know what to do now. Our families are sitting under open sky with some belongings that we could salvage in a hurry," said Biren Mondal, an erosion victim.
Alamgir Sheikh, a farmer who lost his house, said this year from a prosperous farmer he became a penniless man. 
"Since May this year, I lost my entire farmland of around 30 bighas. And today (Sunday) I lost my house. It is because of this relentless erosion that I am penniless," he said. 
"In future, what other option do I have other than work as a daily-rated worker?" asked Sheikh who added that he has a family of seven to feed.  
Officials of the block administration said they are keeping tabs on the situation. 
"The representatives of the local panchayat have been asked to shift the affected families to shelters and will provide them with relief materials. The administration is in touch with the Farakka Barrage Project Authority and the state irrigation department. Once monsoon ends and the water levels recede, anti-erosion work will commence in the affected stretches," said an official.