Fewer trawlers to set sail in search of the prized hilsa
Costly fuel, poor catch on the minds of fishermen as deep marine fishing season resumes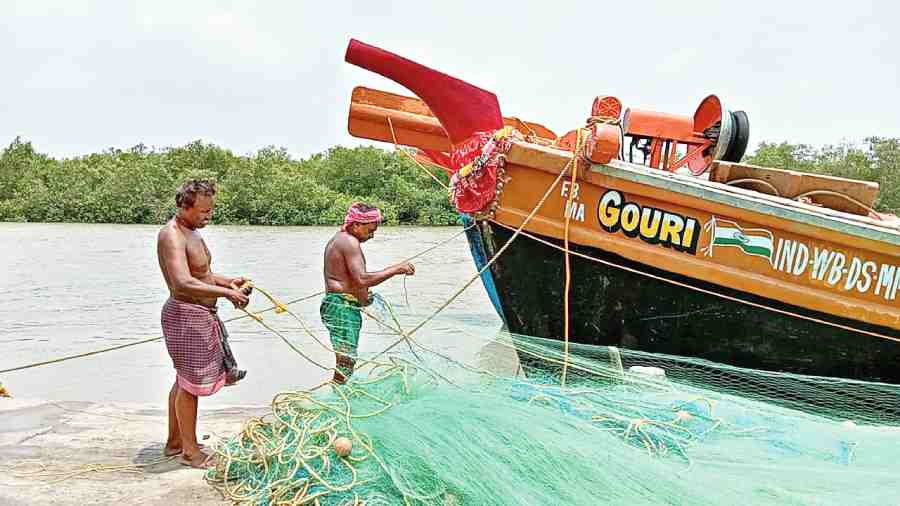 Hilsa fishermen with their trawler in Fraserganj of South 24-Parganas on Tuesday.
Picture by Hedaytulla Purkait
---
Calcutta
|
Published 15.06.22, 12:58 AM
|
---
High diesel price, coupled with low hilsa catch in the past two years, is weighing heavy on the minds of fishermen as deep marine fishing season resumes on Wednesday.
Only some 4,000 of 8,000 trawlers in Bengal from both South 24-Parganas and East Midnapore districts will set sail in search of the prized hilsa on Wednesday when both the state and central governments lift the annual ban on fishing in rivers and the sea. The annual ban is enforced from April 15 to June 14 every year to help hilsa breed.
In 2019, fishermen caught 25,000 metric tonnes of hilsa during monsoon, which dropped to 5,000 tonnes in 2020.
The fisheries department is yet to tally the hilsa catch of 2021, but officials feel the number is lower than of 2020.
"It will take some time to calculate the total yield of hilsa in 2021. But I can confirm that it was lower than 2020 as a large number of fishermen could not take part in fishing as Cyclone Yaas (in May last year) had severely impacted their lives," said a fisheries department official.
"This year, only 50 per cent of trawlers will venture into the sea on Wednesday as most fishermen don't want to risk another year of loss. The price of diesel has gone up more in one year and the losses suffered in the recent past because of low yield of hilsa have left fishermen wary," said Satinath Patra, secretary of the Sunderbans' Samudrik Matsyojibi Shramik Union.
Sources said diesel costs Rs 92.74 a litre and a medium-sized trawler needs fuel worth Rs 1.20 lakh a week to move across the Bay of Bengal. So if fishermen of a trawler don't return with a hilsa catch worth around Rs 2 lakh, it is a huge loss to the team.
"We faced a huge loss in 2021 by investing in the hope of a good hilsa catch. We don't want to risk our money again. If the price of diesel had dropped, I would have set sail this year," said a trawler owner in Kakdwip, explaining his caution.
Officials of the fisheries department also admitted that a little over half the trawlers will venture into the sea in search of hilsa.
"Fishermen are facing a dual crisis because of high diesel price and low hilsa yield in the past years. If they can catch hilsa in good numbers, they will invest in fuel," said Jayanta Pradhan, an assistant director of fisheries (marine) in South 24-Parganas.
Pradhan said only 2,500 of around 4,000 trawlers in South 24-Parganas would set sail on Wednesday.
Fishermen in East Midnapore also said a large number of trawlers will not go fishing on Wednesday.
"We will wait and watch. We want to see the yield this year before hitting the sea," said Shyamsundar Das, secretary of the Digha Fishermen and Fish Traders' Association.
As a measure of safety on sea, the state fisheries department has advised fishermen to go "group fishing". This, the government feels, will enable fishermen to help each other in a crisis.
Fishermen have been advised to set sail in groups of at least six trawlers so that they can support each other in case of an accident and save lives.
Fisheries official Pradhan said: "We have ensured strict safety measures with the support of fishermen's organisations. No boat should carry more than 15 fishermen. A boat must have a distress alert system.
"These are over and above the advice for group fishing. Very often boats sink when hit by tidal waves. This endangers the lives of fishermen but other boats nearby will help in the rescue."
However, the logistics of the advisory seem easier said than done as fewer trawlers are going out for fishing.
"Last year, we could catch only around 10 per cent of the expected hilsa haul and many fishermen suffered huge losses.... This time they want to see the trend first and then set sail. As the number of boats will be less, the government advisory for group fishing will be difficult to follow," a trader said.