Eye on weather
Meteorological department opens observatory in Sector V, reports Jayanta Basu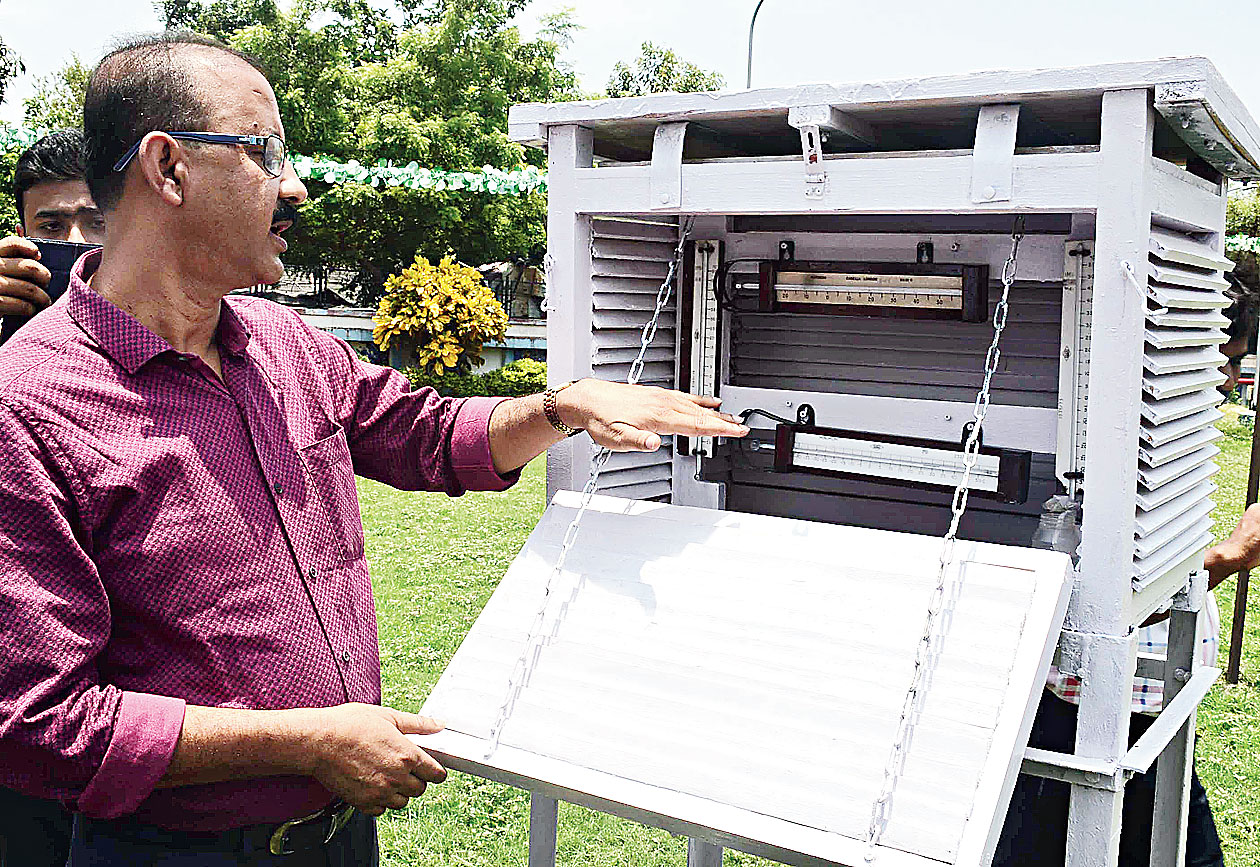 India Meteorological Department deputy director Sanjib Bandyopadhyay explains how temperature is measured at the opening of the station on Tuesday
(Saradindu Chaudhury)
---
Calcutta
|
Published 14.06.19, 01:33 AM
|
---
Is Salt Lake cooler than Calcutta; or will Salt Lake and Rajarhat receive significant rain during next monsoon? Officials will be in a better position to know answers to such important weather queries henceforth, thanks to a new weather station which has just opened in Sector V.
On Tuesday, Salt Lake got a weather observatory under the India Meteorological Department (IMD) — the third one in Calcutta metropolitan area after Alipore and Dum Dum. While Alipore's weather observatory is the oldest in the country, being founded in 1877, Dum Dum was set up in 1939 mainly to assist the air traffic in Dum Dum airport. Inputs from various weather observatories are used to make weather forecasts along with data received from satellite and other sources.
The observatory, formally christened Meteorological Observatory Salt Lake, will measure all weather parameters as are done in any standard observatory — maximum and minimum temperature, humidity, rainfall amount and intensity, wind speed and direction, surface pressure, sunshine being the main ones. The observatory has been set up within the Positional Observatory Centre in AQ Block in Sector V.
"This is an important addition to our infrastructure. The Salt Lake observatory will help us assess and understand the variations in weather parameters at micro level, particularly in rainfall pattern," explained Sanjib Bandyopadhyay, deputy director, IMD, Calcutta.
Bandyopadhyay pointed out that rainfall often shows a localised trend and is difficult to accurately track from distant observatories. Earlier, Salt Lake's weather used to be predicted by inputs coming from Alipore and Dum Dum stations but now, scientists of IMD claim, the inputs from new centre will lead to more accurate prediction of the weather in the Salt Lake and Rajarhat region. "Given the opportunity, we want to set up more observatories in West Bengal. We already have at least one observatory in each district," he said.
"We normally set up a station with approximately a 50km radius coverage area. In 1937, when the last station came up, it was considered adequate enough for wider Calcutta as there was not much population in the Salt Lake area. But the situation has grossly changed in the last 80 years with rapid urbanisation and population rise in this zone, and under such circumstances we are looking forward to observatory coverage area of around 20 km radius," explained another weather scientist with whom The Telegraph Salt Lake spoke.
"I welcome the new weather station in Salt Lake. We expect more pointed forecasts from now on which will help us prepare and combat better various weather events like rainfall and likewise in Salt Lake Rajarhat area," said Bidhannagar Municipal Corporation mayor Sabyasachi Dutta. He further added that Salt Lake often fell prey to thunderstorms, leading to mass falling of trees. "Prediction will stand us in a better state to counter such situations," the mayor said.
Environmentalists point out that the extreme weather events, especially high intensity storms and rainfall, are generally on the rise due to climate change and a local observatory in Salt Lake is expected to benefit both the local administration and people in terms of quicker and more accurate prediction in case of such weather events.
"With Sector V being planned to be our own Silicon Valley, a local weather station will definitely contribute significantly in planning and countering major weather events in the area, particularly in the era of rapidly changing climate and weather pattern," said Arunava Majumdar, emeritus professor of School of water resources Engineering, Jadavpur University, and a resident of AA Block.