Evacuation woes at Calcutta Medical College
Bedridden patients were forced to climb down stairs and some had to bank on relatives to carry them out to safety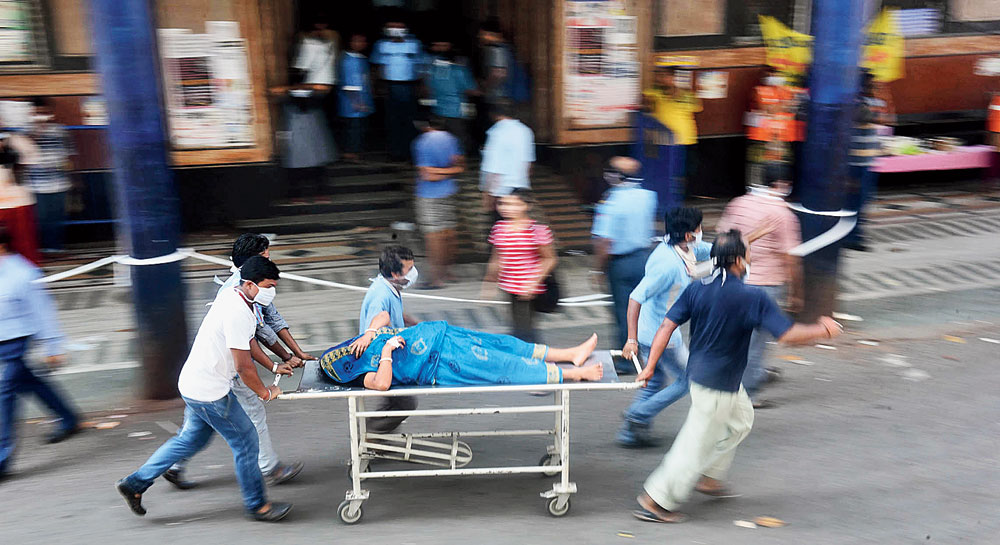 ---
|
Calcutta
|
Published 03.10.18, 09:44 PM
---
Bedridden patients were forced to climb down stairs and some had to bank on relatives to carry them out to safety when a fire broke out at Calcutta Medical College and Hospital on Wednesday.
Many alleged hospital employees weren't around to help them. Neither nurses nor Group D staff were of any help because "they were themselves confused", patients' relatives alleged.
They claimed there were a handful of trolleys and most were occupied by more than one patient being wheeled out of the ICU.
Most of the patients who were on the first, second and third floors had to be carried or forced to walk to avoid being choked by the smoke.
"I had trouble finding out those who could fetch trolleys because there was chaos all around," a patient's relative said. "We did not waste time... we lifted our sister and brought her down to the ground floor."
She remained on the metalled road for half an hour before being shifted to the Ezra Building.
Shukla Sharma, whose husband Sanjay Sharma had been operated upon on Monday, alerted the nurse-in-charge in the ICU about the fire. She said she was charging her mobile phone in the corridor outside the ICU when she spotted smoke billowing out of the ground floor.
The fire had broken out on the ground floor of hospital's MCH Building.
Shukla, a resident of Rishra in Hooghly, said for a moment she couldn't understand what to do since her husband was not in a position to move.
"I was running around looking for help. Luckily, I found two hospital employees but I had to plead with them to arrange for a trolley," she said.
"A 62-year old patient, Kalpana Bhattacharya, was on the bed beside my husband's. They put the two of them on a trolley and took them to the Ezra Building," she said.
The trolley was taken down the ramp at the rear of the building. "I just wonder what would have happened if I was not around to help my husband. Who would have pleaded with the employees?"
It was Sharma who had alerted Swarup Banerjee, the nephew of Kalpana Bhattacharya, about the fire and the subsequent evacuation.
Swarup Banerjee came from Baidyabati in Hooghly to see his aunt.
Both Sanjay Sharma and Kalpana Bhattacharya were shifted back to the ICU in the MCH Building late in the afternoon.
Some patients, though, said guards and Group D staff helped them.
Jayanta Sanyal, the deputy superintendent of Calcutta Medical College and Hospital, however, denied the allegations. "The allegations are baseless. The rescue went without any disruption.
"Trolleys and wheelchairs were available in adequate numbers to shift the patients. The fact that we did not have any casualty proves how well we served the patients. There was damage to the medicine stock."