Elephants change route, damage paddy in parts of East Burdwan
The district, also known as the "rice bowl" of Bengal, traditionally yields high volumes of paddy in the start of the winter months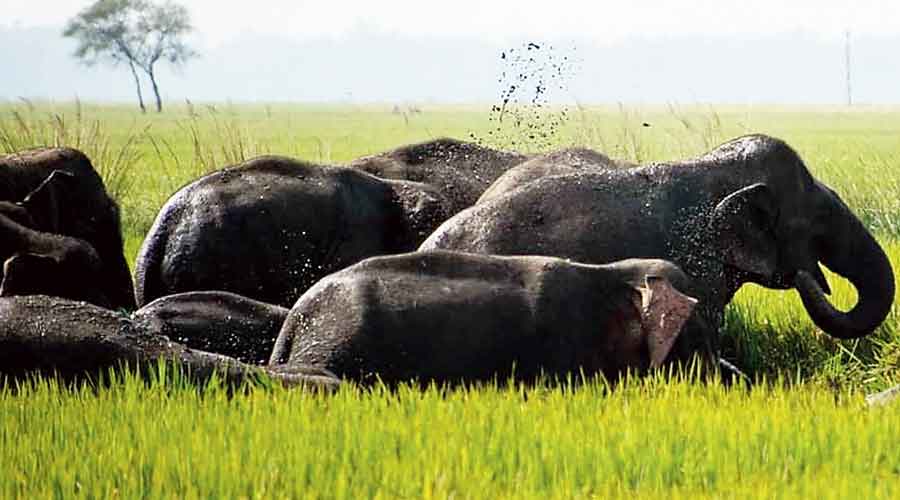 Some of the elephants in East Burdwan's Billogram on Thursday.
Pictures by Munshi Muklesur Rahaman
---
Bolpur(Birbhum)
|
Published 12.11.21, 04:30 AM
|
---
 A herd of 49 elephants, including calves, ravaged paddy farms in parts of East Burdwan on Thursday. 
Forest officials said the herd had charted an "unorthodox" route compared to earlier years, making it difficult to restrain them.
East Burdwan, also known as the "rice bowl" of Bengal, traditionally yields high volumes of paddy in the start of the winter months.
The district is not even listed as an elephant-prone area.
However, the unpredictable behaviour of the elephants compelled the foresters to bring in at least three teams of experts from Bankura and West Burdwan to enable the jumbo herd to venture towards Ausgram in Birbhum.
"It was an unusual route for elephants to follow. According to the latest update, the animals are now in the Ausgram area. We have to send them back to Bankura as there is no other alternative route for them. All forest divisions and the police and administration are helping us to handle this unprecedented situation," said Nisha Goswami, divisional forest officer of East Burdwan.
Sources in the forest department said the herd originally comprising 79 elephants had come from Dalma in Jharkhand and halted in Bankura's Patrasayar for a month. Foresters were unable to drive them towards Midnapore, the usual elephant corridor, reportedly because there were at least two newborns in the herd.
A part of the herd comprising 49 elephants had started moving towards East Burdwan's Galsi after crossing the rivers Shali and Damodar and had reached East Burdwan by Thursday morning.
"The herd travelled at least 25 km through paddy fields and finally reached Ausgram, a place opposite to their usual route. Our teams are working hard to manage the animals and send them back to their actual destination," said a forester in East Burdwan.
Foresters said the usual route of elephants from Dalma is through Midnapore and parts of Jhargram.
"There are around 2,700 elephants in the Dalma range of Jharkhand and many herds come in search of food every year, but go back to Dalma as our staff move them on. The question is how the elephants moved towards East Burdwan. Earlier, one or two elephants had entered East Burdwan but never in such large numbers," said a senior forest official.
On Thursday evening, a group of villagers attacked a team dedicated to driving away elephants and manhandled at least five members of the team purportedly angry over crop damage in Ausgram.
"Our first priority is to send the herd back to Bankura and ascertain that no loss of life should take place. We will assess damages later," said Priyanka Singla, East Burdwan district magistrate.
In Bankura's Patrasayar, a group of farmers blocked a  road protesting the huge damage of paddy and vegetables by elephants on Thursday morning.
Elephant dies
Foresters located the body of a male elephant at a paddy field in the Nayagram range of Jhargram. Sources said prima facie it had been suspected that the 11-year-old elephant was electrocuted but the post mortem had nullified the hypothesis.
"The death was not the result of electrocution and it has been confirmed after the post mortem. We will send the samples to Calcutta for further research to ascertain the cause of death," said Shivanand Ram, DFO, Kharagpur.