Jumbo calf reunited with herd after straying into human habitat
It has been accepted by the mother elephant along with others, but still foresters are keeping watch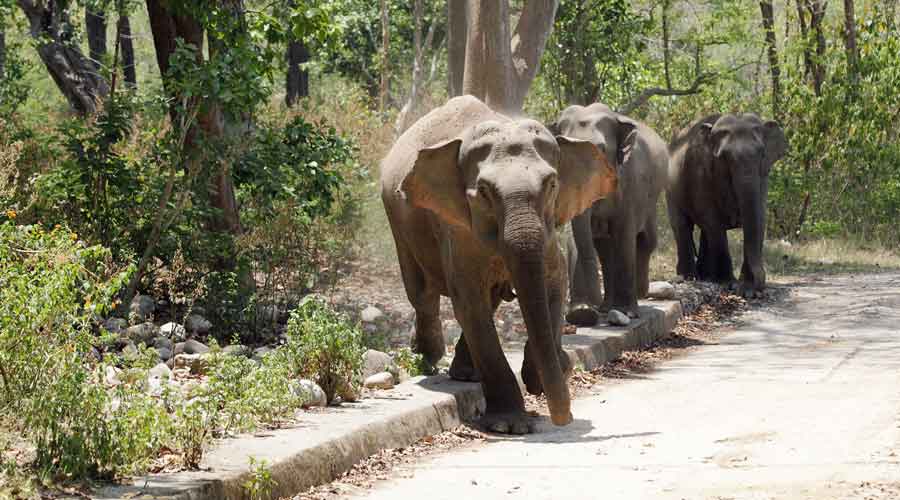 Representational file image
---
Alipurduar
|
Published 17.08.22, 01:00 AM
|
---
An elephant calf, which got separated from its herd and strayed into a human habitat in Alipurduar district on Tuesday, was successfully inducted back to the herd by foresters after hours of toil.
The calf has been accepted by the herd, but still foresters are keeping watch.
Sources said that this morning, a female elephant calf, aged around a year, got separated from her herd and entered Uttar Latabari village under Nimati Range of Buxa Tiger Reserve (BTR) (west) division.
As news spread, hundreds gathered for a glimpse of the calf that roamed through the village. After a while, a team of foresters reached the spot.
"The elephant calf was scared and dehydrated. Our men caught the animal, took her to a nearby forest area and gave her water and food. A health check-up was done. In due course, the calf recovered," said a forest official.
Foresters took up the task to locate the herd. Around 1pm, the herd was spotted at Gudamdabri area of the BTR.
Foresters bathed the calf and smeared her with elephant dung and mud. "It is common practice so that other elephants can't ascertain that she had come in contact with humans. Usually, if a calf comes in contact with humans, the herd doesn't accept the animal," the forester added.
The calf was then put on a vehicle and taken to a spot near the herd and released a little before 2pm.
"The animal ran towards the herd. Our men watched the situation. Eventually, around 2.30pm, the calf's mother and other elephants accepted her. The herd started moving from the spot with the calf. We are monitoring their movement," said a forest officer.