Durga Puja 2019: Rain fails to dampen festive spirit on Dashami
Farewell for some, revelry on for others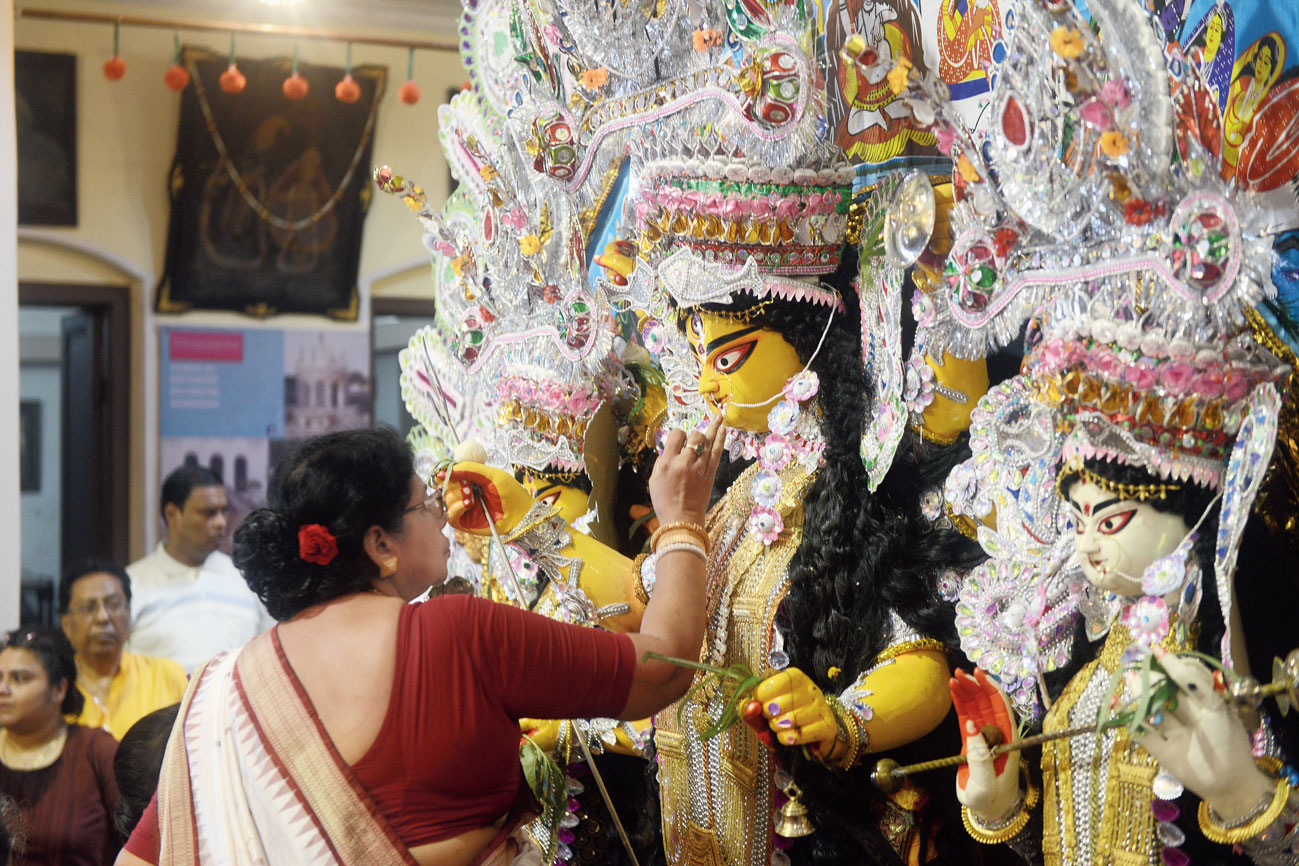 ---
|
Calcutta
|
Published 08.10.19, 06:50 PM
---
A steady stream of people headed towards different Durga Puja pandals in the city on Dashami. Even the sporadic evening showers in parts of the city could not dampen the sprit of many revellers across the city.
Traffic crawled near the big-ticket pujas as men and women dressed in their puja best refused to yield to the bad weather in the evening.
A police officer said there was a steady stream of pandal-hoppers in some of the pujas across the city. There were, however, no long queues of visitors unlike on other days. Some preferred to stay home after the spell of evening rain.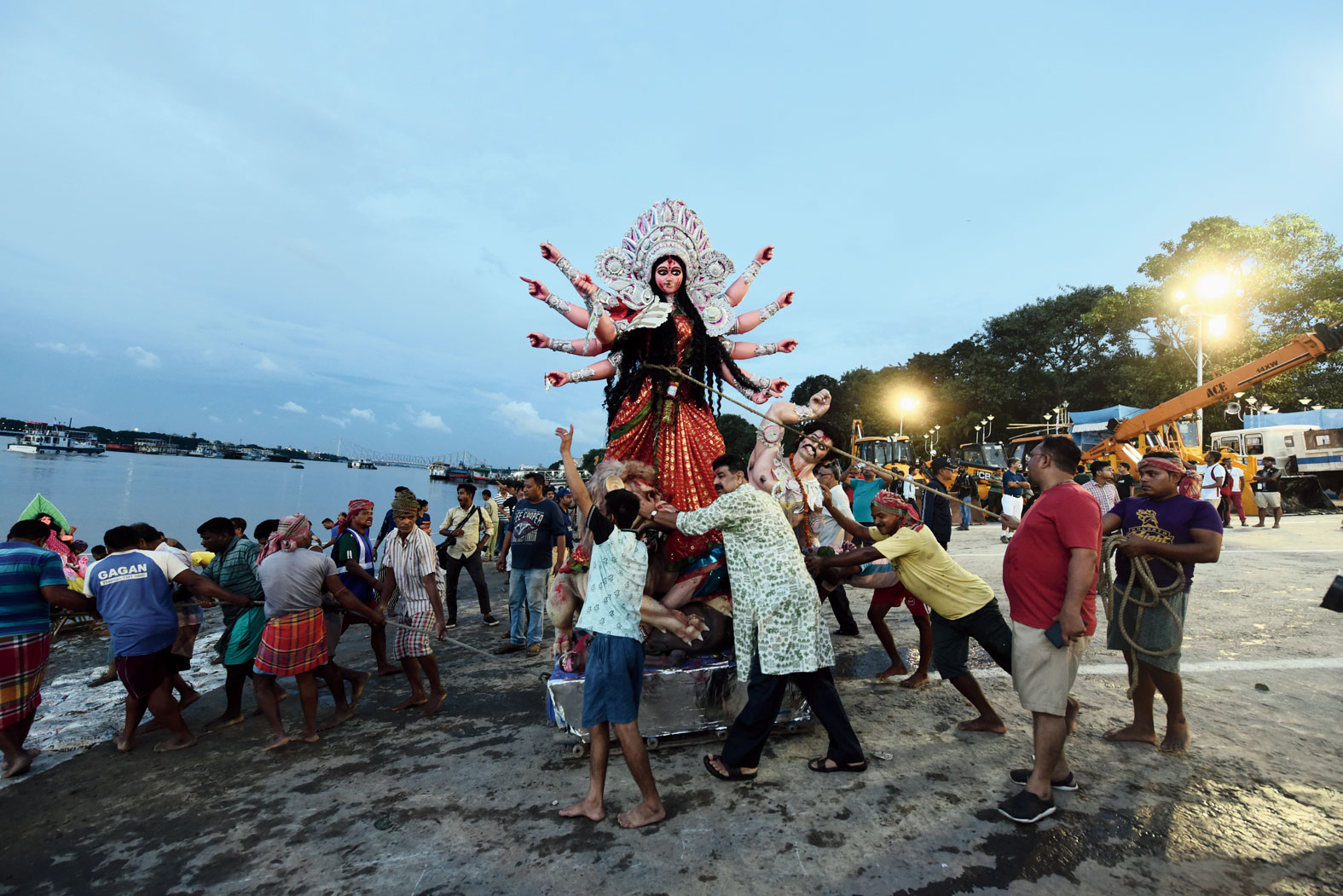 Some of the pandals that received a good number of visitors on Tuesday were Ahiritola Sarbojonin and Jagat Mukherjee Park in north Calcutta, the officer said. In south, Naktala Udayan Sangha and Babubagan had a good number of visitors.
"We clamped restrictions on a case-to-case basis. We allowed autorickshaws to go in front of the pandal of Ahiritola Sarbojonin in the afternoon. But from late afternoon, we had to stop autos from going closer to the pandal as the numbers of revellers increased," said the officer.
Subhojit Sarkar, a resident of Tollygunge, said that although he had seen all the big puja pandals in south Calcutta, he could not enter some because of huge crowds.
"You can't skip pandal- hopping just because it's raining," said Sarkar, 37, outside Chetla Agrani in the evening. Sarkar, who works for an IT firm in Sector V, had come in a large group.
"We entered a restaurant when it started raining. By the time we finished our meal, it had stopped raining and we happily stepped out again," Majumdar said.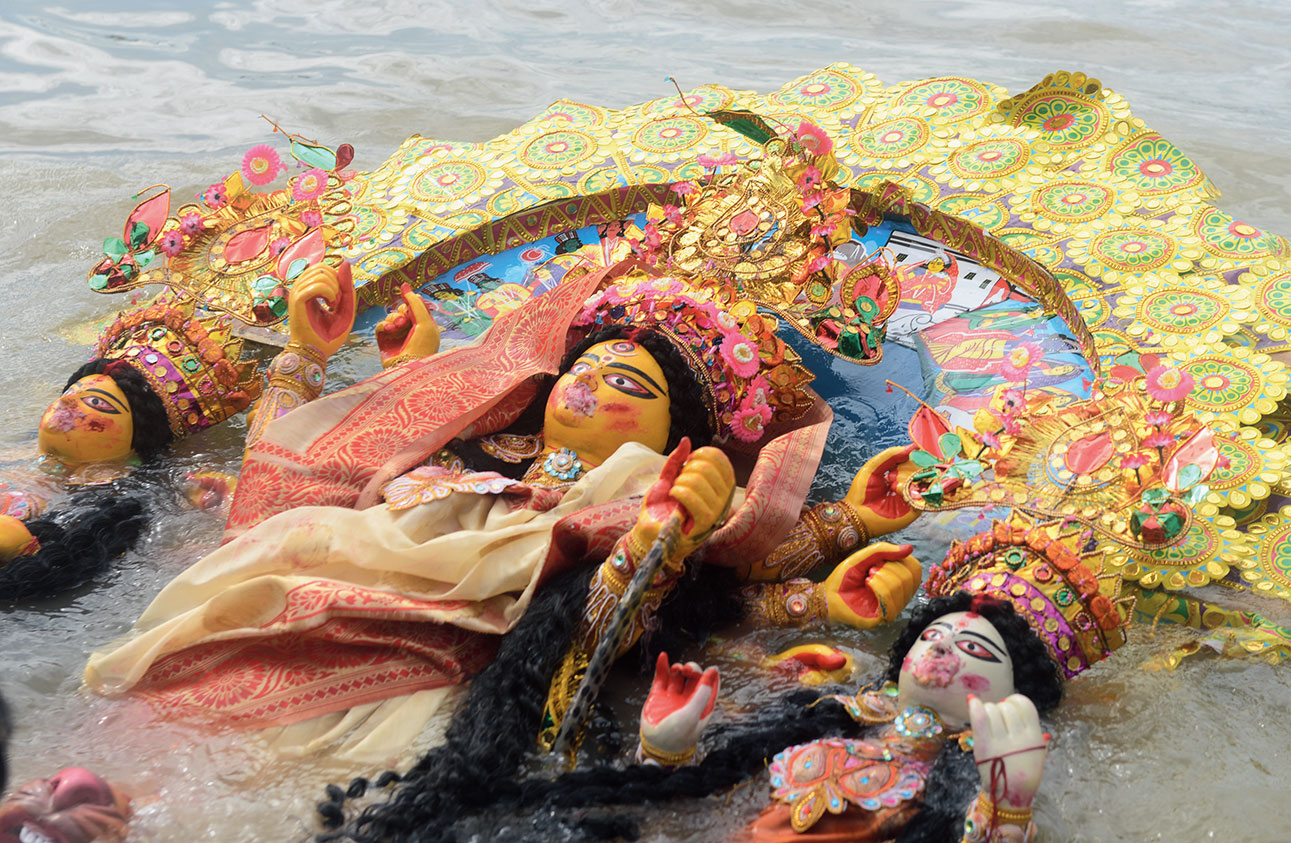 On their must-see list were Deshapriya Park, Tridhara Sammilani and some other pujas off Rashbehari Avenue.
It mostly rained in pockets on Tuesday. Around 7.30pm, Chandni Chowk experienced a sharp spell, while Baje Kadamtala Ghat on Strand Road, just 2km away, was dry. Areas like Dum Dum, Ultadanga, Ballygunge, Salt Lake and parts of north and central Calcutta also received rainfall.
Cars that were moving slowly along VIP Road signalled that the Sreebhumi pandal was near. In front of the pandal, many came to a halt even as traffic policemen and puja volunteers had a tough time directing them towards the designated parking lots.
Once inside, people whipped out cellphones and tried to take photos and groupfies with the pandal and the idol in the backdrop.
"Coming here is almost a ritual for us. This time I came after sindoor khela," said Oishi Chakraborty, a New Town resident. Another group said they could spend more time than usual in pandals because there were fewer people.
"We had come here on Ashtami but our driver could not find place to park our car. Today, it was a breeze," said Lalita Chatterjee, a homemaker from Lake Gardens.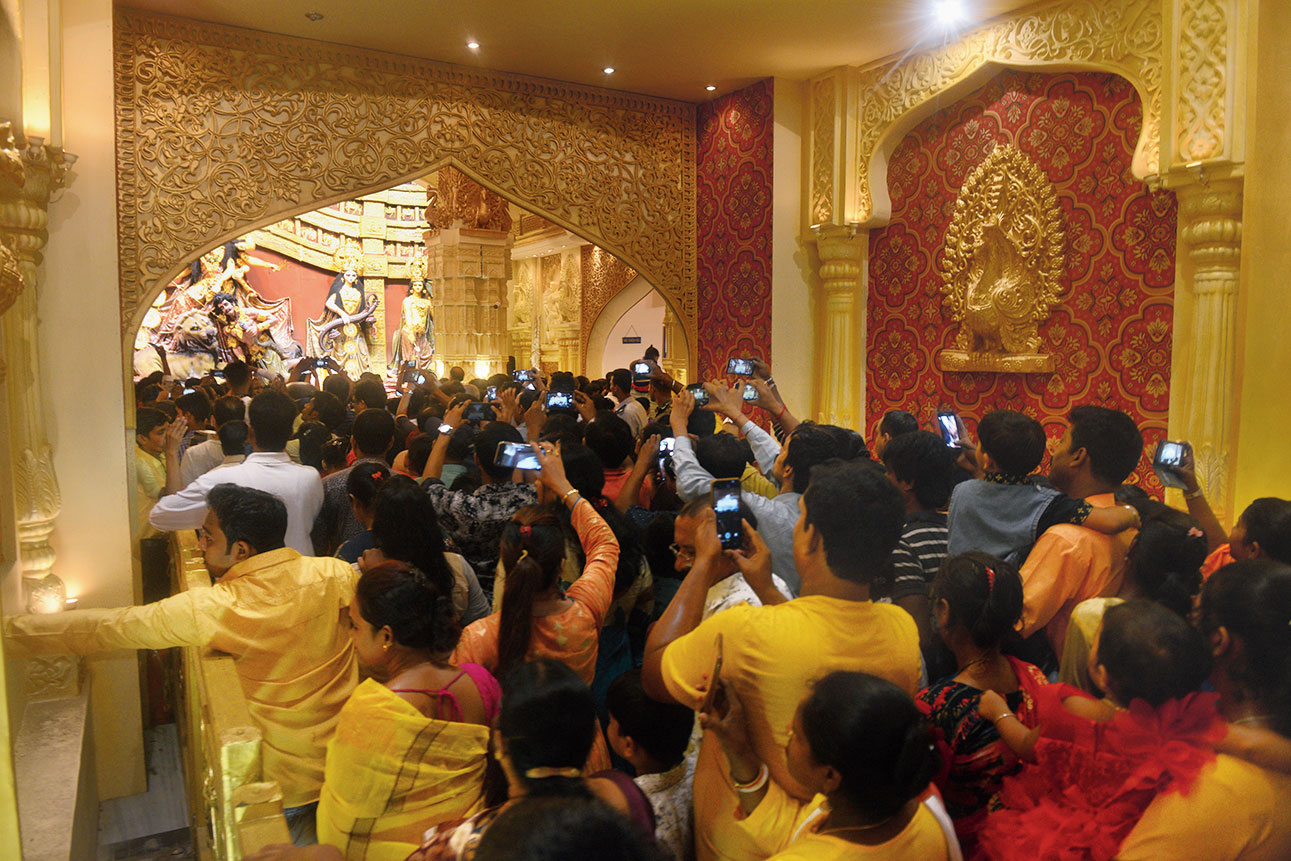 Deadline for idol immersion
A Staff Reporter
All Durga Puja organisers must immerse their idols by Friday, barring the ones that have been invited to the "carnival" on Red Road, police said.
Tuesday was the first day of immersion. A senior official of the Calcutta Municipal Corporation said 15 ghats along the Hooghly river, which fall in the area under the civic body, are open for immersion. These include Baje Kadamtala ghat, Doi ghat, Nimtala ghat and Judges ghat.
"Friday is the last day for immersion for all pujas. The deadline is Saturday for those pujas that have been invited to the Red Road carnival to be organised by the state government," the officer said.