Driver-BSF impasse halts trade between India and Bangladesh
On Monday, too, a meeting on the same issue ended in a stalemate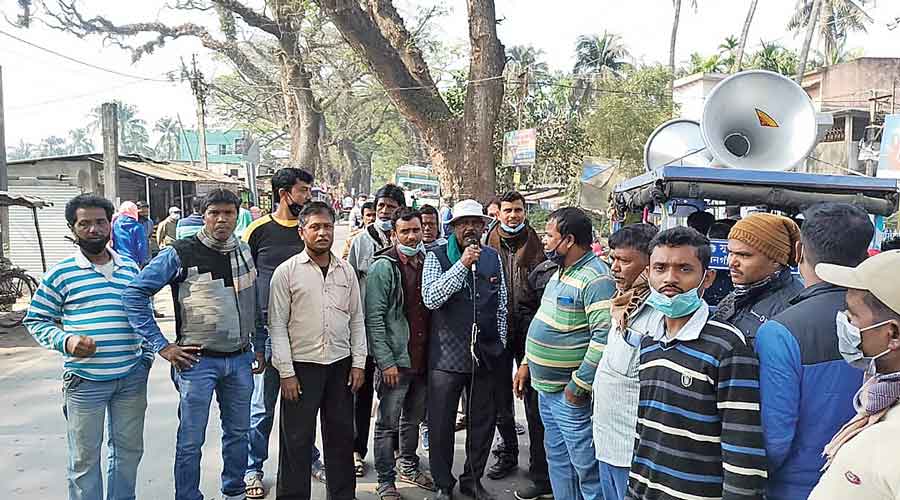 Transporters, drivers and clearing agents demonstrate outside Petrapole land port on Tuesday.
Chanchal Pal
---
Calcutta
|
Published 02.02.22, 01:42 AM
|
---
The row over a ban on access to drivers of export-bound cargo vehicles without a valid licence inside the Petrapole land port stayed unresolved and bilateral trade with Bangladesh was suspended for the second consecutive day on Tuesday as talks between the government agencies and labour unions ended inconclusively on Monday night.
BSF authorities last month decided to ban access to some 87 local drivers of export-bound cargo vehicles as it found their driving licences were fake. During the meeting that followed at the Land Ports Authority of India (LPAI) office at the port, the transporters and drivers' unions requested at least six months to regularise driving licences and other documents of vehicles, but the BSF authorities offered only one month.
On Monday, too, a meeting on the same issue ended in an impasse. Union representatives quit the venue, protesting the alleged highhandedness of BSF authorities.
As a result, transporters' and unions of drivers, clearing agents, and labourers ceased work from Monday and continued it on Tuesday, demonstrating outside the land port to accuse BSF authorities of harassing drivers.
Hence, around 1,000 cargo vehicles were stranded at the parking lot and outside the port. The pause intrade is estimated to incur huge revenue loss, Customs sources said. Petrapole is the largest land port in South Asia and accounts for around 60 per cent of bilateral trade between India and Bangladesh. The volume of trade through Petrapole during 2020-21 stood at Rs 15,771 crore.
Transporters and drivers have accused the BSF of creating disruption in trade.
"Renewal of driving licence and regularisations of documents of vehicles could not be done amid the pandemic. So, we appealed to the BSF authorities to give us six months to regularise our papers. But, unfortunately, the BSF officers at the meeting blatantly refused our appeal. This will ultimately affect the trade through Petrapole," said an official of the Bongaon Goods Transporters' Association.
Kartick Chakraborty, secretary of the Petrapole Clearing Agents' Staff Welfare Association, said: "…We sought some time to adapt to the new system and appealed to the authorities to continue with the old system. But they rejected our appeal without trying to realise ground realities."
On January 18, the drivers and transporters had first begun to cease work that suspended export activities. Trade resumed after the LPAI authorities assured to sort out problems within the legal ambit through talks with all  stakeholders.
LPAI manager at Petrapole Kamlesh Saini said: "…Since the issue is linked to national security, it is for the BSF to take the final call."
BSF authorities refuted the allegations levelled by the unions. "They are forcing us to allow their access with fake licences. But they have been categorically told no compromise can be done with national security," S.S. Guleria, DIG(G) of BSF's South Bengal Frontier told The Telegraph.
"There is no question of harassing drivers. We were compelled to take action only after drivers with fake licenses were found. We have told them to get their license renewed. But they are creating problems," a BSF officer of 179 battalion posted in Petrapole said.