Does tribal appeasement equal tribal welfare?
Trinamul's heightened interest in tribal affairs coincides with BJP's strategic interest in the same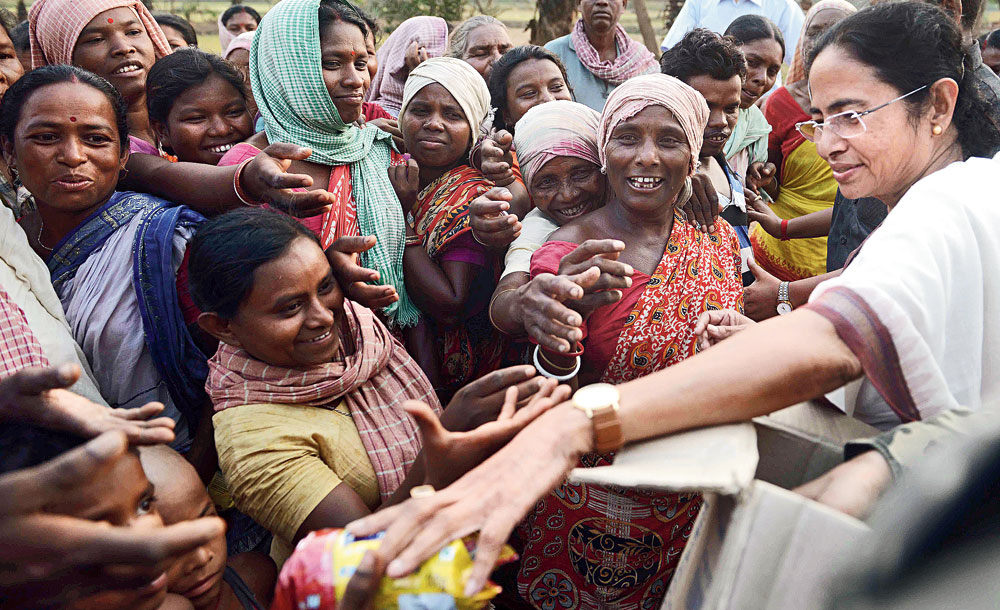 Mamata Banerjee with tribal groups
A file picture by Ashok Majumder
---
Published 20.04.19, 06:44 PM
|
---
Deola Tulu and other villagers of Betkundri in Bengal's Jhargram district are a satisfied lot. They are mostly Santhals. For the last six to seven years, they have experienced government munificence in the form of a slew of schemes — food, education, education for the girl child, old age pension.
In 2013, chief minister Mamata Banerjee said, "Tribal people have many grievances, but they don't know where to lodge complaints to draw attention immediately. Therefore, a separate tribal affairs department will be created just like the minority affairs department and it will remain under me."
S.K. Thade, principal secretary of the tribal affairs department, tells z, "The chief minister has said that every department has to invest 6 per cent of its budget for the development of the tribal people."
There is Shikshashree, a scheme under which tribal students receive a monthly stipend, the Prematriculation Scheme, the Postmatriculation Scheme, the West Bengal Kendu Leaves Collectors' Social Security Scheme. The state government has built Ekalavya Model Residential Schools for SC and ST students in New Jalpaiguri, South Dinajpur, West Burdwan, Purulia, Jhargram town, Bankura and Birbhum. A new one is coming up in Darjeeling.
Laxmi Ratan Shukla, minister of state for sports and youth affairs, talks about an archery academy in Jhargram and a cricket academy that will be inaugurated after the elections. "These academies will have more tribal students compared to other institutions," assures Shukla. Thade points out, "We have trained archers Monika Soren and Suparna Singh. Soren is now in the Indian Olympic team and Singh brought us bronze in the Junior Asian Games." Both Soren and Singh belong to tribal communities.
According to the 2011 Census, West Bengal is home to 52 lakh tribal people. There are 40 groups notified by the government as Scheduled Tribes (STs). Two of Bengal's 42 Lok Sabha constituencies are reserved for STs —one is Alipurduar in north Bengal, which went to polls on April 11, and the other is Jhargram, where polling is slated for May 12. Jangalmahal is the predominant tribal belt of Bengal and it comprises the districts of Bankura, Purulia and West Midnapore. Jhargram and Birbhum also have a considerable tribal population. Between them they have six Lok Sabha seats.
Pulin Bihari Baske, CPI(M) leader and a functionary of the Adivasi Adhikar Rashtriya Mancha, which works for tribal rights and welfare, rubbishes the state government schemes as "vote-bank politics". He says, "The tribal people comprise 6 per cent of the total population of Bengal. In Jhargram alone, the vote percentage of the tribals is as high as 31 per cent. Both Trinamul and BJP are trying to get these votes."
In 2011, alienated by the Left Front government, the people of Jangalmahal made common cause with Trinamul, contributing to Banerjee's historic win in the Assembly elections. Says Kumar Rana, who works with the Calcutta-based NGO, Pratichi Institute, "The disconnect between CPI(M) and the tribal heartland began in the 1980s… It was not just a matter of material deprivation. If that was the case, there would have been a revolt in North Dinajpur and Malda much before Lalgarh. It was more about an unalleviated sense of deprivation, a perception of deprivation."
Today, Trinamul's heightened interest in tribal affairs coincides with BJP's strategic interest in the same. In the 2018 panchayat polls, BJP had done well in Jangalmahal. And this year, when the party is looking to win 23 of the 42 Lok Sabha seats in the state, it makes sense to mine a tried and tested vote bank.
"It is just on the surface," Baske continues his rant against the schemes: "It was the Left Front government that had started the Ekalavya Model School at Jhargram in 2003. It is that same school that is now being run by the Ramakrishna Mission. I myself had started it." His line of defence is indefatigable. He says, "Pension and grants were also given by the Left government. But now many of the earlier schemes are being discontinued. Also, if you ask within the (tribal) community, you would come to know that many students are not receiving the stipends initially given out by the Left Front government. The promise to recruit teachers for Santhali medium schools has also not happened…"
Thade counters with micro details. He says, "During the CPI(M) rule, the amount under the pension scheme was only Rs 500. Now it is Rs 1,000. Also the number of beneficiaries has increased. It is 1.5 lakh instead of 80-90,000 tribal people during the Left rule..."
Sayantan Basu, who is the state general secretary of BJP, frowns at the reference to the state government's initiative of distributing rice and pulses at Rs 2 per kilogram. The initiative has earned Trinamul much praise. But Basu says, "It is the Centre that has given rice and pulses... The first time it (the scheme) came into effect was under Atal Bihari Vajpayee. It was known as the Food For Work Scheme. Later, the UPA introduced the 100 days' work and started giving out foodgrains separately." In Basu's words, "The party has penetrated the tribal belt" through "apolitical organisations" such as the Vanbandhu Parishad and the Akhil Bharatiya Vanavasi Kalyan Ashram (ABVKA), which work at the ground level for the betterment of tribal lives.
Gajanan Bapat, 87, is member of ABVKA. Though he makes it clear upfront that the organisation is not part of the Rashtriya Swayamsevak Sangh (RSS) — "there are only ideological resonances" — truth is, it was formed by Balasaheb Despande, an RSS man. The Bengal branch was opened in 1978. Bapat says, "The RSS builds cadres, we do seva."
He talks about the Shishu Shiksha Kendras, or pre-primary schools, which the organisation runs in 500 villages. These operate out of homes, local clubs, someone's courtyard. ABVKA has built hostels for schoolchildren. At a nominal fee, they get food, lodging and medical support. It also hones local sporting talent, organises competitions. It is from here that the Sports Authority of India selects candidates for further training. Amrit Poira, a social worker from Jhargram, says: "BJP is not trying to catch these votes with schemes; they are trying to influence the Santhalis culturally." The Santhal Jagran Vibhag of ABVKA works for the revival of lost indigenous rituals and cultural practices of these tribals. "As they used to be before they became Christians," clarifies Bapat. Other than that there is seed distribution, digging ponds, training to produce and monetise cow-related products, legal support (through Hit-Raksha) for forest and land rights, medical camps and so on.
The Congress, of course, does not figure in this on-ground tug-of-war for the tribal vote in Bengal. But in its 2019 manifesto, the party has said that, under the Affirmative Action Programme, it will ensure a fair share of government procurement and government contracts goes to SCs, STs and OBCs.
But the moot point is, have living conditions of the tribal people improved? Poira brings up the condition of the Lodha community of Jangalmahal. He says, "This community lives close to the forest. They are hunters and wood gatherers. With civilisation, they have lost much. They don't have lands for agriculture. They live in primitive hutments. The central government provided for toilets, but the basic amenities inside are missing…"
A visit to a Santhal village in Bolpur in Birbhum district brings up a similar image. The state government has introduced several cards to avail food subsidies. Headman Nilu Mardi says, "We do get rice and wheat at subsidised rates. But there are bigger issues — no employment, no money for our farm produce. The rate of school dropouts is increasing. What use are the educational grants for our children if you cannot give them a job?"
In 2018, the Pratichi Institute and the Asiatic Society published a report, "A Preliminary Findings of An Inquiry into the Living World of the Adivasis in West Bengal". It enlists other problem areas — acute food scarcity, premature deaths, instances of violation of the Right to Forest Act, the Right to Education Act, the MGNREGA. There is reference to "the terrible neglect in public delivery of healthcare".
Says Rana, "No political party has ever really wanted to do anything for the tribals. Neither are the tribals empowered and educated to participate in an informed debate about policymaking that will impact them… And in Bengal, at 6 per cent of the total population, that too largely dispersed, the tribal people were never an influential vote bank. That is possibly why the tribals of Bengal are behind the national average on many counts."
The Pratichi report conclusion reads: "Instead of seeing the Adivasis as 'problems', the entire country can be hugely benefited by seeing the Adivasis as co-citizens…" But at election time when political gain is uppermost, tribals may get egalitarian attention; polls done, the tribals become quite another story.