Doctors' strike: Chief secretary Malay De sets ball rolling
De issued a statement detailing the chain of events since Monday night and rolled out a list of steps taken to mitigate the crisis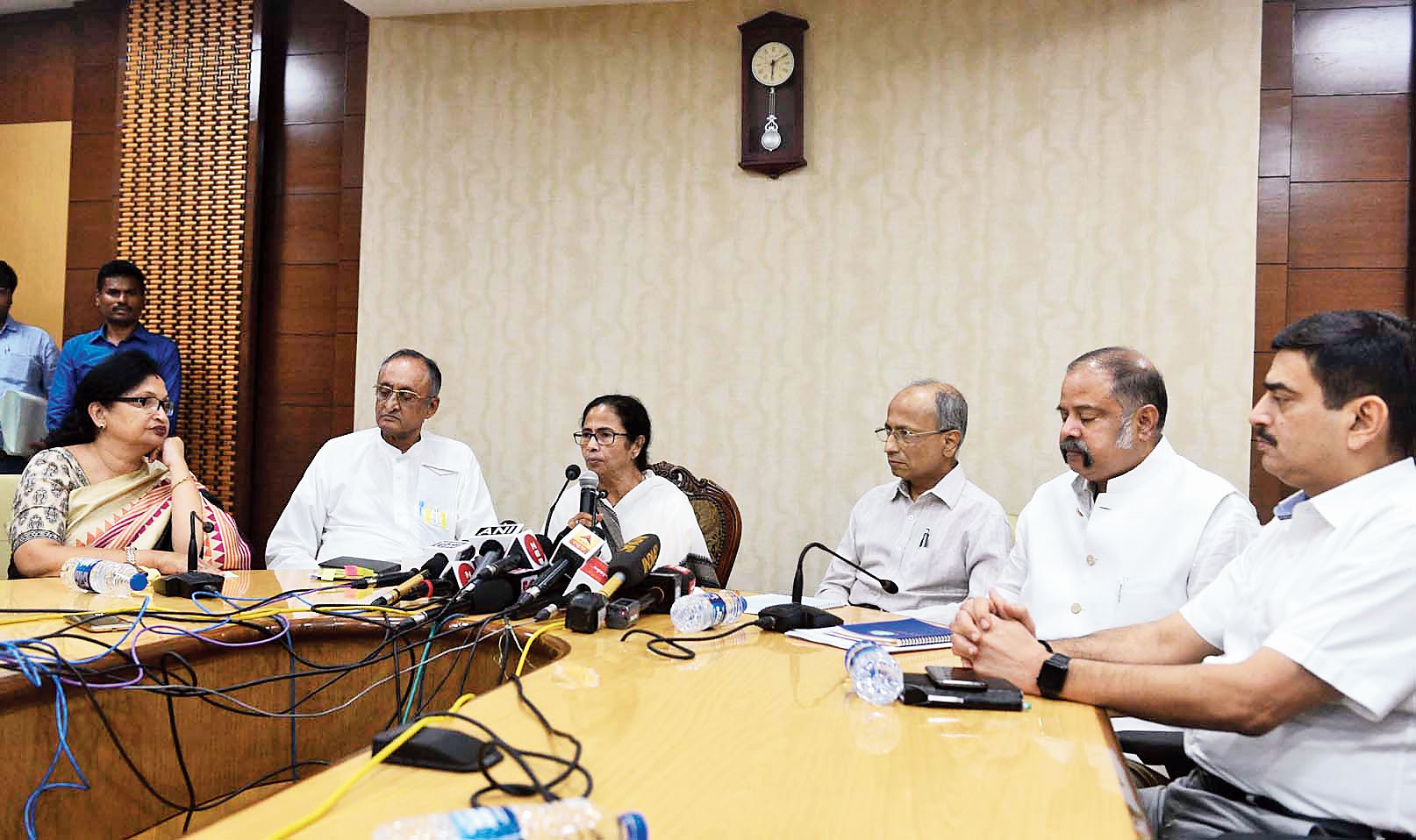 Chief minister Mamata Banerjee flanked by Chandrima Bhattacharya and Amit Mitra (on the left) and Anuj Sharma, Rajiva Sinha and Malay De (on the right) at Nabanna on Saturday.
Picture by Gautam Bose
---
Calcutta
|
Published 16.06.19, 12:24 AM
|
---
Bengal chief secretary Malay De started Saturday evening's Nabanna news conference, addressed later by chief minister Mamata Banerjee.
The move was indicative of her attempt to underscore the importance of De's position and convey the message that the impasse in the state-run medical establishment was essentially administrative and being treated accordingly.
De, who did not take questions, issued a statement detailing the chain of events since Monday night and rolling out a list of steps taken to mitigate the crisis, before appealing for restoration of normality.
"From what we have been given to understand so far is that their main concern is security, so that security in hospitals is alright everywhere. The other thing is the unpleasant incident, those responsible for it, so that there is proper, legal action against them. The government, on both counts, stands fully committed. Several steps, the government has already taken," De, seated next to Mamata, said.
The chief secretary also underscored the government's handling of Paribaha Mukhopadhyay's injury.
"In that day's incident, the intern who got seriously injured, he is undergoing treatment in a private hospital, he is doing well now," he said. "The government immediately decided to bear his treatment cost entirely.... We want his quick recovery.
"Our additional chief secretary, health and family welfare, went there, met his family, his parents, his guardians, spoke to them, reassured the family that we are going to extend every assistance."
Emphasising the agitators' unwillingness to speak to Mamata over phone on Tuesday morning, De said there had been every effort from the government's end for an amicable resolution. "The security-related administrative measures that had to be taken have already been taken," he said.
"Already the health secretary conducted meetings with all medical colleges to issue a directive on steps being taken. Accordingly, the commissioner of police in Calcutta has enhanced security on all the premises that are in its jurisdiction. A full-time team led by an assistant commissioner is there in every medical college... round the clock, 24 hours."
De said the regrettable achalabostha (deadlock) had disrupted patient services. "They did not come yesterday. Today, it was said that at 5pm the talks would be held. Unfortunately, even at 5pm today, they did not come," he said.
"I would like to say this that the government would like to ensure there is a sushtho mimangsha (amicable resolution) to this. Their justified demands, we have already accepted. If there are any other — justified — demands, they, too, will be looked into. But for everyone's sake, this should get resolved, is what I think."