Dentist is priest at home Kali puja
Arnab Ray, a 26-year-old who not only initiated the puja in their house six years ago but who also plays the part of the priest himself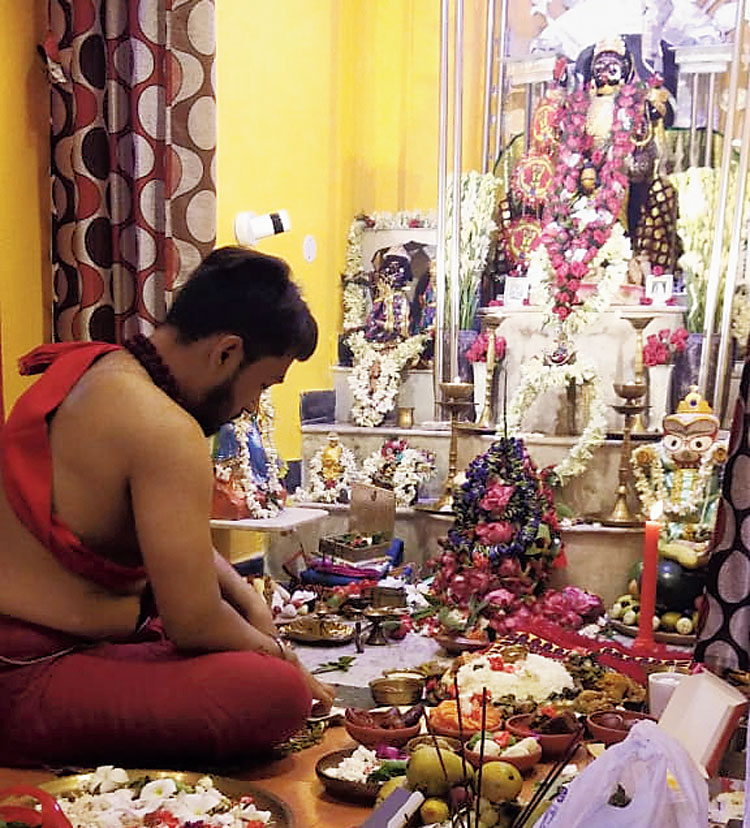 ---
|
Calcutta
|
Published 07.06.19, 01:01 PM
---
AK Block has a dentist who took leave from his hospital in Chhattisgarh to return to the block and perform Phalharini Kali puja on Sunday.
"This puja was performed by Ramakrishna, when he worshipped Sarada Ma as a manifestation of Kali at Dakshineswar. He had offered fruits to the goddess and so the puja is known as Phalaharini," said Arnab Ray, a 26-year-old who not only initiated the puja in their house six years ago but who also plays the part of the priest himself.
Arnab has decades of experience in performing puja. He has been doing Durga puja at his house since he was six (and scuplting the Durga idol since he was five). Now he performs Kali puja in autumn as well the Phalaharini puja in summer. In Durg, where he is a dentist, he performs Saraswati and Ganesh puja too.
"My kids wait to come to 'Arnab dada's puja'," smiled neighbour Sanjukta Banik, who had dropped by. "Be it Durga or Kali puja, our festivities are incomplete without coming here. During Durga puja, in fact, our block pandal gets so crowded that sometimes senior citizens come here."
Arnab is an ardent Kali devotee and would visit Dakshineswar every month. "During celebrations there, I would feel a tinge of jealousy at not being able to bring Kali home. Now that She has come, we adorn Her in Benarasi sari and ornaments. She is the first member of our family."
His family chips in too. Mother Sunanda chops fruits for the offering, father Milan tends to the guests, sister Sraddha troubleshoots and clicks pictures.
In recent years, Arnab has Googled and YouTubed the rituals involved in the worship but realised they are no different from what he has been doing all these years. "Only, I believe professional priests can be strict about not letting certain people come too close to the idol. For me every devotee is the same and there are no boundaries," he said. "I follow the practices at Dakhineswar and if my devotion is pure, Ma Kali ensures the rituals flow smoothly."