Darkness at noon, downpour follows in Calcutta
The city was battered by nearly 100mm of rain in three hours on Thursday, the heaviest this season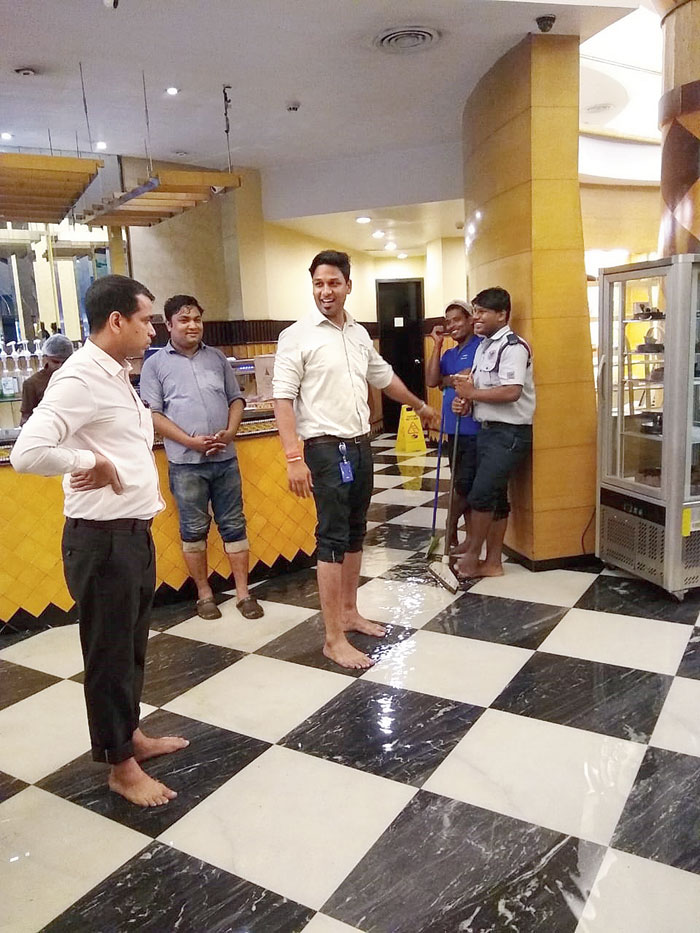 ---
|
Calcutta
|
Published 16.08.19, 09:28 PM
---
The city was battered by nearly 100mm of rain in three hours on Thursday, the heaviest this season, because of a cyclonic circulation over Bangladesh that was on its way to Gangetic Bengal.
Several parts of the city were waterlogged and the traffic went haywire.
The Met office recorded 99mm of rain in Alipore between 2.30pm and 5.30pm.
Other parts of the city, too, received heavy rain in the past 24 hours, according to the Calcutta Municipal Corporation's weather tracking website — Mominpore got 82mm, Joka 80mm, Behala 73mm, New Market 71mm, Ballygunge 70mm and Dum Dum 51mm.
In comparison, the rain count for all of June was 94mm.
In Met parlance, 60-120mm of rain in 24 hours qualifies as heavy rain. Heavy rain is likely on Saturday as well as the circulation is tipped to enter Bengal, a Met official said.
"Calcutta got heavy rain because of a circulation over Bangladesh. The head of the system is tilted in a southwest direction. Calcutta and the two Parganas are located southwest of Bangladesh," said G.K. Das, director, India Meteorological Department, Calcutta.
The city woke up to a clear sky on Friday. The sun shone bright after remaining behind clouds for most of Thursday. The mercury soared to 34.1 degrees Celsius, four notches above Thursday's maximum temperature and two notches above normal. The RealFeel temperature was 45 degrees Celsius around noon as the humidity clocked 95 per cent.
Clouds started appearing on the horizon by 1.30pm and within an hour the sky had turned pitch dark. The rain came down around 2pm.
Traffic slowed down on busy thoroughfares such as Red Road, AJC Bose Road, DH Road, CR Avenue, Shakespeare Sarani, Camac Street, Park Street, Sarat Bose Road, MG Road and the Parama flyover. Visibility dropped and cars had to turn on their hazard lights.
Cars stood bumper to bumper on Park Street around 4pm. It took them over 40 minutes to travel the stretch. Flurys was flooded and employees were busy sweeping the water out.
Waterlogging was also reported from Central Avenue, Muktarambabu Street, Ballygunge Phari, Entally, Behala, parts of Park Circus, Entally and CIT Road.
App cab fares soar
Calcutta police commissioner Anuj Sharma encouraged his officers to battle the rain to keep the evening traffic moving. "It is a tough day for all of you with heavy rainfall leading to water logging and some flyovers closed. Please put on your best (which you all surely will) especially as the post office hours dispersal is about to start. Plz pass on my good wishes to all on duty on the roads under your command. Stay dry/Stay safe! All the best!!," Sharma texted his colleagues in an official WhatsApp group where the commissioner interacts with officers.