Darjeeling teacher at Berlin Marathon
Rai finished the run at 4:17:41 hours and he, too, had many reasons to celebrate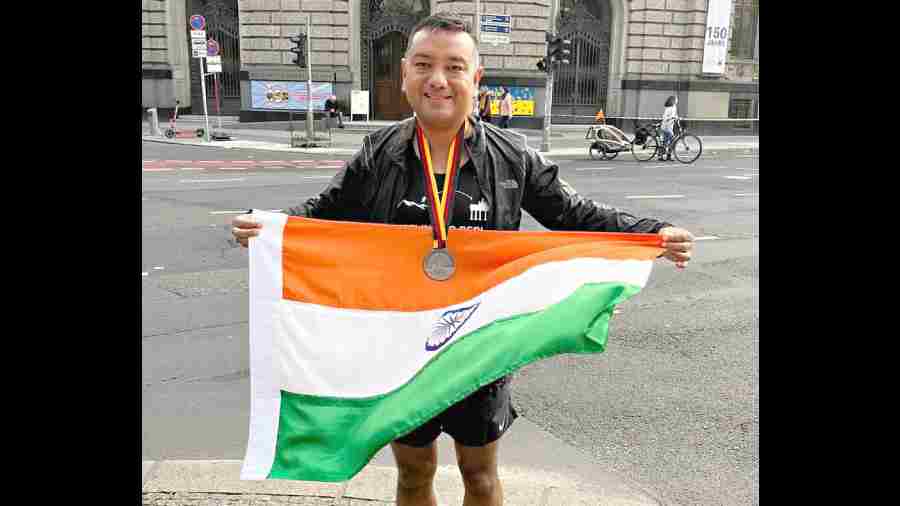 Vikram Rai after finishing the BMW Berlin Marathon in Germany on Sunday.
The Telegraph Picture
---
Darjeeling
|
Published 27.09.22, 04:22 AM
|
---
Kenyan runner Eliud Kipchoge competed against the clock to beat his own world record at the BMW Berlin Marathon in Germany on Sunday and in the same race, Darjeeling boy Vikram Rai tried to surmount all his odds.
The 42.2km Berlin race attracted world attention after the 37-year old Kipchoge, considered as one of the best-ever marathon runners, finished with a world record of 2:01:09 hours, shaving exactly 30 seconds off the world record he previously held.
Rai finished the run at 4:17:41 hours and he, too, had many reasons to celebrate."I had never taken part in sports in school and to participate in an international run, where a world record was created, is a dream come true, especially for someone who was called a lappu (dream dreamer) and slow loris," said Vikram after the run. Vikram, who had studied at St Joseph's School (North Point), is an assistant professor at St Joseph's College in Darjeeling and the 42-year-old had not taken up running till 2015."A severe bout of gout and very high cholesterol got me the running shoes. There has been no looking back," said Vikram.
Vikram these days runs on Vibram shoes, which are a type of minimalist shoes meant to replicate being barefoot and has thin flexible soles that are contoured around the shape of a human foot. 
Running over the years has developed into a passion. Apart from losing 10kg over the years, Vikram has also founded the Vik-Run Foundation that encourages and organises runs and takes up social causes.
"This experience has been an eye opener in ways more than one in terms of discipline, dedication and in the planning and organisation of a marathon," said Vikram, who received the visa allowing him to run the marathon only a day before the departure date. 
Darjeeling has been hosting international marathon runners and the Vikram has been associated with these events. Apart from the personal message, Vikram also tried to spread a message about the Indian Gorkhas in Berlin. Vikram had  "India, Darjeeling and We are Gorkhas, Proud to be Indians" tagline on his jersey. The tagline, "We are Gorkhas, Proud to be Indians", has been popularised by Roshini Rai, a runner from Pedong, Kalimpong. Roshini, too, has participated in international runs, including the 89km Comrades Marathon in South Africa, in 2012.