Darjeeling snow after a decade
In Sikkim, snowfall left many tourist vehicles stranded between Nathu-la and Changu Lake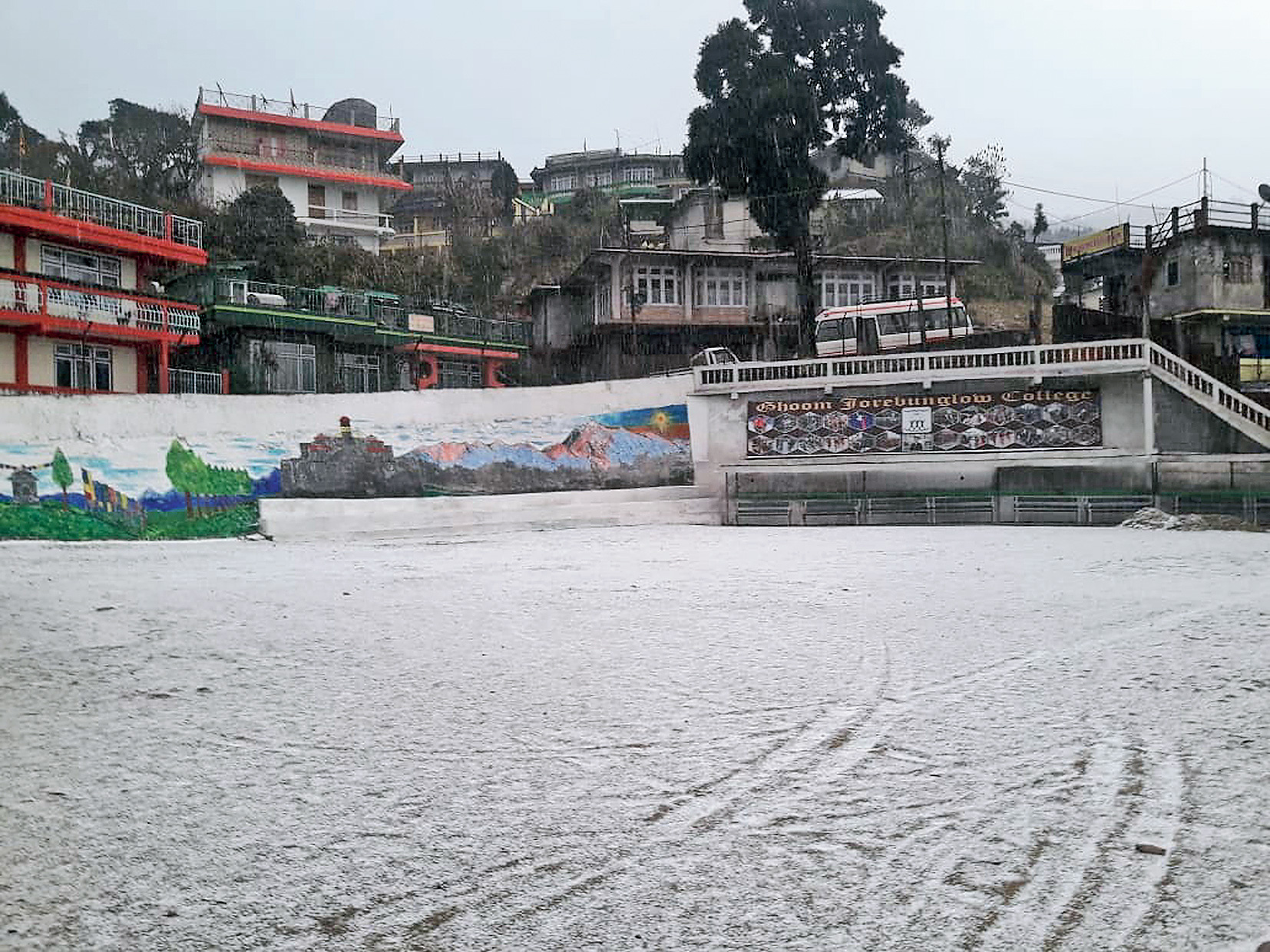 ---
---
Darjeeling received its first snowfall in 10 years, the 15-minute spectacle sending people into raptures and setting the stage for a tourist rush to the hills.
The flakes fell at Chowrasta and some areas in the vicinity of Darjeeling on a day the temperature in the hill town plunged to 1 degree Celsius. Snowfall was also reported from parts of Kalimpong and Sikkim.
While Darjeeling did not end up wrapped in white because of light rain soon after the snow, the enthusiasm did not melt away. "This is an out-of-the-world experience on my first visit to Darjeeling," said Saurav Chatterjee from Calcutta.
The experience was no less special for Nilab Tamang, a local student. "This is the nicest place on earth," he screamed after the flakes fell at 4.45pm. It also snowed at Tiger Hill, Ghoom and Jorebungalow.
Before Friday, Darjeeling town — located at 6,400ft — had witnessed snow on January 26, 2008. It was last swathed in white on February 14, 2007.
Rishyap, a hamlet 28km from Kalimpong at an altitude of 8,000ft, was luckier on Friday — more than an inch of snow had fallen till the evening. "It snowed here after five years," said Tashi Ongmu, a resident.
In Sikkim, snowfall left many tourist vehicles stranded between Nathu-la and Changu Lake "The army, Sikkim police and tour operators are working to clear the way," said Tenzing Lama, a tour operator.
Weather officials said a western disturbance passing through Sikkim had led to such weather. "The snowfall is likely to stop in a few days but could resume after January 2," said Gopinath Raha, director of the IMD in Gangtok.
Down in Siliguri, where night temperatures were forecast to drop to 5 degrees in the next 24 hours, Sudip Sengupta could not wait to get to the hills. "Photos of Sikkim and Rishyap have gone viral on social media. We plan to visit the hills. It has snowed in Darjeeling and after a decade. We don't want to miss it," said the private firm executive.
Additional reporting by Rajeev Ravidas in Kalimpong