Darjeeling municipality election: Every political party wants civic body upgraded into corporation
Election manifestos of every party have given prominence to this issue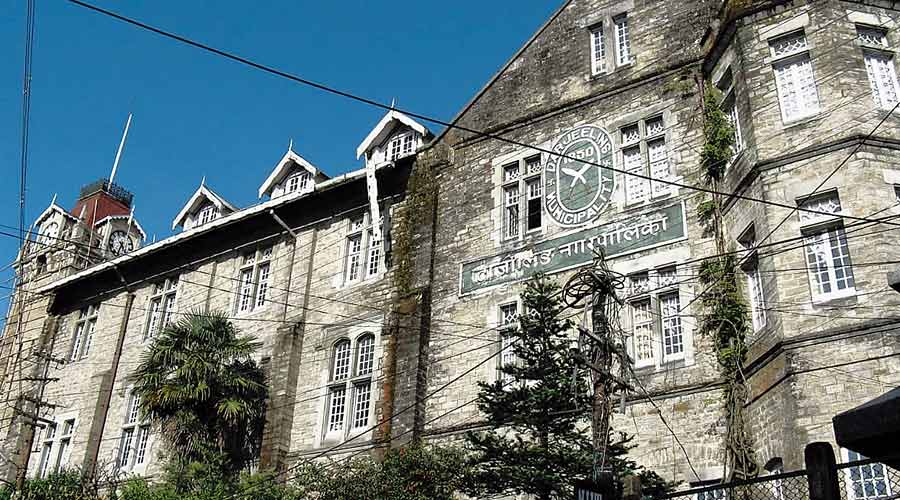 The Darjeeling municipality headquarters.
File picture
---
Darjeeling
|
Published 23.02.22, 03:15 AM
|
---
Every political party taking part in the Darjeeling municipality election wants the civic body to be upgraded into a corporation. Ironically, the Bengal government had agreed to do it 22 years ago.
Election manifestos of every party, including rivals like Trinamul and the BJP, Bimal Gurung's Gorkha Janmukti Morcha and Anit Thapa's Bharatiya Gorkha Prajatrantik Morcha have given prominence to this issue.
Ajoy Edwards's Hamro Party has not specifically mentioned the upgrade issue. "This does not mean that we are not supporting this demand. We support it," said Prabhaskar Blone, a senior leader of the Hamro Party.
D.K. Pradhan, central committee leader of BGPM and a three- time chairman of Darjeeling municipality said the then state government of the Left Front had agreed to his demand in 2000.
"In 2000, the state government had written a letter to the Darjeeling district magistrate agreeing to an upgrade," said Pradhan, who was then with the Gorkha National Liberation Front headed by Subash Ghisingh, as well as the Darjeeling MLA and civic body chairman.
The letter written by A.K. Dutta, then deputy secretary, municipal affairs to the Darjeeling district magistrate, on February 29, 2000, states: "…that the subject of conversion of Darjeeling Municipality into Municipal Corporation is under active consideration of the State Government. It is expected that a Bill to this effect will be introduced in the West Bengal Legislative Assembly at an early date."
Pradhan said he had to pay the price for his demand. He was forced to resign as the chairman of Darjeeling municipality following the state government's letter and quit the GNLF, though he remained the MLA.
Asked if the "corporation issue" was behind his expulsion from the GNLF, Pradhan did not it rule out.
"I had taken up the corporation issue after duly consulting Subash Ghisingh. I am surprised why he was against this demand. Maybe rivals within the party gave him a different narrative," said Pradhan.
The GNLF-led civic body officially wrote to the state government rejecting the offer to upgrade the Darjeeling municipality to a corporation a couple of years later after the state government broached it.
On Monday, leaders of all political parties, including that of Trinamul, BJP, GNLF, Gorkha Janmukti Morcha, BGPM, agreed that all hill political parties must work to upgrade the Darjeeling municipality to a corporation.
"This demand could not be fulfilled even after 22 years," said a resident of Darjeeling.
Pradhan said that even Binay Tamang, who was in alliance with the state government after 2017, had taken up this issue to upgrade the civic body with the government but to no avail.
"Hopefully the demand will be fulfilled as even ruling party Trinamul has promised the same in the election manifesto,"  said a hill leader.