Checks in place as 'Duare Tran' starts
Cyclone Yaas: State govt starts Duare Tran camps to provide financial help to people
The administration has taken several precautions to ensure that the relief reaches actual beneficiaries in three coastal districts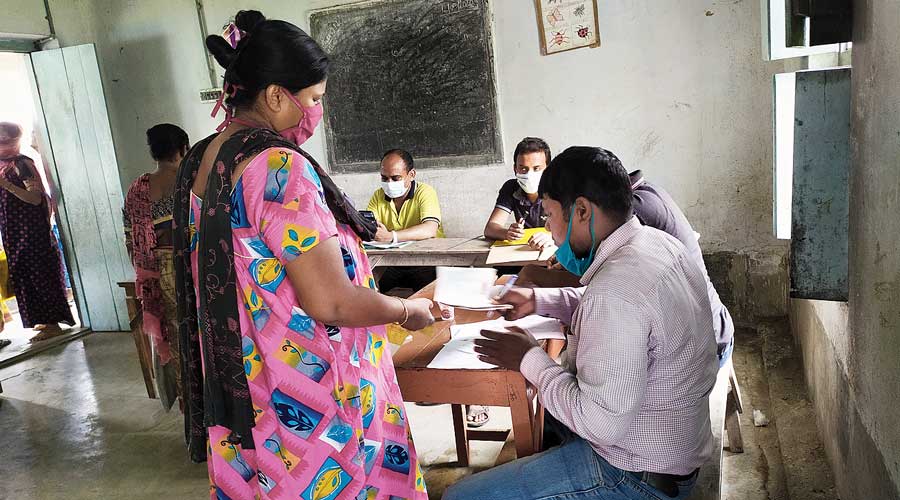 A Duare Tran camp in Diamond Harbour, South 24-Parganas, on Thursday.
Hedaytulla Purkait
---
Calcutta
|
Published 04.06.21, 01:14 AM
|
---
The state government started its Duare Tran (relief on doorsteps) camps from Thursday to provide financial help to people affected by Cyclone Yaas that hit coastal Bengal on May 26.
Unlike after Amphan last year, the government has prepared a month-long schedule to make the process transparent. According to the plan, the government will receive applications from June 3 to 18, field enquiries will be done over the next 12 days and then the beneficiaries, depending on the extent of damage, will receive benefits from July 1 to 7. The North and South 24-Parganas opened 20 and 34 Duare Tran camps, respectively, in the districts' Yaas-hit pockets on Thursday.
Taking lessons from alleged malpractices in relief distribution that had snowballed into a major political controversy in the aftermath of Amphan last year, this time the government has taken several precautions to ensure that Yaas relief reaches actual beneficiaries in three coastal districts of East Midnapore, North and South 24-Parganas. The Telegraph lists some steps to ensure transparency in the process:
Primary survey: Two days after Yaas struck Bengal, teams of officials armed with photographers were sent to affected villages to collect data from the ground. Officials said the teams sent a detailed report with names of cyclone victims. Photographs of damage caused to properties of the victims were sent with the report. During Amphan, the government had invited applications from people and money was transferred to their accounts without verification.
Senior officials said this time they took this strategy for two reasons — first, for a primary database on victims before they apply, and second, if any application comes from unaffected places, verification would be faster.
For example, officials have enlisted around 200 households severely damaged in a village in South 24-Parganas. When applications reach officials, they can quickly verify if the names are fresh ones or are part of the primary survey. All applications will be checked and fresh names further cross-checked.
"After receiving applications, we will do a ground enquiry for each applicant. In case of data mismatch, the application will be cancelled," said the district magistrate of South 24-Parganas, P. Ulaganathan.
Identifying locations: Unlike Amphan, the government is carrying out location specific campaigns for the Duare Tran. The campaign is done only in those villages where people are affected. The number of camps per day is fewer to keep the process transparent and camps free of crowding amid the pandemic.
"We are holding camps in small numbers. Only 20 camps were held on Thursday, in the Basirhat area," said Sumit Gupta, the North 24-Parganas district magistrate.
Proactive documentation: During Amphan, there was no documentation was done apart from receiving the application with a bank account number. This time, every applicant has to submit his or her Aadhaar card and the first page of a bank passbook. A photographer at the camp clicks pictures of the applicants. "The photographs will be cross-checked to find whether the person is real or fake," said an official in North 24-Parganas.
Keeping away politicians: The government this time decided not to involve politicians, including elected representatives of panchayats or panchayat samitis, in the process of distributing relief and at Duare Tran camps.
Before starting camps, elected representatives had been asked to help affected people gather documents and send them to camps. In case a person can't write, the forms are filled up by government employees at the camp. Elected representatives of panchayats or municipalities are not allowed in the Duare Traan camps.