'Covid warriors' on Durga Puja pandal duty in Bengal
Local gram panchayats and municipalities had been asked to select them from among those who needed work or were jobless migrant worker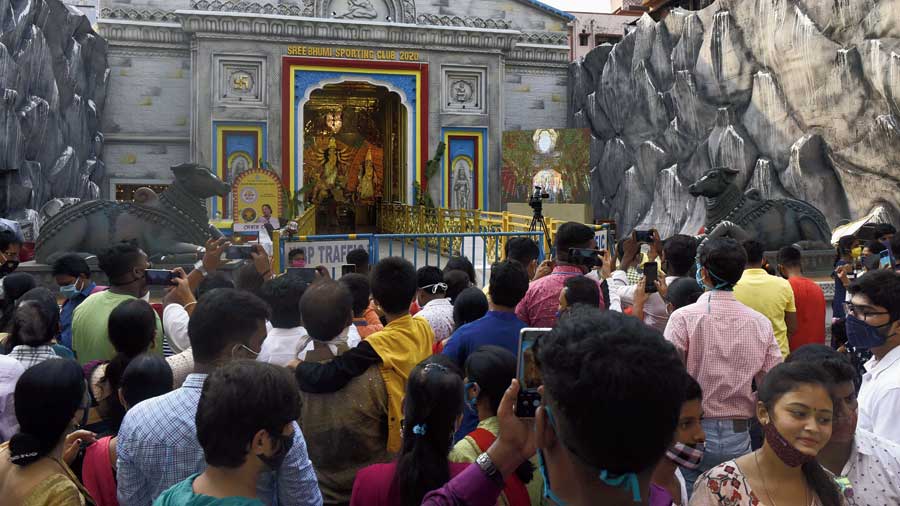 ---
---
Hundreds of cured novel coronavirus patients, who have been named "Covid warriors" by the state government, were on duty at many popular Durga Puja pandals across Bengal during the four days of festivities to tell people how to stay safe from the virus.
"All the districts were asked to depute two to four Covid warriors at popular Durga Puja pandals to spread awareness. For each day of duty, each Covid warrior was paid Rs 500," said a state government official. The Covid warriors explained the need to wear masks to fight the disease if anyone was found without one. They sprayed sanitisers on the hands of visitors while advocating the need to maintain physical distance. The Covid warriors also asked pandal-hoppers to wash hands with soap at regular intervals.
Officials said local gram panchayats and municipalities had been asked to select the Covid warriors from among those who needed work or were jobless migrant workers. Each district had selected between 50 and 100 popular pandals.
"Thousands of migrant workers in the districts recovered from the disease. We asked local bodies to select those who are jobless for the awareness duty," an official said.
For example, Sekhar Sain, the block development officer of Bolpur, explained that Birbhum's Ruppur gram panchayat had appointed four Covid warriors on Baro Bari Puja premises in Sriniketan's Surul village.
"The Baro Bari Puja is very old and attracts thousands. As Calcutta High Court had placed restrictions on pandal-hoppers because of the prevailing pandemic, four Covid warriors had been deployed here on coronavirus awareness duty," Sain said.
Rabindranath Sarkar, deputy chief of the gram panchayat, said: "We selected the Covid warriors from poor families."
"It is not a permanent source of income. But this small earning helped me a lot during Durga Puja," said a Covid warrior in Purulia