BDO, kin hit by Covid bias in Arambagh
Neighbours and landlord adamant on the officer and her family getting tested, don't allow them access to rented home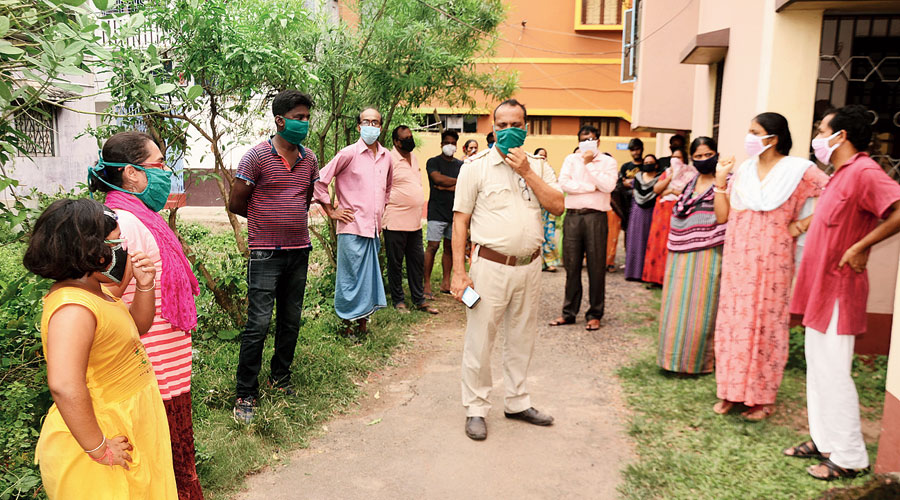 Goghat 1 BDO Surasree Pal (second from left) and her daughter (extreme left) outside their rented house at Mathpara in Arambagh on Sunday.
Ananda Adhikari
---
Arambagh
|
Published 20.07.20, 12:58 AM
|
---
A block development officer, her husband and eight-year-old daughter were stranded on a road for over three hours on Sunday morning when residents of a locality here refused to let the family enter their rented house because of the Covid-19 scare.
Goghat 1 BDO Surasree Pal and the family live at Mathpara in ward 14 of Arambagh municipality.
Neighbours, including the BDO's landlord, were apparently scared after the chief of the Goghat 1 panchayat samiti and a few employees had tested positive for Covid-19 on Saturday evening.
The protesters insisted that Pal and her family get tested first and then show the results before being allowed access to their rented home.
Sources said a few of the protesters had told the BDO to stay away, irrespective of the test results, for at least two weeks. Officials said Pal and her family would anyway be tested for Covid-19 on Monday.
Despite repeated pleas and warnings by the administration, even by chief minister Mamata Banerjee, against stigmatisation of people at the frontline of war against the pandemic, there have been numerous accounts of alleged harassment by local residents.
The prejudice against healthcare workers, administrative officials and others deemed to be coming in direct contact with confirmed or suspected Covid-19 patients has caused many of them and their families problems across Bengal.
"The chief minister has more than once issued specific instructions to the administration for prevention of such prejudice-based stigmatisation and other harassment of Covid warriors," said an official.
Pal arrived near the home with her daughter and husband around 11.30am on Sunday. A group of 20-odd people, headed by the owner of the house, had gathered and they said the family could enter the home till they proved they were not infected.
According to reports on Saturday evening, the panchayat samiti chief of Goghat 1, Manoranjan Pal, and three others were found to be detected with Covid-19. "The news spread in the entire area and neighbours stopped the BDO and harassed her along with her family as a result," said a block official.
Police responded to the incident after about three hours and dispersed the mob. The police arrested eight persons, including the homeowner, and subsequently let Pal and her family into their home.
"The landlord had called me up and asked me when I was coming…. I was stopped from entering the house. Hours later, I could enter the house with the help of the police," said Pal.
"It is unfortunate that such an incident occurred as the landlord is also a state government official," said an official, adding that Pal had submitted a written complaint to the Arambagh police station in connection with the harassment.
Nripendra Singh, the subdivisional officer of Arambagh, said: "It was very unfortunate that an official who is working to combat the disease was stopped from entering her own home. Police will take legal action against those who resisted the BDO."