Stakeholders plead for hill tourism to resume
State govt, GTA urged to convince residents to allow visitors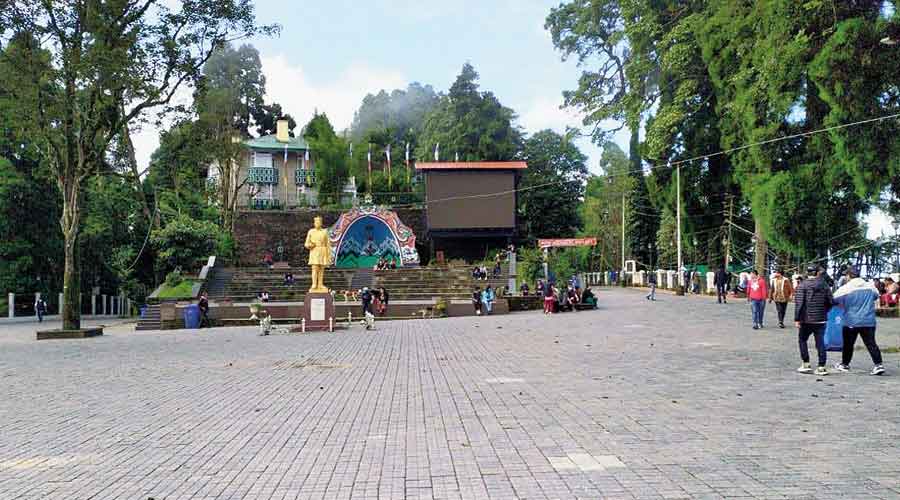 An almost-deserted Chowrasta in Darjeeling town on Sunday
Telegraph picture
---
Siliguri
|
Published 26.08.20, 12:47 AM
|
---
Stakeholders of the tourism industry want the Gorkhaland Territorial Administration (GTA) and the state government to take the lead and ensure tourists start visiting Darjeeling and Kalimpong hills again.
Tourism at these scenic locales was halted by the pandemic, drying up the earnings of everyone linked with the sector, from hotel owners to waiters and drivers.
Last Sunday, at a meeting in Gymkhana Club in Darjeeling, representatives of associations of hotel and homestay owners, transporters, drivers and tour operators stressed the need to open up the hills for tourists again.
"Now that many services have resumed, we feel it is time to welcome tourists again to the hills. This will help all of us directly or indirectly associated with the tourism sector. That is why it was decided to approach the GTA and the state government so that a decision can be made on when tourists can start visiting the hills," said Samrat Sanyal, general secretary, Himalayan Hospitality and Tourism Development Network.
Stakeholders pointed out that some hill residents feared that the arrival of tourists would make them vulnerable to Covid-19. This is why tourism stakeholders want the GTA and the state to take up the task of convincing residents that safety protocols would be maintained at all costs.
"We can't bring tourists unless residents are taken into confidence. A message from the GTA and the state, coupled with a campaign, can help us a lot," said Raj Basu, a veteran of the tourism sector of east and northeast India.
Speakers highlighted their losses since March-end.
"Thanks to the Centre's order, banks and other financial institutions allowed a moratorium on loan installments till August. From September, everyone has to pay, but we have had no earnings since March. That is why we want the sector to open up," said a Darjeeling hotelier.
Basu said it was unlikely that thousands of tourists would start pouring in immediately, even if the hills opened, because regular train services and flight connectivity between Bengal and some prominent metros of the country were suspended. "Initially, we expect tourists from Calcutta and other parts of Bengal, some may arrive in their own vehicles, which is a new trend. But it is wrong to think that thousands will drop in and overcrowd the hills. We just want some boost for the sector," said Basu.