Returnees fend for themselves
No help from govt on travel, food: Migrants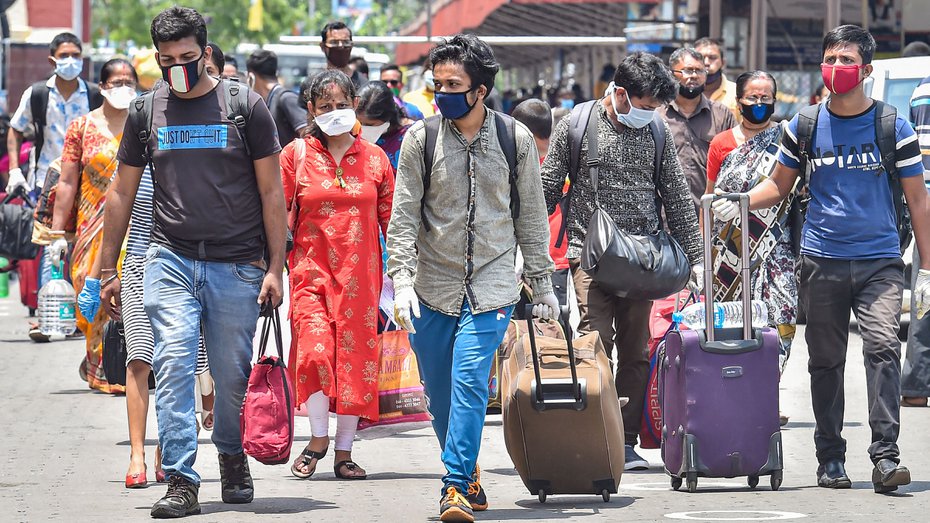 ---
|
Calcutta
|
Published 31.05.20, 07:43 PM
---
Mohammad Ismail and his colleagues had desperately wanted to come back their homes in Bengal.
The group of migrant workers who had lost their jobs in the lockdown in Gujarat's Surat had hoped their ordeal would come to an end once they reached their home state. However, their return has only added to the woes as their families struggle to make ends meet.
They received no administrative assistance for the homecoming. Each of them — embroidery artists — spent thousands of rupees to hire buses and travel from Surat to Salboni in West Midnapur. They are even bearing their quarantine expenses by themselves.
"We would have been grateful if the government had at least helped us with food while we are quarantined. Our families are neck deep in debts. It is getting difficult for them to pay for us," said Mohammad Ismail.
On May 20, The Telegraph had published an article describing the harrowing accounts of those men who had received no cooperation from the Surat administration while they were trying to arrange for their journey back home. Following this, the Bengal government promised help to bring them home. But no help has come.
After waiting for a week, this group decided to find a way to return home by themselves. Around 106 men left Surat by three buses on May 23 evening. While some paid Rs 6,000, Ismail and a few others were charged more than Rs 8,000 by the bus owners.
Left unemployed and cash-strapped for the two months, the labourers had to ask their families to arrange for money for their travel. "It is shameful that we asked for money from those whom we were supposed to feed by our income," Ismail said.
Ismail's mother Najera Bibi — who lost her husband just 11 months before — had to pawn her jewellery to arrange for the money to bring her son back. She and her elder son are also arranging for the food, while Ismail is in quarantine.
Some members of the group mortgaged pieces of lands they owned to pay for their travel. The embroidery artists had thought once they were at home, the government would arrange for the food while they were quarantined. But nothing of that sort happened. "Our families are buying a set of rations for themselves and another set for us. They are actually spending twice," said Seikh Israil.
Israil whose travel was funded by his brother said a group of policemen and health workers had come to meet them at the quarantine centre. They collected their names and numbers. "They said they would call us later for medical tests. No one said anything about giving us food or ration."
West Midnapur district magistrate Rashmi Kamal said she had spoken to the local block development officer who had assured her that food had been arranged for those men. However, when The Telegraph spoke to the artisans for a second time, they refuted the administration's claims.
"Local men are buying us food and vegetables. Our families are paying them later," Ismail said.
The group had arrived at Salboni on May 26 after travelling for three days. On their way, they had faced the thermal gun — a machine used to test a person's temperature to check if he has symptoms of Covid-19 — several times. In fact, their temperatures had been checked at three different points since they entered through the Bengal border.
A source in the administration said tests were being done only if a person was found symptomatic after seven days of his arrival. Since none of the returnees from Surat has symptoms of Covid-19, they haven't been tested yet.