Migrants hurt in bus crash
Passengers alleged that the driver was drunk and had lost control of the vehicle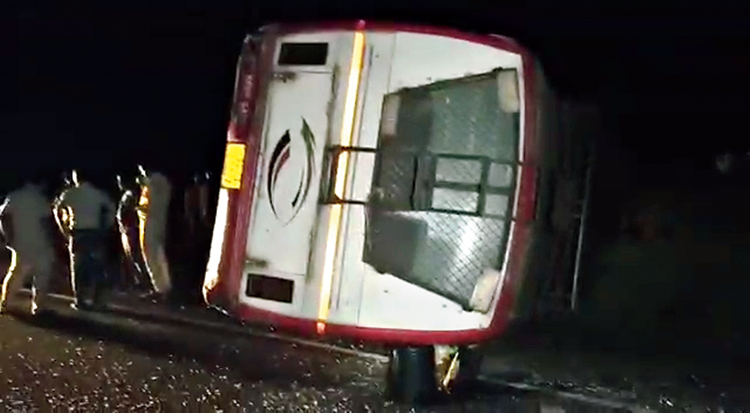 The bus that turned its side near Dhupguri
Telegraph picture
---
Jalpaiguri
|
Published 17.05.20, 09:08 PM
|
---
 At least 15 persons, including children, were injured when a bus carrying migrant workers and their families from Bihar to Cooch Behar turned its side in the Dhupguri block of Jalpaiguri district on Saturday night.
The bus hired by the labourers working at a brick kiln in Bihar met with the accident at Moranga Chowpathi.
The injured persons were admitted to the block hospital in Dhupguri where some are still under treatment.
Sources said all the migrants belonged to different villages in the Dinhata subdivision of Cooch Behar district. Police are yet to know the total number of passengers, some of whom alleged that the driver was drunk and had lost control of the bus.
The driver has escaped after the accident.
"There was a large sound which made us rush out of our homes. We found that the bus had turned turtle and the people were groaning inside. We could rescue some passengers, including children. Police and fire brigade arrived soon and rescued others," Nityananda Sarkar, a resident near the accident spot, said.
On Sunday morning, the police arranged for another bus in which the migrants headed for their homes. The police have seized the bus involved in the accident and are in search of the driver.
A group of 10 migrant workers, who had started walking from Darjeeling, were seen on NH31C near Chalsa in Jalpaiguri district on Sunday. They were heading for homes in Assam, and Alipurduar and Cooch Behar districts.
Hundreds of migrant workers will start arriving at different places in north Bengal on Monday. Sources said trains with the migrants would reach New Cooch Behar, New Jalpaiguri and some other stations.
"Appropriate arrangements have been made at the stations to receive them. Inquiry counters would be opened to guide them to their places. Workers will undergo medical screening before being bussed in to their hometowns," an official said in Cooch Behar.