Cops under Mamata fire for misuse of road-safety drive
Allegations of excesses and extortion in the name of Mamata's flagship campaign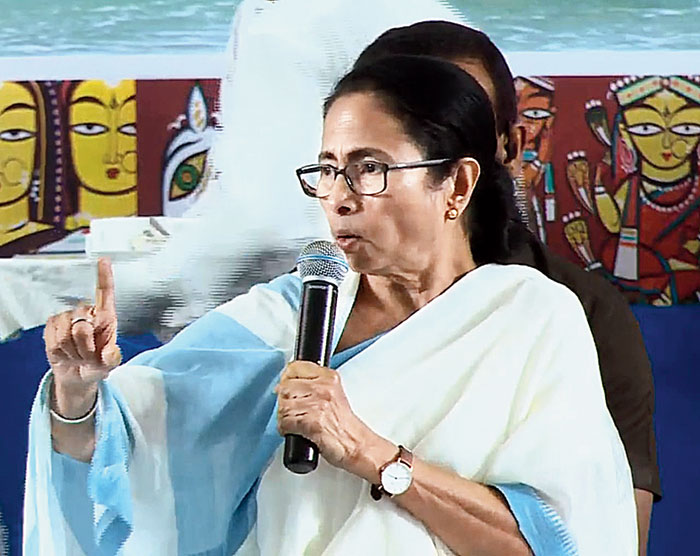 ---
|
Digha
|
Published 21.08.19, 09:35 PM
---
Mamata Banerjee on Wednesday pulled up police for excesses, including alleged extortion, in the name of the Safe Drive Save Life campaign.
The meeting where Mamata expressed her displeasure at the way the campaign was being implemented on the ground was attended by Virendra, the director-general of the West Bengal police, chief secretary
Malay De and state security adviser Surajit Kar Purkayastha.
"I have ground reports from everywhere in Bengal that police are abusing this awareness campaign. They are telling civic volunteers to go out, stop cars and to ask for money…. Dhore ante bolle bendhe ane (Asked to bring someone in, they drag him in instead)," she said at the administrative review meeting in Digha.
"There are instances of excesses by police. If a poor man has only Rs 400 in his pocket, who are you to take Rs 200?" the chief minister asked.
Mamata said she had already asked the Calcutta police commissioner to tackle the problem.
"I have already asked Anuj (Sharma) in Calcutta, and I am asking you now. We need to stop this wrongdoing in the name of the awareness campaign. Please do not misuse your powers. I am requesting the DG to post nodal officers if required," she said.
The chief minister also listed specific changes that she wanted to the campaign. "Please control your SPs and provide them with appropriate instructions," she told the director general.
Responding to Mamata's queries, security adviser Kar Purkayastha said civic volunteers were not legally allowed to check papers in the absence of a supervising officer.
"But they are doing so now and they are sullying our reputation. The BDO and the SP are the faces of the government, please act accordingly," Mamata said.
She also proposed the installation of CCTVs at every traffic signal from Kolaghat to Digha so that errant officers or volunteers can be identified.
Launched in 2016 in Calcutta, Safe Drive Save Life is perceived as a flagship programme of the Trinamul administration. From buses to private cars and autos, stickers carrying its logo are now common across the state.
Many city police officers told Metro speed biking and drink driving had been controlled to some extent through prosecution and aggressive awareness drives under the Safe Drive Save Life campaign.
Calcutta police had stepped up the campaign to prosecute errant motorists, especially bikers, since the June 18 heckling of model Ushashi Sengupta and the driver of the app cab she was travelling in at the Exide crossing and then again at Lake Gardens.
The very next day, as many as 607 bikers were prosecuted in a few hours.
The drive against lawless biking is undertaken at different locations every day. A senior officer said the number of helmetless bikes zigzagging down empty roads in Calcutta at night had come down substantially following a police crackdown on unruly bikers.