Cops take over heart of city
Onlookers filmed Mamata's dharna proceedings on cellphone cameras while many others messaged family back home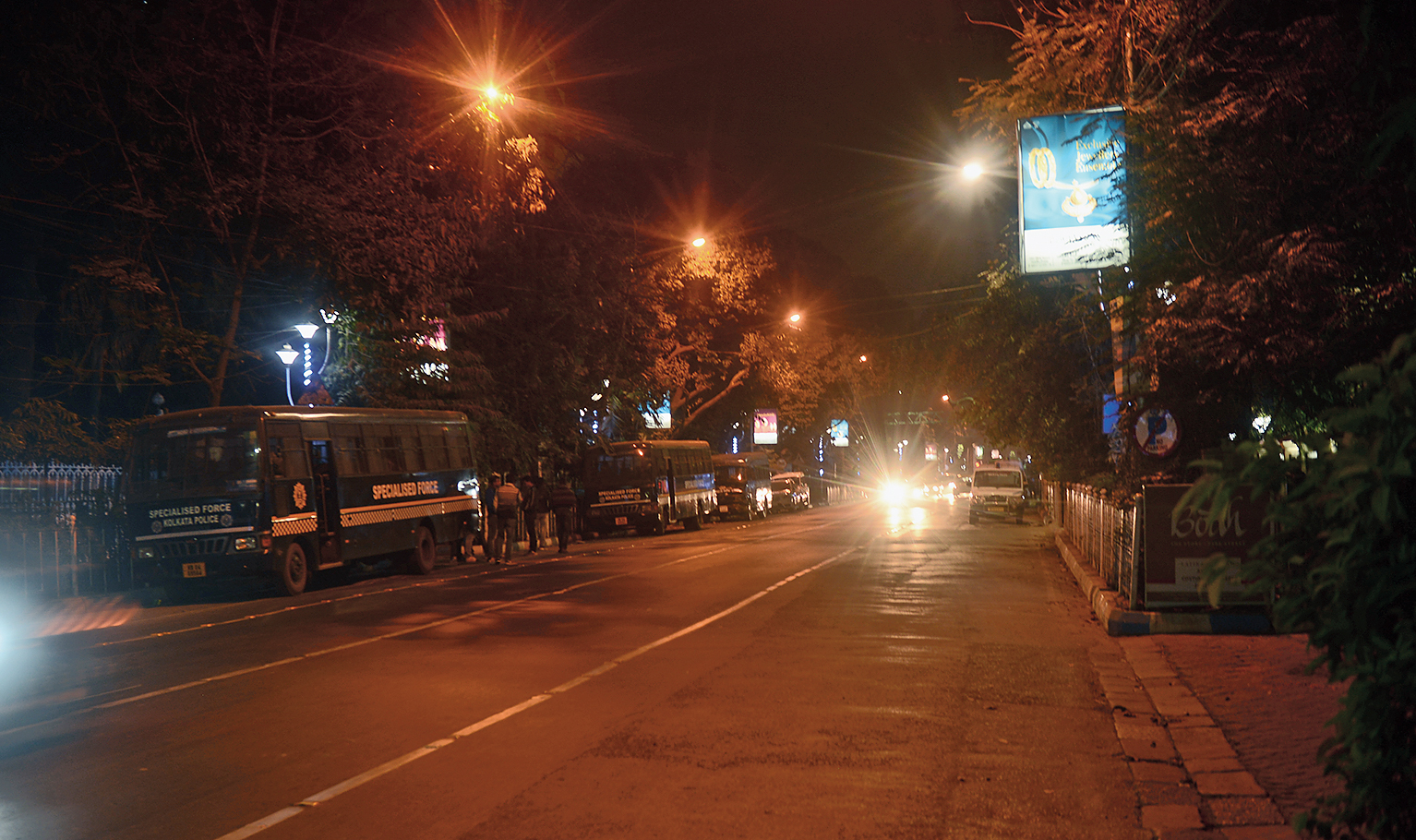 ---
|
Calcutta
|
Published 03.02.19, 10:12 PM
---
A 1km-long queue of police vehicles and buses stretched from the St. Xavier's College gate on Park Street to the Loudon Street intersection on Sunday evening. Hundreds of cops, many of them wearing fatigues and carrying rifles, milled around the area.
The unusual scenes prompted many out to enjoy the winter weekend to wonder if the heart of Calcutta was under a police clampdown.
The police had blocked the entry of vehicles headed towards Loudon Street in phases, first when the CBI team reached the residence of police commissioner Rajeev Kumar in the area around 6 pm and again when chief minister Mamata Banerjee arrived around 7.30pm.
Traffic guardrails were rolled onto the Park Street-Loudon Street intersection to block the entry of vehicles immediately after the chief minister arrived. Only vehicles of Calcutta police officers were allowed to pass.
"Yahaan pe kuch hua hai kya? Itne policewale… itne camera (Has something happened here? There are so many policemen, so many cameras)?" asked Arvind Jha, the caretaker of a local building.
The barricade led to a traffic snarl in the Loudon Street-Rawdon Street area and many got held up.
A New Alipore resident who was on his way to a confectionery shop on Rawdon Street said the barricades prevented him from driving through Loudon Street.
"Several policemen waved their hands to signal that the road was closed. I drove further down the road towards Rawdon Street thinking that they might have kept it open as Loudon Street had been shut. But Rawdon Street, too, was closed. I had to drive towards AJC Bose Road and then take a right turn to Shakespeare Sarani and then another right turn to reach the confectionery store," said the resident.
Apart from those who had gathered in the area, many walking past stopped to see what was going on. Several had climbed atop an under-construction boundary wall opposite the commissioner's house to get a better view.
At least 50 policemen, including armed personnel, stood guard outside the house and a stream of vehicles carrying senior police officers kept arriving.
Several boarders from a guesthouse on Short Street, a stone's throw away, came down on the street and asked cops if something had happened. They were shooed away. "Jaan ekhan theke. Ekhane daraben na (Go from here. Don't stand here)," shouted a cop at a middle-aged man.
Onlookers filmed the proceedings on cellphone cameras while many others messaged family back home.
As news of Mamata's arrival spread, the crowd increased. Many cheered after the chief minister finished addressing journalists, flanked by urban development and municipal affairs minister Firhad Hakim and senior officers.
Traffic at Esplanade became slow later in the evening when a portion of the road in front of the Metro Channel from the RR Avenue Crossing to the Lenin Sarani crossing was barricaded to set up the stage where Mamata began her dharna. Vehicles moved through a single lane.