Cops identify road rage accused
However, no one had been arrested till late in the night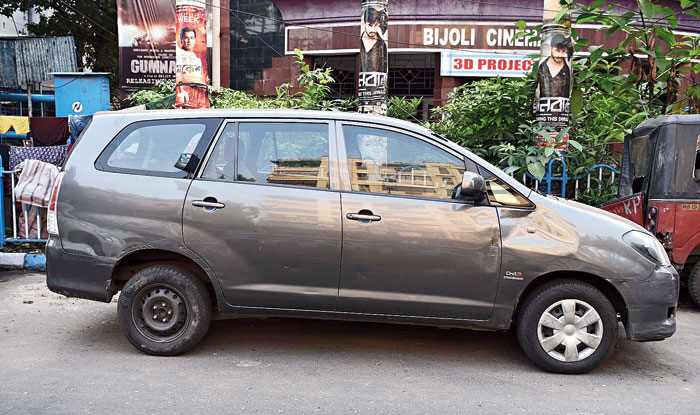 ---
|
Calcutta
|
Published 19.10.19, 01:46 AM
---
The owner of a red car who allegedly slapped and pushed a 65-year-old on the road, leading to his death, has been identified, police said on Friday.
No one had been arrested for the death of Ramesh Behl, a security consultant, till late on Friday.
The prime suspect — whom residents of the Bhowanipore area, where the incident occurred, identified as a neighbour — was apparently not at home when the police raided his home, an officer of Bhowanipore police station said.
Behl, a resident of Bakul Bagan Road in Bhowanipore was boarding a Toyota Innova in front of his home around 1pm on Thursday when a car — possibly a red i10 — coming from the opposite direction hit the Innova while trying to speed past.
"When my father tried to reason with the man in the red i10 and asked him why he was in such a hurry, he slapped my father and pushed him. My father fell on the road and hit his head," Behl's daughter Pooja said.
Pooja alleged that the police had not shared any updates on the case with the family.
"If the accused has been identified, what is stopping the police from arresting him? Or is he too influential to be caught?" she asked.
Police officers, however, said they were trying their best to locate the accused.
"We have considerable evidence that helped us ascertain the identity. We are doing our job," a senior officer said.
The initial arrest of the wrong brother in the Jaguar crash in August has made the police wary of rushing into an arrest in Thursday's incident, the officer said.
The Baku Bagan incident also brought to light the increasing level of intolerance among motorists in the city. Several officers attached with the traffic department told Metro that this was not a stray case of road rage.
"Every such incident does not lead to a death and hence does not catch the attention of people. But such incidents are happening often," said a traffic officer in the south division.
Motorists waiting at a red signal often lose patience and start honking the moment the signal turns green without waiting for the cars in the front to even move, officers said.
"Sometimes motorists resort to exchange of harsh words, demanding compensation for an accident. But there have been times when they have pushed someone as well. Such incidents are common especially when public vehicles such as buses or auto rickshaws are involved. We have to intervene and rescue the drivers at the receiving end," said an officer posted on the EM Bypass.
On Bakul Bagan Road — the stretch where the incident happened on Thursday afternoon,
A visit to Thursday's accident spot revealed that the road always remains blocked with parked vehicles leaving just enough space for the movement of two vehicles. "When vehicles come from opposite directions, one has to slow down and let the other one pass," said a resident of the locality.