Cooch Behar resident accuses BSF of assaulting son, others
It is perhaps a first for security force which wields its clout over border areas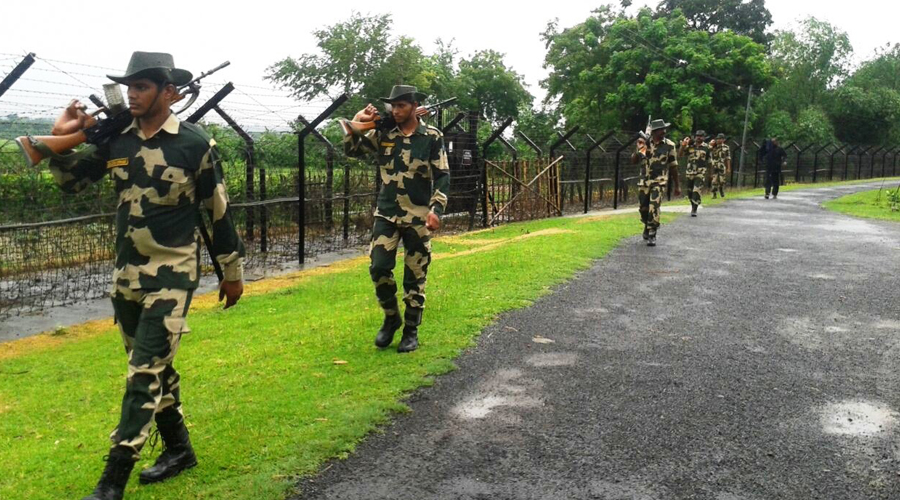 On Friday evening, BSF patrol accosted Titu Mian, a farmer, while he was returning home
File Picture
---
Cooch Behar
|
Published 26.03.22, 03:30 AM
|
---
A resident of an area near the Bangladesh border in Cooch Behar has lodged a rare police complaint against the Border Security Force, accusing the central force of assaulting her son and some others. 
A police officer said he couldn't recall any previous instance of villagers lodging a formal complaint against the BSF, which has virtual control over border areas, and said the incident in Dinhata reflected the residents' anger at BSF "excesses".
He said a report had been sent to Nabanna keeping in mind the sensitivity of the issue. "We have learnt that the local villagers are agitated at the BSF's excesses. The complaint by Jahira Biwi, mother of Titu Mian, has been accepted and action will be taken," the officer said.
The Bengal government had earlier expressed apprehensions about the possible fallout of the Centre's decision last year to increase the BSF's jurisdiction from 15km to 50km inside international borders. Chief minister Mamata Banerjee had written to Prime Minister Narendra Modi asking that the decision be revoked. 
On Friday evening, a BSF patrol had accosted Titu Mian, a farmer, while he was returning home after a day's work in the fields. 
"They asked me why I was roaming around after 6pm. I told them I was returning from the field. Without any provocation, they got off their bicycles and beat me up," Titu, a resident of Konmukta village in Gitaldaha, barely 1km from the border, told The Telegraph over the phone.
Titu had to be taken to the sub-divisional hospital. The news soon reached the village, and agitated villagers arrived at the BSF's Narayanganj camp to seek answers.
Amid the exchange, some of the jawans allegedly began raining blows on the villagers, causing them to flee. "Several villagers have suffered injuries. Titu was beaten up about 700 metres from the border. He was beaten up for no reason," Dinhata's Trinamul MLA, Udayan Guha, said.
"Several other villagers were later beaten up unnecessarily for protesting the BSF's atrocities. This cannot go on. We shall continue protesting the BSF's highhandedness." A local social worker said: "Today's incident bears testimony to how BSF jawans have become a law unto themselves in border areas."
The social worker said that BSF personnel had recently issued a directive in several border areas asking people not to leave their homes after 6pm. "We have heard that Titu was beaten up because the BSF jawans found him on the road around 7pm.... Such draconian rules should not exist," the social worker said.
Senior officials from the BSF's Cooch Behar sector refused comment. "We are looking into it. Our men don't do unprovoked assaults," a BSF source said.