Construction violates Calcutta wetlands
An expert committee has recommended formation of a task force to inquire into the violation and act against it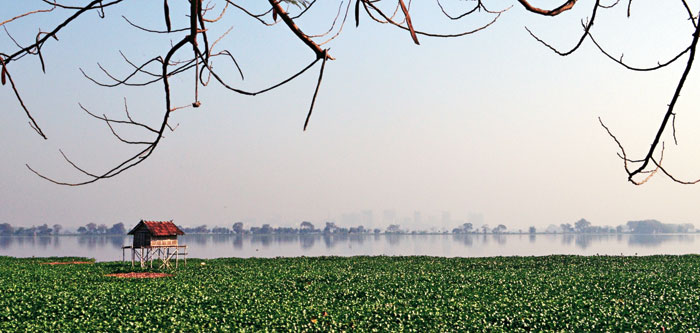 The East Calcutta Wetlands
Telegraph picture
---
Calcutta
|
Published 22.10.19, 08:08 PM
|
---
The expert committee set up by the National Green Tribunal to probe violations in the East Calcutta Wetlands has found that "substantial portion of water bodies/agricultural land" got converted into residential land because of construction activities in the last 15 years.
In its report recently submitted to the green tribunal, the expert committee has recommended formation of a task force to inquire into the violation and act against it.
The six-member committee, comprising senior scientists from the Union environment ministry, central pollution control board, representatives of state pollution control board and state fisheries development corporation and district magistrates of both South and North 24-Parganas, finalised the report over the last five months.
The report was prepared mostly on the basis of satellite images taken between 2005 and 2019, registered police complaints and field visits.
The green tribunal had constituted the committee in the end of May following the intervention of environment activist Subhas Datta.
Datta alleged that the 12,500-hectare wetlands had been widely encroached on violating the provisions of the Ramsar listing and Calcutta High Court's directive barring any land use change in the area. The order had been passed on a petition moved by non-profit organisation PUBLIC in the early 90s.
According to experts, gallons of waste water generated by Calcutta and its adjoining areas get naturally treated in the wetlands and is then used to generate fish and vegetables that sustains nearly one lakh people.
The committee mainly probed three issues raised by Datta — illegal construction in the entire East Calcutta Wetland area, solid waste dumping at Mollar Bheri within Bidhannagar Municipal Corporation and plastic reprocessing units generating pollution in areas along Basanti Highway.
The committee observed that "substantial portion of water bodies/agricultural land has been converted into residential land… and construction was carried out since 2005".
During inspection they found illegal advertisements for land in the wetlands.
The report referred to more than 350 complaints that the East Calcutta Wetlands Management Authority had lodged in the last 13 years. It also referred to the comparative satellite maps of the area. The comparative maps of various mouzas within the East Calcutta Wetlands clearly show how construction activities have increased manifold in last 15 years.
The committee recommended to immediately set up "a task force for cases of violations of Rules/Act relating to EKW (East Kolkata Wetlands) with superintendent of police (SP) and in-charge of the police station areas concerned for filing charge sheet against FIR and expedite investigation within the EKW area".
"The report vindicated what we have been complaining for long," said Datta.