Cong-Left meeting minus seat talks
Several leaders of both the parties says this delay could cost the alliance dear in the upcoming polls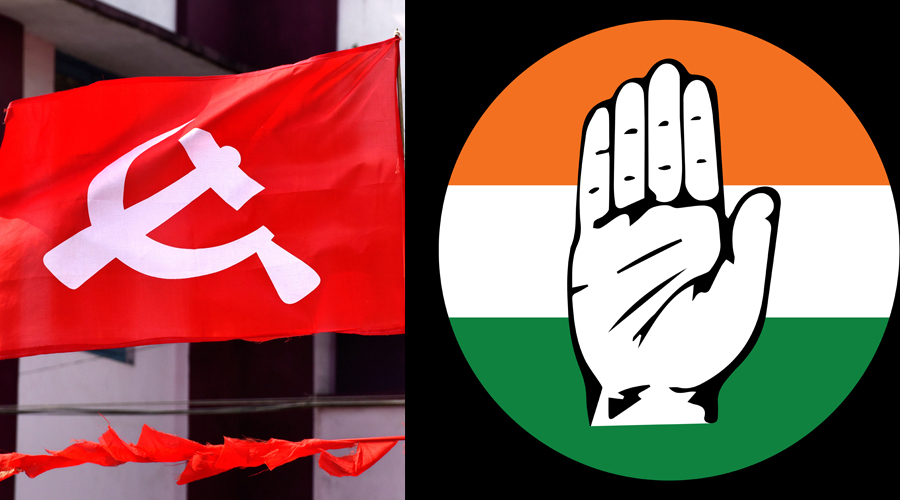 ---
Calcutta
|
Published 08.01.21, 03:21 AM
|
---
A meeting between the Left Front and the Congress on Thursday evening, billed "crucial", however ended without a formal discussion on seat-sharing between the alliance partners for the forthcoming Bengal polls.
There were murmurs in both camps that Pradesh Congress Committee president Adhir Chowdhury's absence in the meeting was the reason why nothing was spoken on seat-sharing, widely considered the most important issue on the table in the poll season.
"We had thought that there would be some discussion on seat sharing, but it could not be done as Adhirda was not present (in the meeting)," a source in the Congress told The Telegraph.
Forward Bloc state general secretary Naren Chatterjee also confirmed there was no discussion on seat sharing.
Several Left and Congress leaders said this delay in reaching an agreement on seats could cost the alliance dear in the upcoming polls for 294 Assembly seats, scheduled in another three-and-a-half months.
"Earlier also, we have had to pay a price for the lackadaisical approach in firming up the alliance...It would be unfortunate if the same happens this time," said a Left leader said, referring to the Left-Congress debacle in the 2016 Assembly polls.
The main rivals of the Left-Congress alliance — Trinamul and BJP — have already started campaigning for the polls.
At the meeting, the Congress side was represented by MP Pradip Bhattacharya and leader of the Opposition in the state Assembly Abdul Mannan because as Chowdhury and Baghmundi MLA Nepal Mahato didn't turn up.
The Left sent Front chairman Biman Bose and CPM state secretary Surjya Kanta Mishra for the meeting.
Congress MP Bhattacharya, however, said Thursday's meeting was primarily convened to discuss the future course of action for the alliance.
"We discussed several joint programmes that we will undertake in the future," Bhattacharya said.
He had earlier said that Chowdhury would skip Thursday's meeting because of a prior commitment.
Addressing the media after the meeting, Left Front chairman Biman Bose said that they had decided to hold a series of joint programmes across the state, including two massive rallies in Calcutta later this month.
One will be held to mark the 125th birth anniversary of Netaji Subhas Chandra Bose on January 23. The other rally on January 30 will mark the day Mahatma Gandhi was assassinated in 1948, he said.
Thursday's meeting also took up the issue of a joint rally at Brigade Parade Ground in February-end or early March but no date has been finalised yet, Bose said.
In 2016, the Bengal Assembly polls had tested if the alliance between the Left Front, led by the CPM, and the Congress, could uproot the Trinamul government in Bengal, but the electoral experiment had failed. The combine had bagged only 76 seats, with the Congress winning 44 seats and the Left 32 seats.