Climbing curbs back on some Sikkim mountains
Centre heeds peak bar call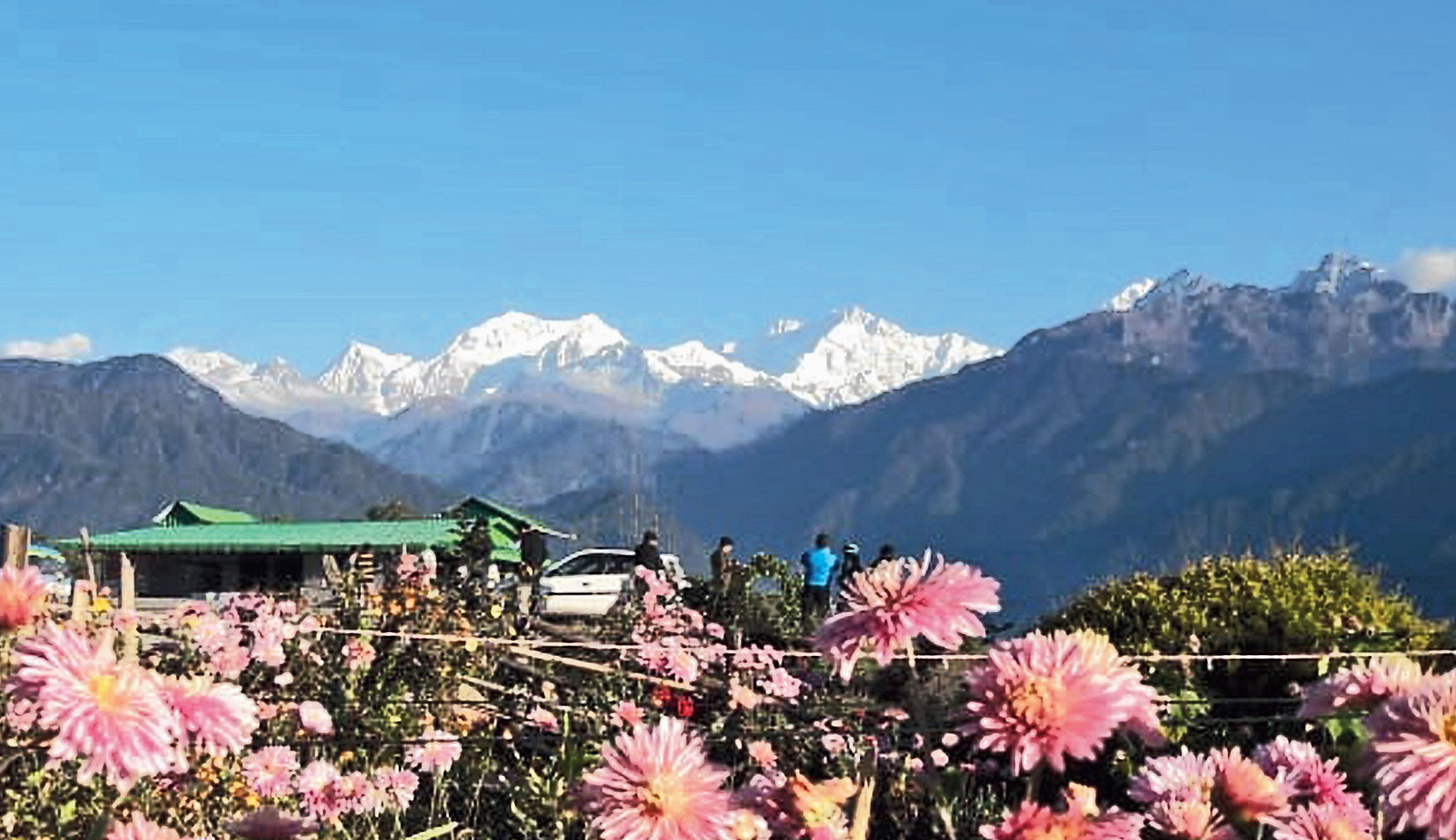 Kanchenjungha, one of the peaks which cannot be climbed from Sikkim
Telegraph picture
---
Gangtok
|
Published 12.09.19, 07:18 PM
|
---
The Centre has rescinded its decision to allow climbing and trekking on 14 Himalayan peaks in Sikkim in the wake of vociferous protests against the possible desecration of the mountaintops held sacred by the people.
The Union home ministry in a recent notification said it was removing 14 of the 24 peaks in Sikkim that it had opened for mountaineering last month. The 24 in Sikkim were part of the 137 mountaintops across four states that were opened for climbing and trekking.
"The notification (removing the 14 peaks from the list of 137) is dated September 4 and we received it on September 6… It is confirmed," A.K. Shrivastava, the chief secretary of Sikkim, told The Telegraph. The state government had earlier approached the Centre with a request to reverse its decision following howls of protest.
The removal of 14 peaks from the list has been widely hailed in Sikkim. "The power of unity exhibited by the people of Sikkim has resulted in the withdrawal of 14 sacred peaks from the list. The united stand taken by every Sikkimese irrespective of caste, creed, community, religion or political affiliations with regard to the Kanchenjungha is praise worthy," said Pasang Sherpa, a political and social activist and coordinator of the IAM371F Campaign.
Kanchenjungha, which is considered to be the guardian deity of Sikkim, was among the peaks opened for trekking. In fact, the state will observe the annual Pang Lhabsol festivity in honour of Kanchenjungha on Wednesday, and Sherpa had earlier threatened to take to the streets if the August notification was not withdrawn by then.
Surprisingly, the Centre had opened up the sacred peaks for mountaineering despite the fact that the Sikkim government in 2001 had protected some of them under the provisions of Places of Worship (Special Provisions) Act, 1991 banning them from being scaled.
"Mount Kanchenjungha, our guardian deity, has always protected us and now it has unified the divided Sikkimese society at a time when we needed it the most," said Sherpa.
Tseten Tashi, the convener of Sikkim Bhutia Lepcha Apex Committee (Siblac), thanked the Union home ministry for its decision.
"Thank you to ministry of home affairs, state government, social organizations, political parties and all other stakeholders, including local and national media, for the support (in getting the peaks removed from the list)," he said.
The Indian Mountaineering Foundation (IMF), on whose proposal the 137 peaks in the country were opened for mountaineering, had also come under heavy criticism for riding roughshod over the sentiments of the Sikkimese people. The Sikkim Mountaineering Association (SMA) had threatened to withdraw from the IMF if the Centre failed to revoke its decision.