Central govt develops aerial monitoring system to check water bodies and fish health
Powerful drones will be used to scan in inaccessible areas, spray medicine and fly with water samples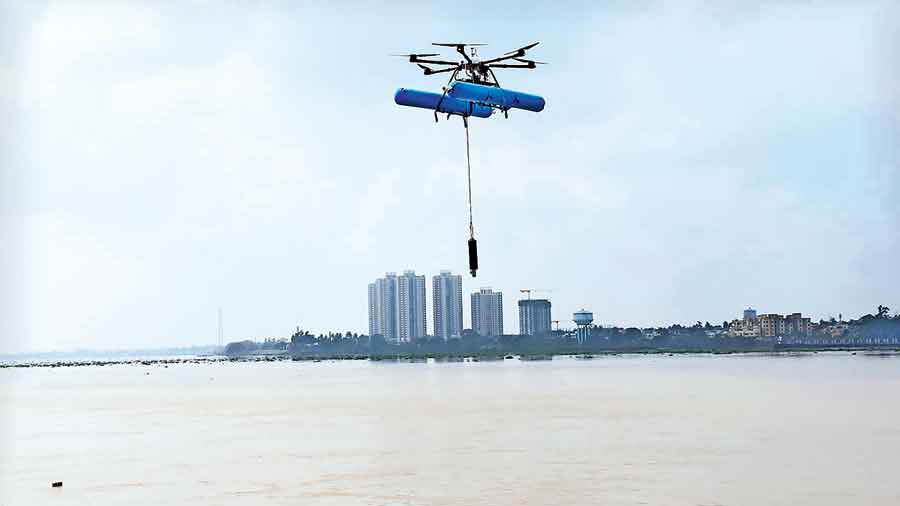 An aerial drone over the Hooghly river in Barrackpore as a part of a demonstration by the CIFRI.
Picture by Pranab Biswas
---
Barrackpore
|
Published 11.07.22, 02:28 AM
|
---
The central government has developed an indigenous technology for aerial monitoring of inland water bodies and underwater inspection for fish health management in real time with aerial and underwater drones.
Powerful aerial drones conceived and technologically integrated by the Barrackpore-based Central Inland Fisheries Research Institute (CIFRI), a wing of the Indian Council of Agricultural Research (ICAR), can access water bodies in inaccessible areas, spray medicine and fly with water samples..
Underwater drones developed by the CIFRI can dive 100 metres into the water to scan fish behaviour and take out dead fish with robotic hands.
Scientists and researchers feel that the project can benefit the riverine delta of the Sunderbans spanning parts of North and South 24-Parganas districts where a large number of fisheries are located.
The endeavour conceived and developed by the CIFRI, under its Precision Fish Farming Inland Open Water Project, had been placed for discussion to examine its feasibility and implementation across the country by the organisation at a pan-Indian conference "Indian Fisheries Outlook 2022" in Barrackpore in March.
The initiative was widely accepted in presence of scientists and fishery entrepreneurs apart from the representatives of various state governments including Bengal.
"Our aim is to ensure sustainable development of fisheries using technology that can double the earnings of the farmers with minimum investment," CIFRI-Barrackpore Director Basanta Kumar Das told The Telegraph.
"Under the Precision Fish Farming project we have adopted a highly precise set of practices to cater to individual (fish) farms."
Scientists working in inland water bodies — canals, rivers and ponds — usually need a long time for inspection, collection of water samples and other tasks through boats. These jobs can be done by aerial drones in minutes, Das added.
"A drone can access difficult areas where boats can be risky. It can take pictures and collect water for analysis using its inbuilt sensors and can be very effective for aqua vegetation mapping," he said. "It can fly up to 30 minutes continuously with items that weigh up to 11kg."
The underwater drone fitted with a powerful camera and light can be used to study fish behaviour and health.
"This includes identifying diseases or erratic behaviour of fish, taking out dead fish or any unwanted item from water," Das said, adding that they had attached robotic hands to underwater drones.
Sunderbans affairs minister Bankim Hazra, who recently visited the CIFRI campus in Barrackpore, said: "The concept introduced by the CIFRI has great potential for farmers in Sunderbans.…We are examining its scope and feasibility."