Campus weather station to mark 71st anniversary of Siliguri College
The institution has also received approval for 35 extra seats in all for 10 different subjects from its parent North Bengal University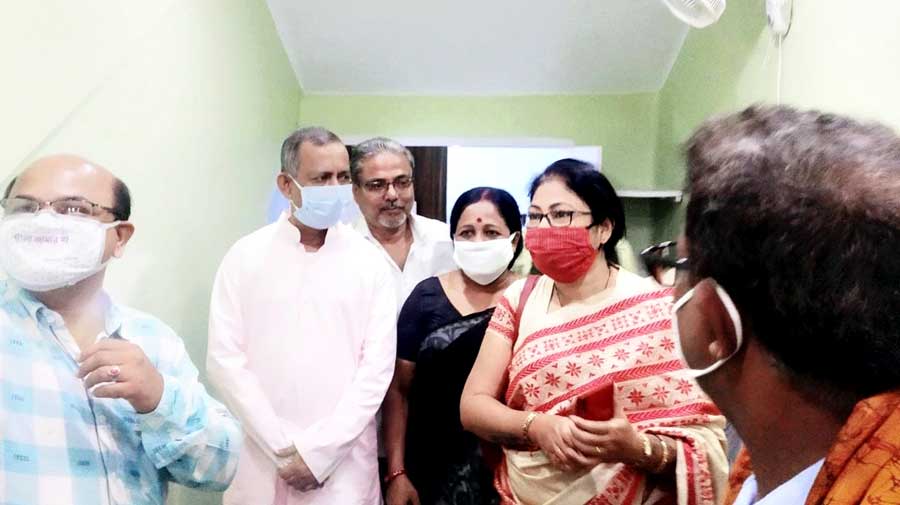 State tourism minister Gautam Deb in Siliguri College on Thursday.
Passang Yolmo
---
Siliguri
|
Published 09.10.20, 02:00 AM
|
---
A weather station was inaugurated in Siliguri College on Thursday to mark its 71st anniversary.
Bengal tourism minister Gautam Deb inaugurated the weather station, set up by the Indian Meteorological Department (IMD), as well as some other projects.
Lauding the initiative, Deb said the facility would greatly help collect the weather data of Siliguri and its outskirts.
Jayanta Kar, president of the governing body of the college, said the station was supposed to start from March but its launch got delayed because of the Covid 19 pandemic.
"Siliguri College and the IMD have come up with this new initiative and now we have a weather forecasting station on the campus itself. The IMD set up the station and the college will give manpower. Our faculty members of geography department will take care of the facility. Also, we have introduced a PG geography course in the college and this station will help students with practical knowledge," said Kar.
This apart, the college has also become the first in the city to have its own power transformer. "Power consumption of our college was very high and this is why WBSEDCL offered to install a transformer. The college has spent over Rs 14 lakh for its installation," Kar added.
The college has also received approval for 35 extra seats in all for 10 different subjects from its parent North Bengal University.
New campus
A second campus of Surya Sen College in Siliguri will come up in Noapara, on the southern end of Siliguri under Fulbari-I panchayat of Jalpaiguri district.
The tourism minister, who inaugurated some projects in Dabgram-Fulbari Assembly area — his constituency — on Wednesday, made the announcement.
"It has been decided to open a second campus of Surya Sen College in Noapara. Keeping in mind the increase in the number of students every year, we have also appealed to the chief minister (Mamata Banerjee) to approve a second campus of Munshi Prem Chand College in Sevoke Road of the city," said Deb.