Camp held to receive patta applications
On Sunday, government officials launched a drive to collect applications from residents of Matkatpur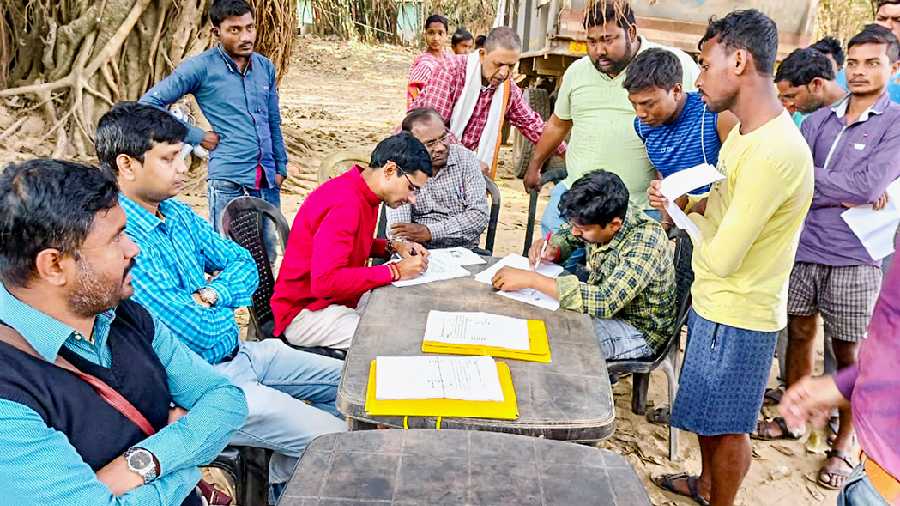 Officials collect applications for land leaseholds at Matkatpur village on Sunday
---
Tamluk
|
Published 06.02.23, 04:53 AM
|
---
The West Midnapore district administration on Sunday went into overdrive accepting applications for land leaseholds at villages visited by Trinamul Congress national general-secretary Abhishek Banerjee a day earlier.
The Trinamul general secretary's speech on Saturday, delivered at a rally in Keshpur following an interaction with residents of Matkatpur in the afternoon, took aim at reported intra-party feuds and allegations of vested interests. He launched a helpline named after him and stated that "invisible eyes" would be watching party workers acting in self-interest.
On Sunday, government officials launched a drive to collect applications from residents of Matkatpur.
The camp was led by Kharagpur 1 block development officer Debadatta Chakraborty and ran from 11am to 3pm. Two revenue officers of the land department, the joint BDO and a child development project officer were also there.
"Residents of Matkatpur village applied to my office for the government leasehold to their land parcels. Officers from the block and land department visited the village today (Sunday) and conducted a camp aimed at collecting individual applications from the villagers," said district magistrate Ayesha Rani A.'
On Saturday, Banerjee had made a stop at Matkatpur in Kharagpur-I block while on his way to the Keshpur rally, where he was approached by local residents who informed him of their administrative grievances.
"After talking with people, Abhishek came to know that there were 90 houses locally whose land belongs to the irrigation department. These families are thus deprived of the benefits of the Awas Yojana scheme owing to lack of a patta (lease)," said a source, adding that Banerjee proceeded to telephone irrigation minister Partha Bhowmick in front of local residents and requested him to take swift action in accordance with government rules so residents could secure land leases from the irrigation department.
At the end of the camp in the village, Kharagpur-1 block BDO Debadatta Chakraborty said, "92 families have applied separately for land patta.
The district administration will decide how the land will be given according to the government rules."
"There is an ICDS centre here. This center is running in someone's house to be demolished. Once the land issue is resolved, a new building will be constructed here. This centre will be repaired and made functional," he added.
A government official, however, explained that the irrigation department would have to hand over the land to the district administration first, following which the latter could disburse leases.
Sources said families in Matkatpur migrated there from during the construction of the dam on the Kangsabati river. Here, they started living on irrigation department land.
Tapan Roy, 45, a driver by profession said his father and grandfather had both tried but failed to get the lease to their parcel of land in Matkatpur.
"As a result, even though our house was destroyed, we did not get any benefit of Awas Yojana until now. Both of them died subsequently," he explained.