Bengal Elections 2021: Adherence to Covid-19 norms confined to masks at booths across Calcutta
The high court repeatedly directed EC to take "hard" measures to ensure the safety of citizens in the polling season in the wake of the disease surge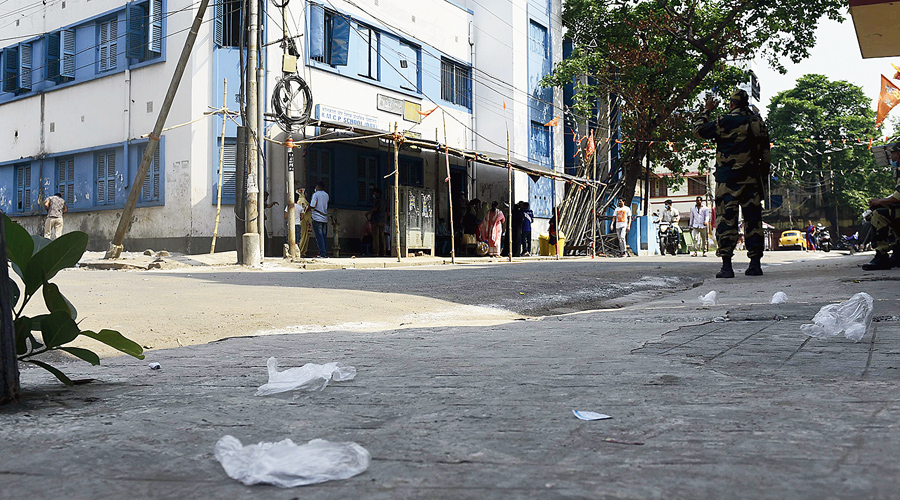 Used gloves lie on the road outside a booth in Kidderpore on Monday.
Picture by Sanat Kr Sinha
---
Calcutta
|
Published 27.04.21, 02:24 AM
|
---
Adherence to Covid-19 protocols was limited to masks at most polling booths across Calcutta on Monday.
Voters stood close to one another in queues. At several booths, they discarded their gloves on the premises of the polling stations or on the road outside, instead of disposing them in designated yellow bins. 
Some people wore masks under their chins.
Outside a polling booth in Lake Market, at least 100 people stood in the queue around 10am. Many of them did not maintain social distancing. Some of the voters had their masks under their chins. "It is very suffocating. I just lowered my mask to breathe properly for a while," said a young man who had his mask literally hanging from his chin.
At another polling booth at a school in Rifle Range, social distancing in the queue seemed like an alien concept. 
Things were no different at the booth inside Patha Bhavan school in Ballygunge. After this newspaper started taking pictures, the jawans guarding the booth took it upon themselves to prod people to stand apart from each other.
At a polling station inside a girls' school on Sarat Bose Road, voter after voter was discarding the gloves on the road outside the booth, though yellow bins had been kept on the booth premises to dispose of the gloves.
One of the voters, who wore a handkerchief as a face cover instead of a mask, threw his glove right outside the booth. The glove landed on a heap of discarded gloves. A jawan standing near him chose to turn a blind eye.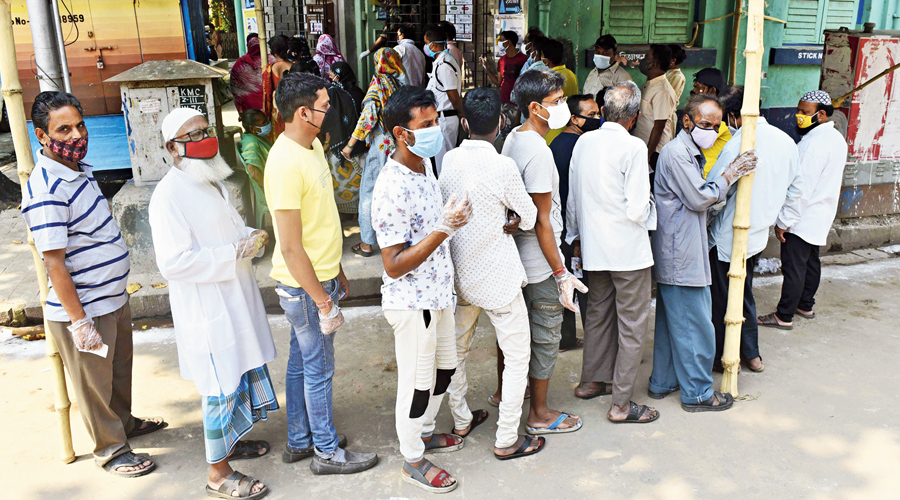 Ditto at St Lawrence High School in Ballygunge. A jawan posted there said he had told a couple of voters to wear their masks properly. But he pointed to his senior when asked about the improper discarding of gloves.
Calcutta High Court has repeatedly directed the election commission to take "hard" measures to ensure the safety of citizens in the polling season in the wake of a surge in Covid-19 cases.
On Monday, multiple voters told The Telegraph that holding elections in eight phases was driving the surge in Bengal. But some of them also pointed out that the onus was on citizens to follow basic Covid-19 protocols.
The number of people without masks on Monday was much less compared with the previous rounds of voting in the city and on the fringes. Workers of political parties at camps near polling stations, who seldom cared to wear masks, had mended their ways on Monday. But not all of them.
Two camps, one of Trinamul and the other of the BJP, were set up almost opposite one another near a polling booth on Lake Road. Among the four persons in the Trinamul camp, one was without a mask.
The camp of the rival party had two young men, both without masks.
"Checking the names of the voters is not an easy task. It needs concentration. Being suffocated behind a mask makes it doubly difficult," said a Trinamul worker at a camp in Chetla. He was wearing one.