Weather forecast: Monsoon set to reach Calcutta on June 11
Fairly widespread to widespread rainfall with heavy rainfall at isolated places is likely over eastern India: IMD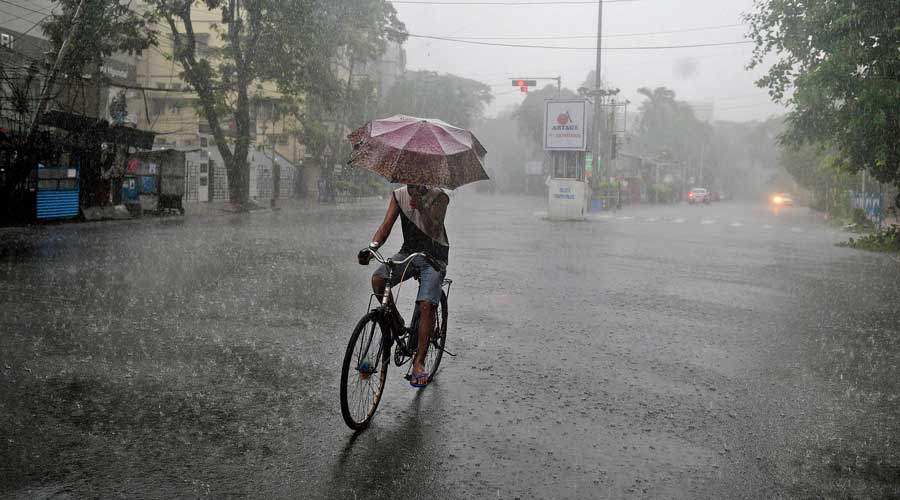 ---
Calcutta
|
Published 05.06.21, 02:08 AM
|
---
A low-pressure area over the Bay of Bengal is tipped to propel the monsoon into Calcutta around June 11, the Met office said on Friday.
"A low-pressure area is likely to form over north Bay of Bengal and neighbourhood around June 11. Under its influence, southwest monsoon is likely to advance into most parts of Bengal, Odisha, Jharkhand and Sikkim, some parts of Bihar and Chhattisgarh," said a statement from the India Meteorological department, Calcutta.
"Fairly widespread to widespread rainfall with heavy rainfall at isolated places is likely over eastern India," said the statement.
"The low-pressure will form around June 11. The system is expected to herald the monsoon into most areas of Bengal, including Calcutta. The arrival will be marked by widespread rain because of the strong southwest currents from the system. Several coastal areas of south Bengal, including Calcutta, are expected to get widespread rainfall from June 11-13," said G.K. Das, director, IMD Calcutta.
For several years till 2020, the monsoon had made a meek entry into Bengal.
The monsoon had set foot in Calcutta on June 12 last year, bringing formidable rain.The strong monsoon currents were attributed to a low-pressure area over the Bay, just like the forecast this year. The Met office had recorded around 40mm of rain in the city on June 12, 2020.
"The monsoon usually reaches Bengal via the Northeast. There is a possibility that the monsoon will reach some parts of north Bengal along with the Northeast over the next three-four days. But it is expected to set foot in most places of Bengal around June 11," said Das.