Waste compactor must in new big complexes
The corporation took the decision while doing away with the previous rule that gave developers the option of paying a certain sum if they could not create space on the plot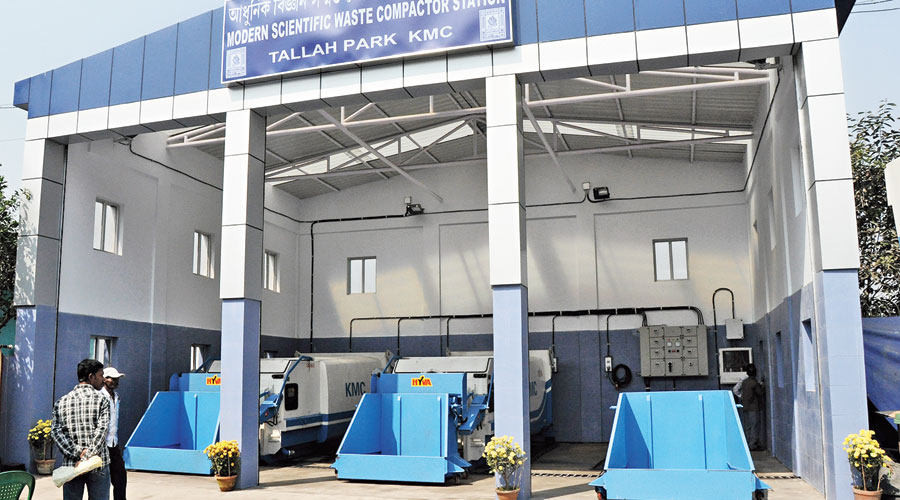 ---
|
Calcutta
|
Published 04.09.20, 02:00 AM
---
Upcoming housing projects with a built-up area of at least 200,000sq ft have to mandatorily create space for a waste compactor station on the plot, the Calcutta Municipal Corporation has decided.
The corporation took the decision recently while doing away with the previous rule that gave developers of such projects the option of paying a certain sum if they could not create space on the plot, a civic official said on Thursday.
The complexes will have to set up the compactor stations themselves or the CMC can do it against payment, the official said.
South City, The 42 and Urbana are some of the housing complexes in the city with a built-up area of at least 200,000sq ft. The changed rule will not be applicable to such complexes that are already completed. It will be applicable to projects that seek the CMC's approval from now on.
"A resolution has been passed in a meeting of the CMC's board, making the rule mandatory…. Earlier such housing complexes could pay Rs 40 lakh… a sort of compensation… if they failed to provide space for a station," a CMC official said.
Debabrata Majumdar, a member of the CMC's board of administrators who is in charge of solid waste management, said "the stations would be used to compact the waste generated by residents of the housing society as well as the neighbourhood".
But waste management specialists said compost units would have been better. Composting is a process to make fertiliser out of organic waste such as fruit and vegetable peels and cooked food waste. It helps in the recycling of waste and reduces the volume of waste going to landfills, according to waste management specialists.
A compactor, on the other hand, only squeezes waste to make it more compact and reduces the volume of waste without recycling it.
"Waste compactors only remove the problem from the streets… what is needed is more stress on recycling, for which waste segregation at source is necessary," Brajesh Dubey, a professor of civil engineering at IIT Kharagpur who specialises in waste management practices, said.
Running a composting unit will ensure that fruit and vegetable waste is turned into fertiliser and the civic body will need to pick up a small fraction of wastes produced in a housing complex.
The CMC should have insisted on houses segregating waste into biodegradable (wet) and non-biodegradable (dry), Dubey said. "The solid waste management rules of 2016 speak about waste segregation at source; but compactors create a habit of anti-segregation among people."
If wet waste is segregated and put into a compost unit then there is hardly any need to compact dry waste, which mostly includes plastic products, papers and metals. These can be handed over to agencies that run plants to recycle such waste, a waste management specialist said.
The state level environment impact assessment authority had in December notified the construction of a compost plant in projects with a built-up area of at least 200,000sq ft. The notification made it mandatory for the projects to "install onsite compost plant to treat biodegradable waste".