Vaccine fraud: Licence must to procure medicines, say wholesalers
The decision was taken after it came to light that fake IAS officer Debanjan Deb had procured anti-biotics that he passed off as Covid-19 vaccine from Bagree Market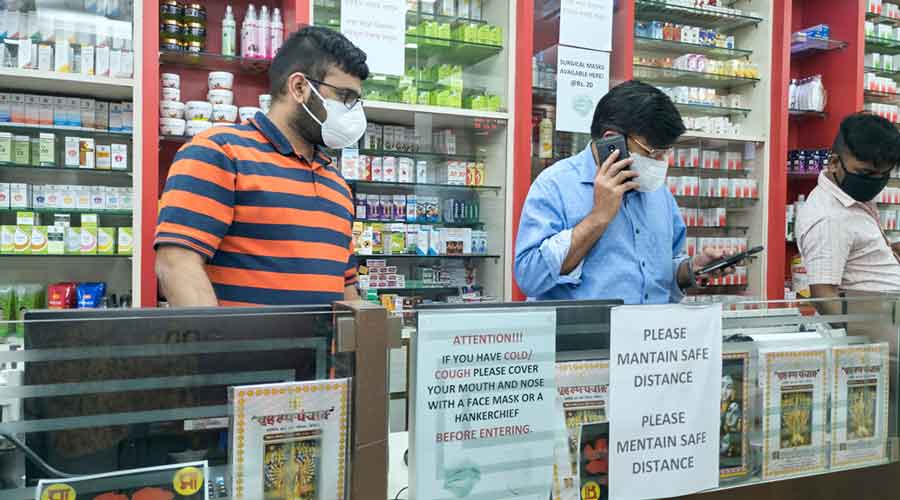 Several shop owners from the two hubs said Debanjan Deb had used a shop that had been trading with medicines for generations.
File photo
---
Calcutta
|
Published 27.06.21, 02:54 AM
|
---
Wholesale medicine suppliers in Bagree market and Mehta Building on Saturday decided to not supply medicines unless the procurer produces a valid licence against the purchase order.
Nearly 350 traders, who supply medicines across eastern India, met virtually and resolved that irrespective of whether the customer was well known or acquainted for years, no medicine would be handed over without a drug licence. "If the license holder decides to send someone on his behalf then the person must carry a copy of the drug license to place orders," said Sankha Roy Chowdhury, the Bengal Chemists and Druggists Association president. "Only when the shop owner is convinced that the license is valid, will he accept the order."
The decision was taken after it came to light that fake IAS officer Debanjan Deb had procured anti-biotics that he passed off as Covid-19 vaccine from Bagree.
Several shop owners from the two hubs said Deb had used a shop that had been trading with medicines for generations. 
"A part of the payment for Amikacin Sulphate injections was left unpaid citing treasury clearances. On the face of it there was nothing amiss," said Chandresh B. Sanghvi, one of the traders.
Insiders in the trade hub said the concerned shop owner was yet to receive around Rs 30,000 from Deb. The part payment was made from an account that was created in the name of the Calcutta Municipal Corporation with a private bank.  
The scam has put a question mark on the credibility of a section of traders with many pointing fingers at the shop owners supplying medicines without any checks.
"The medicine that was handed over was neither banned nor fake. But the recipient is a fraud," Roy Chowdhury said.
"We have now decided on some basic corrections, including checking of drug licences."
A drug licence is mandatory for a bulk purchase but traders admitted that it was usually given a pass.
"Many of the buyers are old and some carry an institutional stamp, like Deb in this case, who came as a (CMC official," a trader said.