Chaos as 6-city flights resume
Fliers wait in queues, miss flights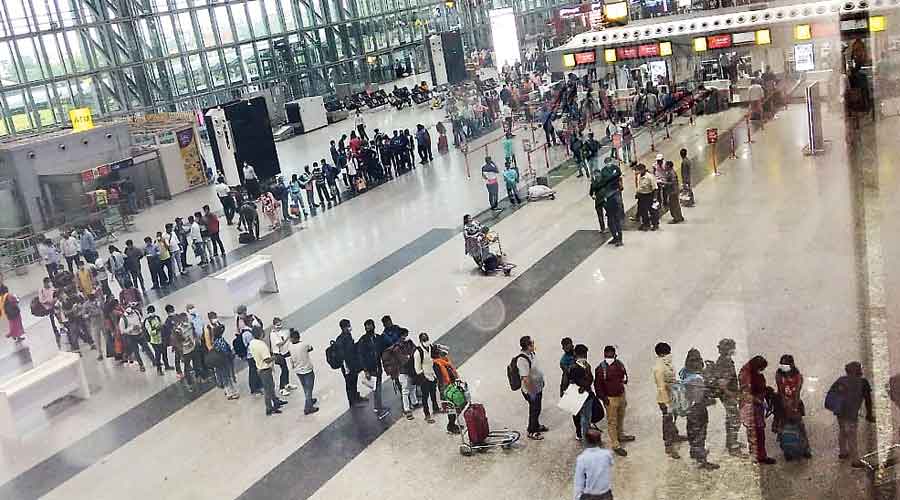 A queue of passengers for security check extends till the entry gate of the terminal building at the Calcutta airport on Tuesday.
Telegraph picture
---
Calcutta
|
Published 02.09.20, 02:09 AM
|
---
Many passengers missed flights and many flights were delayed on Tuesday as chaos prevailed at the Calcutta airport on the first day of resumption of flights to and from six cities, including Delhi and Mumbai.
Airport and airlines sources said there were huge queues in the morning and afternoon and passengers had to wait for even more than an hour at the gates to enter the terminal. Similar queues were seen at the security check-in counters, too. 
An IndiGo official said about 100 passengers missed their flights because they showed up at boarding gates late. Other airlines, too, said many passengers were unable to make it on time.
"Most passengers will be accommodated on next day's flight, scheduled for Thursday," said an official of a private airline. He alleged that the airport authorities had failed to make enough arrangements despite knowing that the number of flights would go up on Tuesday.
"There were no sanitisers at most points because refilling was not done at regular intervals," the official said.   
On the first day of resumption of flights to Calcutta from Delhi, Mumbai, Chennai, Ahmedabad, Pune and Nagpur, 32 additional flights took off and an equal number arrived. Till Monday, 60 flights were taking off from Calcutta. On Tuesday, the count went up to 92.
Asked about the long queues, airport director Kaushik Bhattacharya said: "The problem was that 60 per cent of the passengers did not do web check-in and so they had to be redirected to the airline counters. Also, they did not have smartphones and so lacked the Aragya Setu app. They had to go to the airline counters and fill in self-declaration forms. Also, there was congestion at the security check-in because many passengers were unable to place the boarding pass properly in front of the camera for scanning."
The Covid-19 pandemic has prompted the authorities to implement a minimum touch policy, which requires every passenger to place his or her boarding pass before the camera for security personnel to check it from a distance.
Flights to Calcutta from the six cities were suspended on July 6, following a request from the state government, because of high Covid prevalence there. For now, the flights on the routes will be operating three days a week.
From September 1 to 13, they will operate on Tuesdays, Thursdays and Sundays. From September 14, they will operate on Mondays, Wednesdays and Fridays.