Traced, gang abandons 26kg gold
At least five men had entered a non-banking financial institute in Howrah and held all employees at gunpoint inside a room before taking away their phones and clearing the vault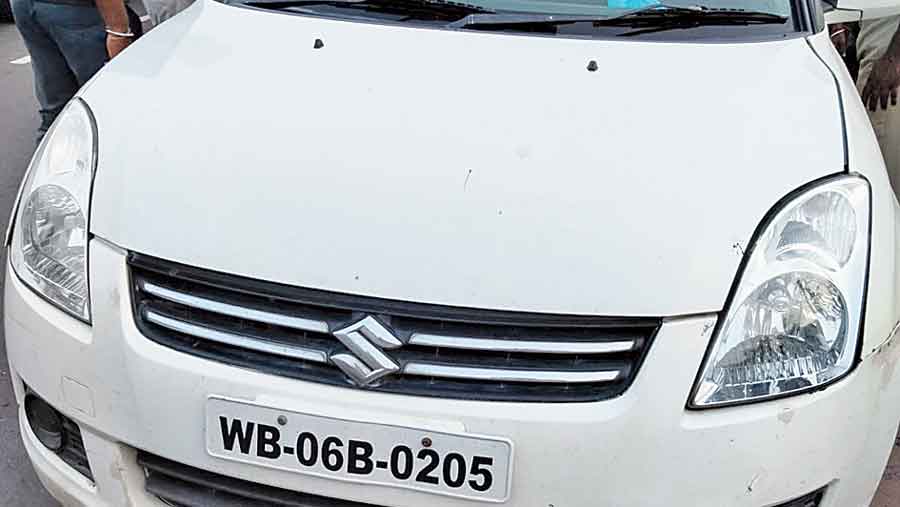 ---
---
A gang of armed men abandoned a vehicle with 26kg of gold ornaments they possibly had looted from a non-banking financial institute in Howrah's Jagachha on Saturday when they were caught in a queue at a police checkpost.
At least five men with their faces covered in masks had entered the institute around 1.30pm and held all employees at gunpoint inside a room before taking away their phones, preliminary investigations have revealed.
They had cleared the vault of 26kg of gold ornaments and left in a white car, police said.
Their operation had lasted not more than half an hour.
Police officers in Howrah scanned CCTV footage and zeroed in on the number plate of the vehicle in which the men had fled. The number was circulated across the state.
A few hours later, around 6pm, the police received information that the stolen gold ornaments had been found in an abandoned car with the same number plate on NH2 in Burdwan.
The police in Burdwan said they had received an alert about a white Suzuki Swift Dzire that had possibly been used by the gang to flee.
"We were alerted by Howrah police about the robbery. During a check near Nababhat on NH2 we found the car with the gold ornaments. We have handed over the vehicle and the ornaments to Howrah police," Bhaskar Mukherjee, the East Burdwan police chief, said.
Cops had been posted at eight strategic points in the district, the police said.
There was a long queue of vehicles at Nababhat because of the police check and the suspects left the place the moment they realised they were caught in a queue leading them straight to the checkpost, the police said.
Cops in East Burdwan are trying to get footage of CCTV cameras closest to the spot where the vehicle was found abandoned to get pictures of the men.
The police are trying to find out where the men had been immediately after robbery.
"It is apparent they had gone somewhere before heading for Burdwan. There is a time gap," a Howrah police officer said.