Storm felled trees & smashed sculpture at JU
A visit to the campus would leave one in shock, given the loss of greenery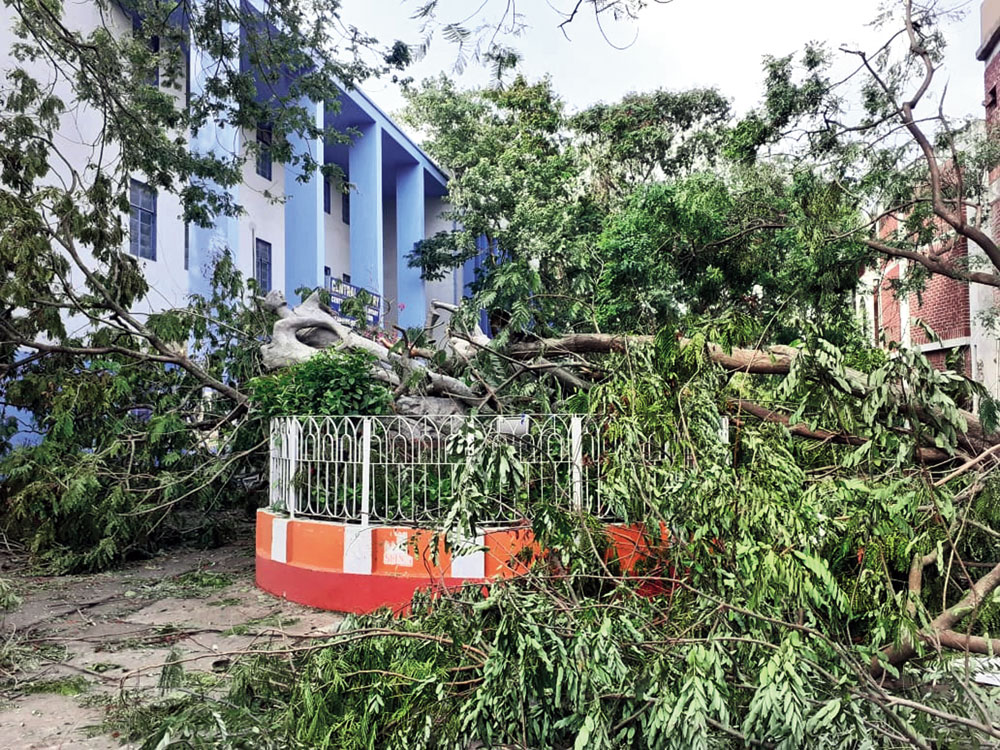 ---
|
Calcutta
|
Published 22.05.20, 10:56 PM
---
Hundreds of trees were ripped apart on the leafy Jadavpur University campus during Wednesday's storm and many of the corridors were beyond recognition on Friday.
A sculpture that was installed in front of the Central Library in 2005 to celebrate the journey of education on the occasion of JU's golden jubilee was smashed as trees came crashing down on it.
A visit to the campus, spread across 58 acres, would leave one in shock, given the loss of greenery. Over 200 trees have been uprooted, said an official.
Giants like mahogany and banyan were uprooted and felled trees blocked the concrete driveway that leads to Aurobindo Bhavan.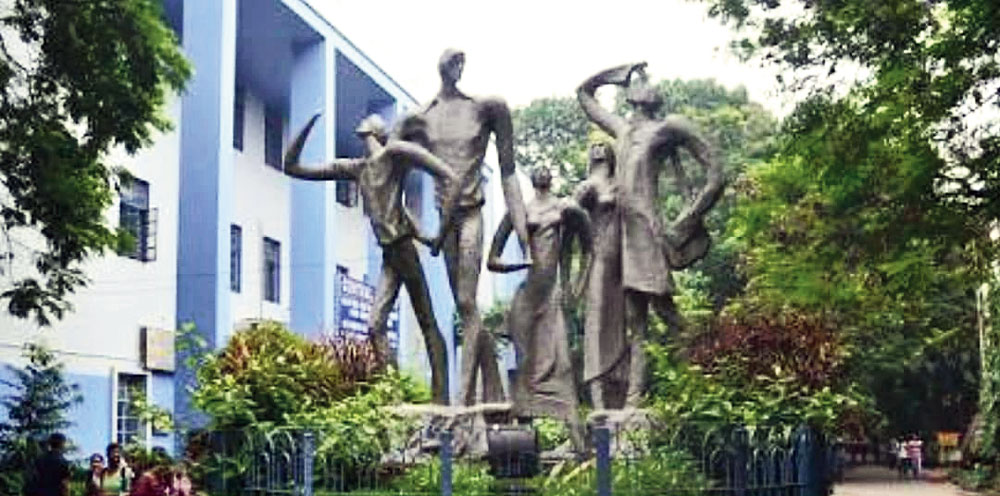 Logs and trunks of trees that were nurtured over the years blocked the pathway to the football ground.
The campus has been shut because of the lockdown since March 16.
A university official said environmentalist Dipankar Chakravarty, who is credited with spreading awareness on arsenic poisoning, took special care for an aforestation drive on the campus so that bio-diversity could be enhanced and the campus could become ideal for study.
Over the years the university created green zones.
The state forest department had undertaken a special aforestation drive in JU 2007.
Metro had to walk through the ground to reach the rear of the administrative headquarters (Aurobindo Bhavan) as the passage was blocked with felled trees.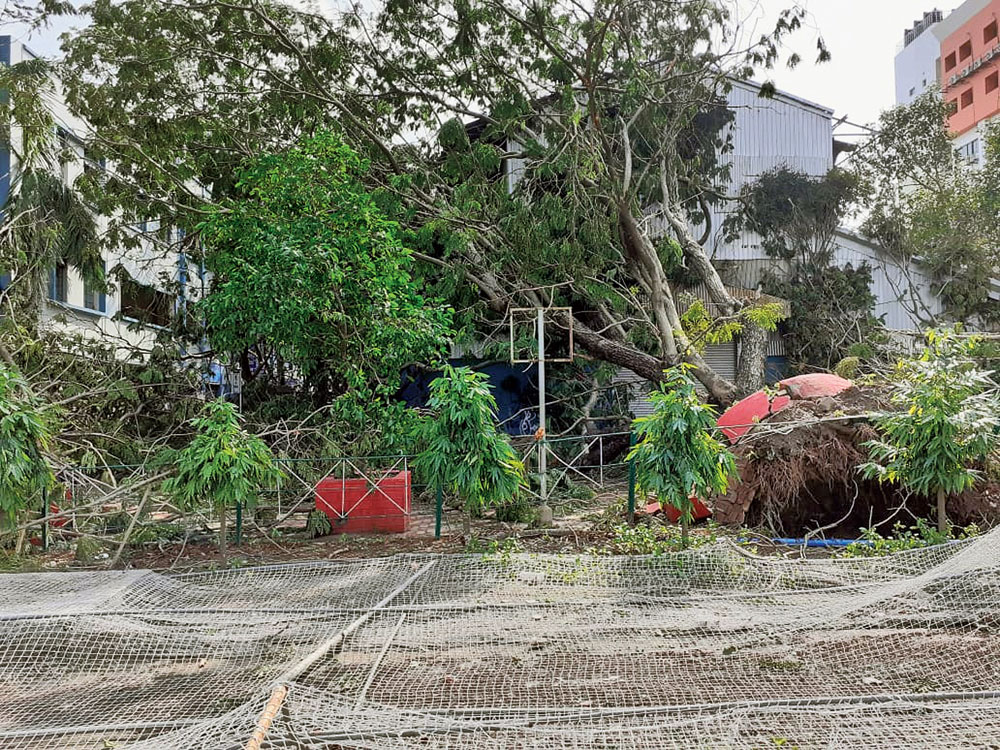 The passage to an eight-storey building from the engineering faculty students' union office was covered with trunks and branches. The stretch that runs along the railway line was inaccessible for a walk.
Rows of trees fell on the lane of Raja Subodh Mullick Road that goes past the campus. The lane was closed to traffic as none came to remove the trunk.
A portion of the boundary wall between gates 4 and 3 was razed to the ground.
Soumyajit Biswas, deputy director, eastern region, National Medicinal Plant Board, visited the campus to take stock of the loss.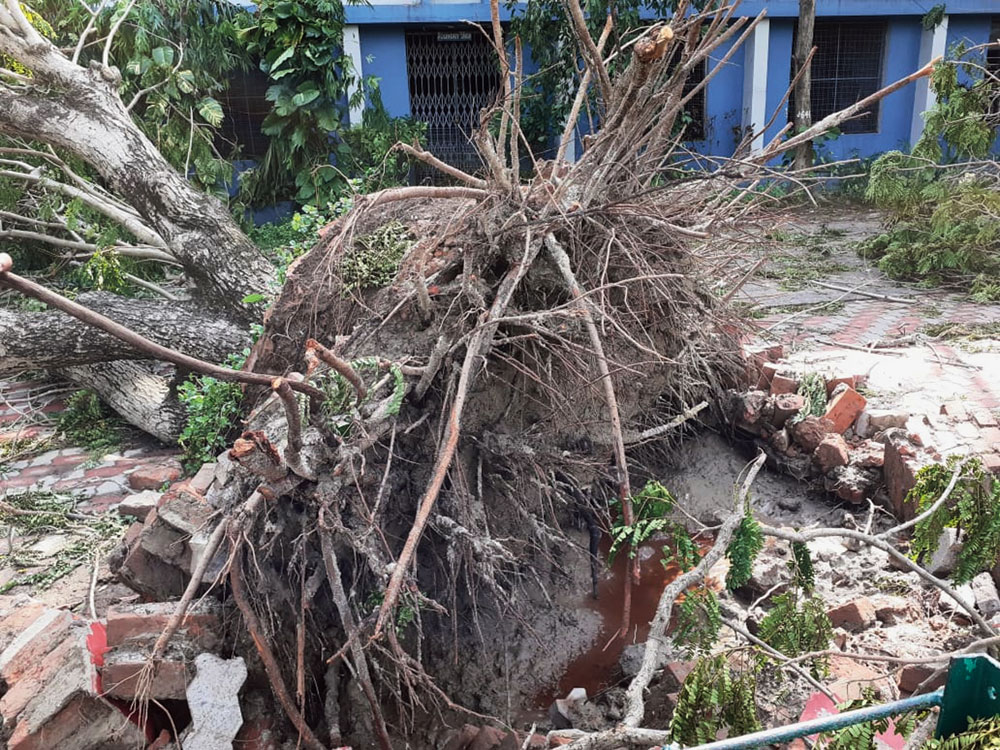 The university had engaged him last year to do an audit of the trees.
"The university has various rare species. We have to ascertain whether those were uprooted, too," said Biswas.
Pro-vice-chancellor Pradip Ghosh came to the campus in the afternoon to assess the extent of damage.
"When Aila had struck in 2009, the extent of loss to the greenery was less severe. JU would not look the same in the absence of the green cover. I am feeling sad," said Ghosh.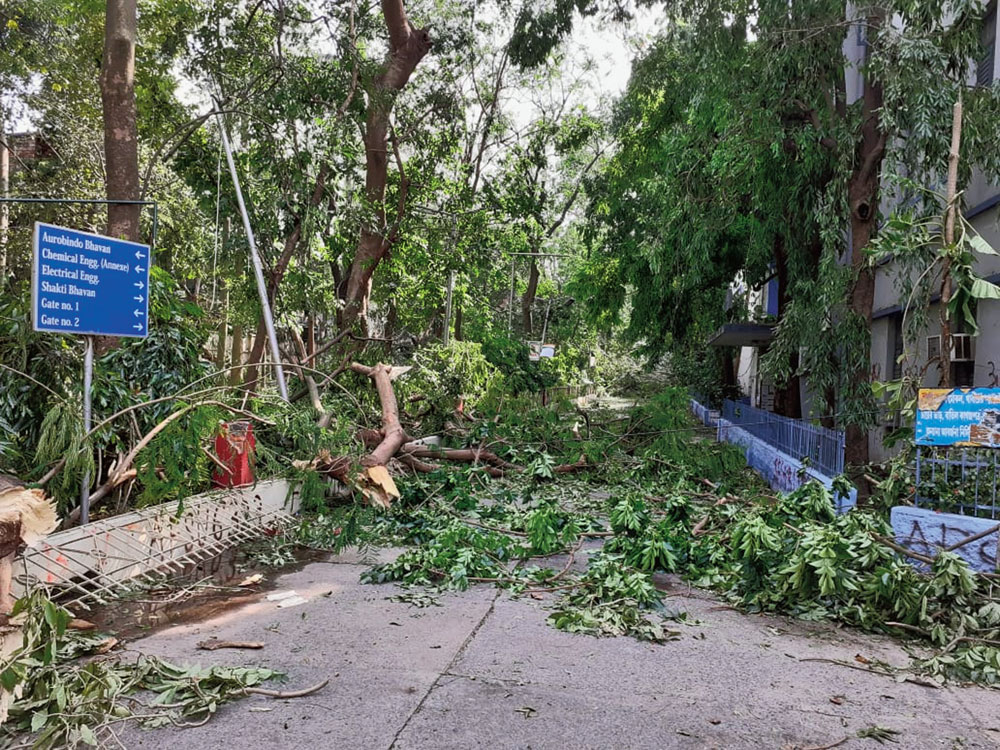 Abhijit Gupta, a former head of the English department who visited the campus on Friday afternoon, said: "I was extremely pained because of the loss of greenery. The campus has such a rich biodiversity. A part of it seems to have been lost."
Samantak Das, a professor of comparative literature, said they would soon raise funds so that a sculpture could be installed again.
"We would soon have it (the damaged sculpture) replaced," said Das.