Sidho-Kanho-Birsha University will provide 'Internet subsidy' to students
Each of them will be given Rs 500 in order to meet the charge of net usage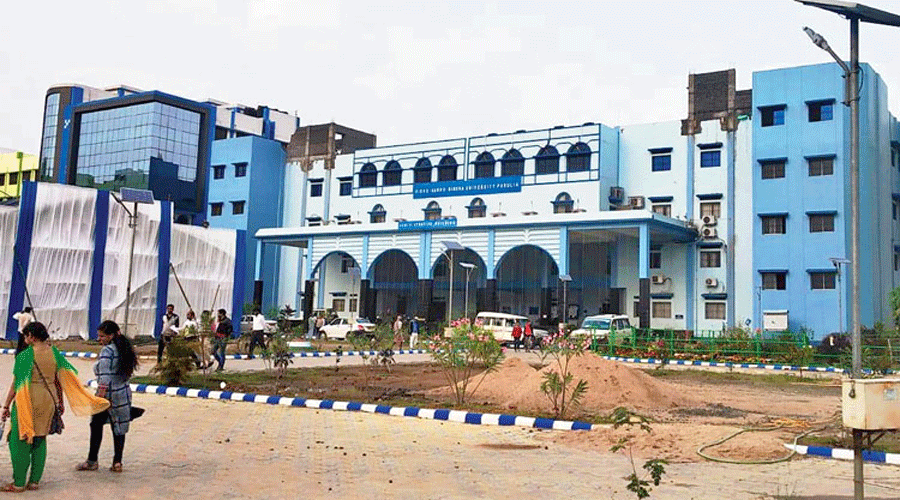 ---
|
Calcutta
|
Published 05.05.21, 01:51 AM
---
Sidho-Kanho-Birsha University in Purulia will give its students "internet subsidy" so they can attend classes on digital platforms.
Students will get Rs 500 each to meet their internet expenses "considering the extra financial burden of the students in this crisis period".
The university is spending Rs 12.05 lakh from its own coffers so that 2,500 students can receive the subsidy to recharge their data packs for three months, said vice-chancellor Dipak Kar.
Even semester classes started in April and will end in July.
Kar said the glaringly prevalent digital divide among a large section of students of the districts prompted the university to launch the subsidy.
"Starting January, we bought smartphones for around 50 students so they could attend online classes. But a survey revealed that over 40 per cent students can't even afford data packs. All of them come from disadvantaged sections. So, we have decided to help them," Kar told The Telegraph.
Most of the students are adivasis and are from Scheduled Castes and Scheduled Tribes. Their parents are daily wage earners, peasants, who have been pushed into greater financial distress during the pandemic.
There are areas in the district where internet connectivity does not reach. In those places, teachers conduct classes through a local community radio station.
A notice issued by the university's registrar on Monday said: "Due to the ongoing pandemic situation, students are compelled to access online classes for which they are to incur expenses towards the Internet usage. Considering the extra financial burden..."
The amount will be transferred to the students' bank accounts.
In October 2020, Raiganj University in North Dinajpur had sought Rs 57.05 lakh from the state education department to create e-resources and buy smartphones for students.
VC Kar said the teachers and staff of the university contributed funds to raise Rs 1.5 lakh to buy smartphones. "If we don't reach out to students they will lose touch with education... It appears that classes will continue to be held digitally. We will continue with our assistance in the next semesters,'' he said.
The problem is not restricted to students of universities in the districts.
"The higher education department wants classes to be held digitally but it has not released money to any state-funded university to address the issue of the digital divide. So, we have to again arrange funds on our own,'' said a VC who did not want to be named.