Portion of Lake View Road renamed Basant-Sarala Birla Sarani
Basant Kumar Birla, affectionately called 'BK Babu', was the son of industry doyen Ghanashyam Das Birla (GD Birla)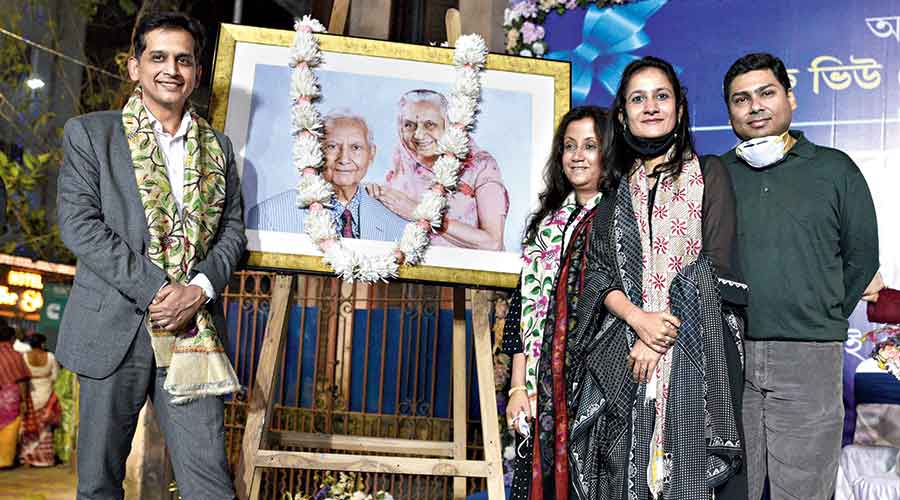 ---
|
Calcutta
|
Published 18.02.21, 03:34 AM
---
A portion of Lake View Road in south Calcutta was renamed Basant-Sarala Birla Sarani on Wednesday evening.
Basant Kumar Birla, affectionately called "BK Babu", was the son of industry doyen Ghanashyam Das Birla (GD Birla) and the patriarch of one of India's most illustrious business families.
Sarala Birla, to whom Basant Kumar Birla was married by Mahatma Gandhi, was the guiding force in his life. In an interview with this newspaper during the 69th anniversary of their wedding, Basant Kumar Birla had said that he never went ahead with anything without her approval.
The stretch of Lake View Road, between its intersection with Rashbehari Avenue and Anil Roy Road, was renamed Basant-Sarala Birla Sarani at a programme organised by the Calcutta Municipal Corporation.
The portion between Anil Roy Road and Southern Avenue will remain Ashoktaru Bandyopadhyay Sarani, the name which was given to the whole of Lake View Road earlier.
Vidula Jalan and Maitreyi Kandoi, grandchildren of Basant and Sarala Birla, were present at the programme on Wednesday. "We thank everyone for renaming this road after our grandparents. We are too emotional to say much today," Maitreyi said.
The honour for the Birlas comes at a time a debate has been raging about the identity of the "sons of the soil" and "outsiders". Chief minister Mamata Banerjee has accused the BJP of parachuting "outsiders" — leaders from several other states — to steer its election campaign in Bengal. The BJP has tried to turn that around and spin a narrative in which Mamata is someone opposed to the city's predominantly Marwari business community.
Speaking about the contributions of the Birla family
towards Calcutta's growth, Firhad Hakim, the chairperson of CMC's board of administrators, said: "They were 300 times more Bengali than me."
"Nowadays there is a lot of talk about insider and outsider. I think Basant and Sarala Birla were 300 times more Bengali than me. Or for that matter, R.S. Agarwal and R.S. Goenka (founders of the Emami group). Once upon a time, they came from Rajasthan to do business here. Today, they are sons of Bengal," Hakim said.
He also mentioned the Kandoi family, pointing towards Maitreyi's husband Vikash Kandoi, who was present.
Among industrialists present at the ceremony were Sanjay Budhia, managing director of Patton Group, and Sushil Goenka, managing director of Emami Ltd. "The Birlas are a rare breed of industrialists. They built such a large business when there was licence and quota raj. Post-liberalisation, it is easier to build business but it was not easy in that age," said Budhia.
Sources in the CMC said the reason for renaming Lake View Road after the couple was their close association with the Birla Academy of Art and Culture, which is about 20 metres from where Lake View Road meets Southern Avenue.
The website of the Birla Academy mentions the role of Basant and Sarala Birla in its foundation.
"It all started when Sri & Smt B.K. Birla, foremost industrialists of India, had started collecting rare and valuable treasures of art out of their profound love for art & beauty. With a sizeable collection in place, it was decided that such veritable treasure troves of history should be accessible to all. A public Charitable Trust was created in 1962 with a view to collecting, preserving and exhibiting art objects for the public," the website says.
This is the first road in Calcutta named after a Birla family member, many of whom made the city their home.
Painter Suvaprasanna had proposed to Mamata that the road be renamed after the two. "She immediately agreed and asked the CMC to do the necessary," Suvaprasanna told Metro.
Basant Kumar Birla was born in Calcutta and went to Hare School. Most of his business ventures are headquartered in the city such as Kesoram Industries Ltd and Jaya Shree Tea.
Even when Basant Kumar Birla was ailing because of age and he mostly spent time in Mumbai with his grandson Kumar Mangalam Birla, he expressed a desire to be back in Calcutta, at the Birla Park residence on Gurusaday Dutt Road.
"There are other roads in Calcutta named after illustrious Marwaris who lived or worked here. Banstalla Street was renamed Sir Hari Ram Goenka Street in 1938 and there is Jamnalal Bajaj Street in Burrabazar," said Debasis Bose, a former member of CMC's road renaming committee.
"Alipore Road was renamed RP Goenka Sarani after Rama Prasad Goenka passed away. Russell Street was renamed Anandilal Poddar Sarani and Pageyapatty Street was renamed Basantlal Murarka Road," said Bose.
Basant Kumar Birla built two institutions to promote art and at least six schools to encourage education, especially among girl children, mainly at the behest of wife Sarala Birla.