New Town highrise opens public library
A traditional brick-and-mortar library was inaugurated recently at Utsa Condoville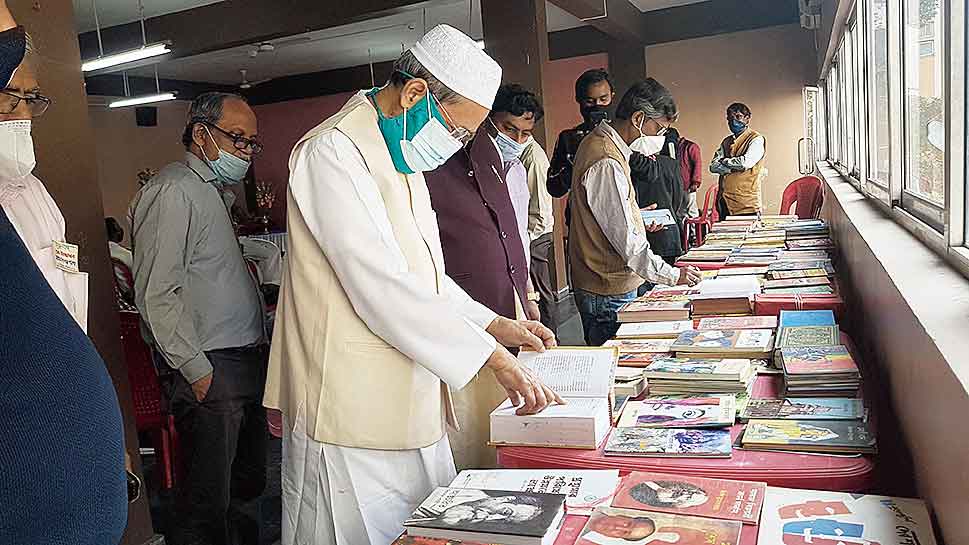 ---
---
Despite all the smart and digital libraries coming up, a traditional brick-and-mortar library was inaugurated recently at Utsa Condoville and it already has about 100 people waiting to enrol. Also, membership, for now, is free.
"New Town has many senior citizens who are not comfortable with technology. They prefer hard copies of books and it's for them that we took this initiative," said Basudev Mosel, co-founder New Town
Utsa Bandhob Pathaghar, that has come up near the Reliance Fresh outlet.
The event had several eminent guests such as minister of mass education extension and library services Siddiqullah Chowdhury. "It is commendable to have started this library but now go door to door and inform people about it. Get them to join, donate books and be involved. Even we are now introducing measures to make government libraries user-friendly. Global members can, for instance, visit any of our libraries and avail services," he said.
Also present were former political science professor of Surendranath College, Kumaresh Chakraborty, and Nitish Biswas, former joint registrar of Calcutta University. "The Bengali language, culture and heritage are in danger but the knowledge of books can protect it," said Biswas, a resident of Salt Lake's DL Block.
Aveek Majumder, professor of comparative literature at Jadavpur University and chairman, expert committee of the state school education (syllabus committee) felt libraries were once the greatest inventions of human civilisation. "It gives readers a world view, sitting within four walls. It teaches us to be open-minded and about the depth of human relationships. Books help develop a critical outlook in readers and make them question others instead of blindly following them," he said.
Hidco chief Debashis Sen mentioned how over 300 members had enrolled at their smart library since it opened in Nazrul Tirtha in November 2019. "We also have a library at the senior citizens' park Swapno Bhor, although newspaper and magazines are more popular than books there," said Sen, recounting
however, how Mosel had, for years, been trying to start a traditional library.
Mosel explained that neither are senior citizens savvy enough to read books digitally nor can they afford the Rs 1,000 membership at Nazrul Tirtha. "We have made membership free for the first six months and already have 100 people lined up for enrolment," said the resident of Eastern Grove who is also a researcher in the Bengali language.
Co-founder of the library is Saikat Ali Molla, the secretary of the Utsa Condoville residents' body. He has been instrumental in getting the space for the library free of cost. "This room, attached to our auditorium, used to be a storehouse of electrical supplies. We cleared it out and will be very happy to host readers. So many have donated their own books to the library and some, like Shibaprasad Bhattacharya, have donated funds to buy titles," he said.
The library will have novels as well as books on religion, research, for children etc. While the mainstay will be books in Bengali, there will be English and Hindi books too. "There are several non-Bengalis who have lived in the city for long and can speak but not read the language. We shall hold Bengali classes for them," said Mosel, who released his own book Boier Pathak o Pathaghar on the day.
The library will be open from 5pm to 8pm six days a week. The off day will be finalised soon.