Neglected lights put Salt Lake at theft risk
Residents say the street lights damaged by Cyclone Amphan on May 20 are yet to be repaired or replaced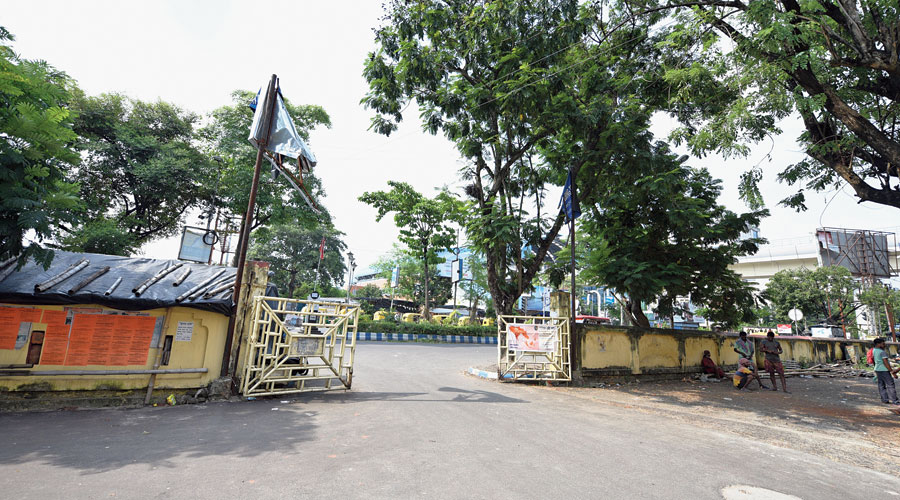 ---
---
Five theft attempts at Karunamoyee Housing Estate in Salt Lake's ED block over the past few nights have left residents jittery. While three theft attempts took place on Saturday night, two were reported on the night of August 31.
Residents said the street lights damaged by Cyclone Amphan on May 20 are yet to be repaired or replaced. The neighbourhood plunges into darkness at night, making it easier for thieves to strike.
On Saturday night, Soham Chakraborty, a resident of ED block, said he saw a man with a backpack climb over the main iron gate of a building that his flat overlooks.
He said he was talking on his cellphone while standing near a window of his third-floor flat when he saw the man try to jump over the locked gate. "I immediately started shouting and the man ditched his attempt at scaling the gate and ran," Chakraborty said.
Another resident said she saw a man with a backpack slung over his shoulder scale the boundary wall of the complex and run away.
Around midnight last Monday, corporate trainer Neena A. Ghosh Roy heard a noise and got up to investigate. Ghosh stays in a flat that is undergoing renovation. "Although it was dark, I could see that one of the windows of the room facing the elevator shaft was open and a man was peering inside. I immediately started shouting and the man disappeared. It was very scary," said Ghosh.
Alerted by her screams, Ghosh's daughter and husband rushed in and called the police.
When cops arrived and looked around the flat, they found a couple of slippers near the landing of the elevator shaft. "In all likelihood the man had climbed up the bamboo scaffolding put in place to facilitate construction work," said an officer of Bidhannagar East police station.
Later the same night, Sanghamitra Mukherjee, 69, heard a rustling sound coming from outside the bedroom of her ground-floor flat in an E Block building of Karunamoyee Housing Estate.
"I woke up and walked out. The construction of a new wing along with an elevator is on at our building and I saw that somebody had been pulling out plastic sheets covering the scaffolding. I raised an alarm but the person ran away," said Mukherjee, a former principal of Lady Brabourne College.
She said they were living in fear as the area around their building has been plunging into darkness after sundown since Amphan damaged street lights on May 20.
Sudhir Saha, the mayoral council member in charge of lights and parks of the Bidhannagar Municipal Corporation, said the contractor who repaired lights in the area had fallen sick. "Besides, most of his men have gone back home to Bihar. We are making do with very few people. I will ensure that the lights are repaired in the next few days," said Saha.
The police are probing the theft attempts but have not been able to ascertain whether it was the same person or gang behind all.
Several residents said police patrolling inside the housing estate was lax. "There is a police barracks on top of the Karunamoyee Municipal Market but... there is no patrolling at all," said a resident who did not wish to be named.
A senior officer of the Bidhannagar Commissionerate said that they would intensify patrolling inside the housing complex.