Music video to spread awareness about cyber bullying
It features Prosenjit Chatterjee, Mimi Chakraborty and Aryann Bhowmik and the song is written by Chandril Bhattacharya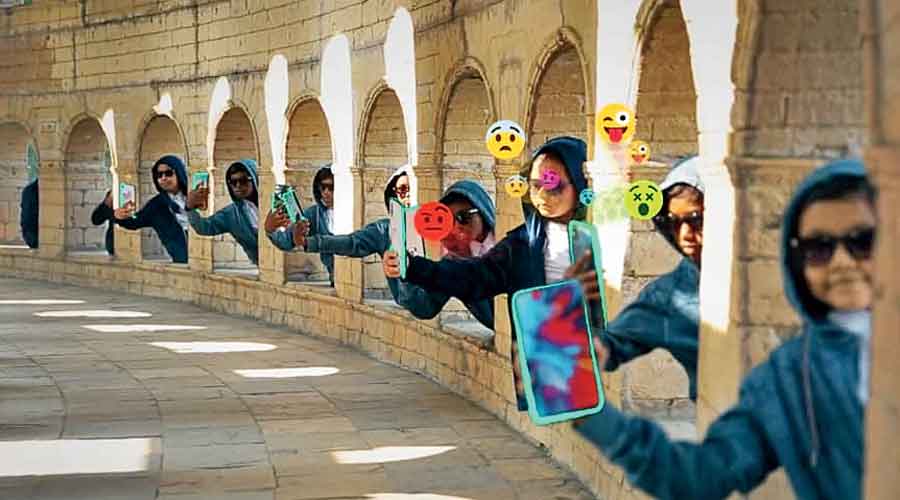 Stills from the video featuring children from theatre group Nandikar and an NGO in South 24-Parganas
Sourced by The Telegraph
---
Calcutta
|
Published 01.01.21, 02:40 AM
|
---
The state commission for child rights and Unicef have made a music video to spread awareness about cyber bullying amongst children and parents at a time when the use of the Internet has become almost indispensable for students.
The video, in Bengali, features actors Prosenjit Chatterjee, Mimi Chakraborty and Aryann Bhowmik and has been written by writer-lyricist Chandril Bhattacharya with "net e thakbo nishchoi kintu jaal e porbo na (we will be on the Net but we won't get trapped)" as its tagline.
The video will be launched on social media platforms on January 4.
The idea is to tell children about the dangers of the Internet and how to stay safe by being "informed" users. "Many are not Internet savvy, they know how to use it but not the pitfalls of it. We feel they should be made aware and there should be informed usage of the Internet," said Ananya Chatterjee Chakraborti, the chairperson of the West Bengal Commission for Protection of Child Rights.
Internet usage has increased during the Covid pandemic because of online classes. Children of all ages now have to be on the net.
The video has been done in rap style to make it appealing to children, said special consultant of the commission Sudeshna Roy.
"Children do not like sermonising and so, we decided to make it child-friendly," said Roy.
The actors tell them that they will be on the Internet — play and study but not get trapped in it. "Internet e khelbo, porbo tobu faad e porbo na (We will play, study online but not be trapped)" goes one of the lines.
"We want to tell them not to give out personal details. They should interact with a limited number of known friends on the Internet," said Roy. Around 26 children from theatre group Nandikar and an NGO in South 24-Parganas feature in the video. The music has been composed by Upal Sengupta and on the vocals are Anindya Chatterjee, Somlata Acharyya Chowdhury, Arka Ashish, Aruna and Upal. One of the versions also has actor Ditipriya Roy.
The video tells children to talk to their parents if they sense any danger.
Helpline numbers, 9836513000 (Calcutta police), 1098 and 9836300300 (state commission), have also been provided in it.