Livelihood crunch drives fishermen to jaws of tigers
At least 22 have reportedly been killed in the Sunderbans since January 2020 while laying traps to catch crabs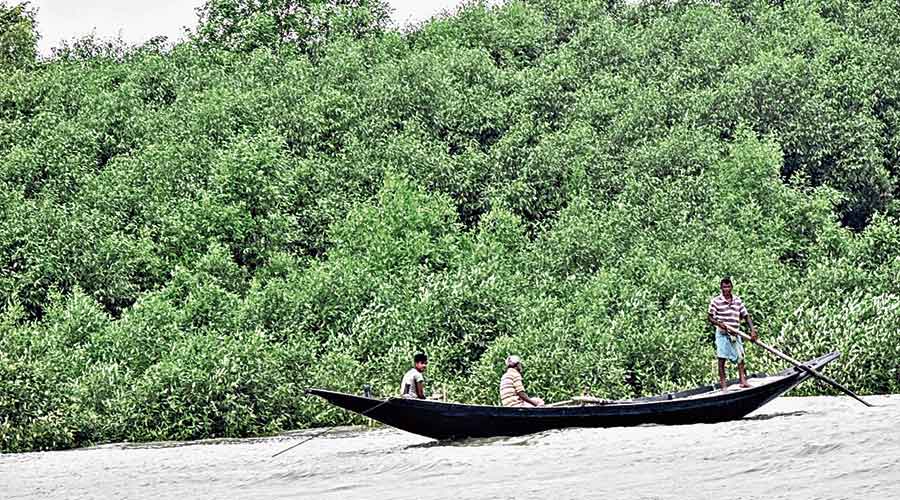 ---
---
The lure of crabs that fetch good prices is proving to be fatal for fishermen and inexperienced groups venturing deep inside the core areas of the Sunderbans to lay traps despite the risk of tiger attacks.
Metro had reported how two back-to-back tiger attacks on February 17 had left two fishermen dead.
With these two cases, at least 22 fishermen have reportedly been killed by tigers in the Sunderbans since January 2020, an official of the state forest department said. These, however, are official figures and actual figures may be higher.
According to a forest department official, fishermen spend three to five days in the creeks to lay traps to catch crabs.
"Once they return, they can sell their catch for Rs 30,000-40,000 in the wholesale market. The groups generally comprise five or six people. Sometimes three of them venture out on small rowboats to collect crabs," said the official.
The Covid pandemic has doubled the hardships and many people have become dependent on the forests for their livelihood.
Many of them are venturing deep into the tiger territory, risking their lives, to catch fish and crabs every day.
Licensed boats are allowed to fish in the rivers in the mangrove delta but venturing into the forests and shallow creeks is prohibited. The creeks draw fishermen because of crabs. But they are extremely dangerous because tigers often venture into these creeks.
Soumen Roy, a resident of Kultali, was mauled by a tiger deep inside the Pirkhali forest and Atul Baidya was attacked by a tiger in the forests of Benefeli. Both had ventured deep into the core area of the mangroves where fishing is prohibited.
A senior forest department official said directives were given to the fishermen on a regular basis. "We have time and again held awareness camps. We ask fishermen not to moor their boats in the creeks and get down to lay traps as that is when they are vulnerable to tiger attacks. However, the attraction of higher earnings leads them to venture deep inside the core areas," said the official.
Tempers, however, are frayed in the region because of the series of deaths.
Forest department officials have been holding meetings with panchayat pradhans, members of the joint forest management committee and villagers from the Sunderbans asking them not to harm tigers if they spot one.
According to Tapas Das, the field director of the Sunderbans Tiger Reserve, regular boat patrols are conducted in the core areas and fishing boats found moored along the creeks are asked to move away.
"We actively discourage them but the lure of money is too high and they are fully aware of the risks involved," said Das.
Awareness campaigns in the villages will be held where fishermen will be asked not to go into core areas, he said.
Migrant youths who had returned home during the lockdown opted for fishing and are desperate to earn a living, villagers said.
It is a challenge for a boat with around five personnel to keep a tab when hundreds of fishermen venture out, an official said. "There is no denying that several boats manage to enter the creeks in the core areas."
"We have taken up awareness drives among fishermen, urging them not to risk their lives and to try alternative sources of income like apiculture (bee-keeping for honey), but it appears that the lure of the earnings that crabs fetch is stronger," an official said.
Metro had reported on Wednesday that a patrol vessel equipped with searchlights was deployed by the forest department on Tuesday to prevent fishermen from entering and mooring their boats deep inside the Sunderbans.