New Town: Land allotted for research facility named after Jyoti Basu
A signboard was unveiled on July 8, the 108th birth anniversary of the former Bengal CM, at Action Area IIA in the presence of top CPM leaders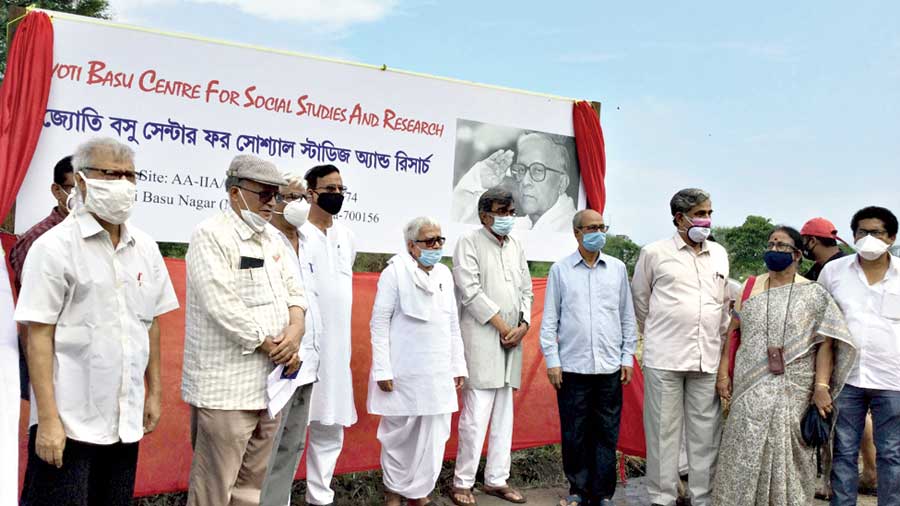 Left Front leaders at the unveiling of a signboard on the plot allotted for the research centre named after Jyoti Basu in New Town
---
Salt Lake
|
Published 23.07.21, 12:17 AM
|
---
Land has finally been allotted for a research facility named after Jyoti Basu in New Town. A signboard was unveiled on July 8, the former chief minister's 108th birth anniversary, in Action Area IIA in presence of top CPM leaders like Biman Bose, Surjyakanta Mishra, Mohd. Salim. Sujan Chakraborty and Gautam Deb.
"The institute will undertake research on social issues. Party members who are involved in various movements or have a research background will come forward from across the country. Basu contributed so much to take society forward right from the time he got involved in trade union movement on his return from England. Also he always tried to keep himself updated," said Rabin Deb, secretary of Jyoti Basu Centre for Social Studies and Research, as the centre has been named.
The centre will house an exhibition, a museum, rooms to board researchers and a seminar hall. It is a five-acre plot. "We completed registration in November and the mutation was done in February. The building plan is being prepared for submission," he added.
Both Deb and Left Front chairman Biman Bose, who is also the centre president, pointed out that the land had been sought more than a decade ago. "We had applied for the plot in 2010 and cleared payment while Gautam Deb was still the housing minister. But the new government kept dillydallying, even claiming that the plot was under litigation. We did not force the matter and preferred to wait. Finally things moved in 2019 after the chief minister intervened. We are glad that good sense has prevailed," said Rabin Deb.
Till the building plan is ready for submission and approved, the organisers are unable to specify how many floors the facility will be. "We do not need a tall building as the plot is sufficiently large," the secretary said.
An appeal has been made to the public to donate things linked to Basu's life. "We had collected his personal memorabilia from Indira Bhavan (his official residence in Salt Lake) after Basu expired. They are stored in Alimuddin Street (the party headquarter). There are things he received as gifts during his tours. He did not have much personal belongings other than things of day-to-day use," he added.
The organisers do not accept that a museum on his life would run contrary to the communist abhorrence of worship of the individual. "We are not worshipping the individual but his contribution in history. We are trying to preserve what the individual did for society — how he undertook land reforms, multiplied food production, made primary education free…"
The leaders also planted mahogany saplings on the plot.
Write in to saltlake@abp.in