Calcutta Metro pass relief for senior citizens
Officials said 27,100 passengers travelled on Tuesday, compared with 20,000 the day before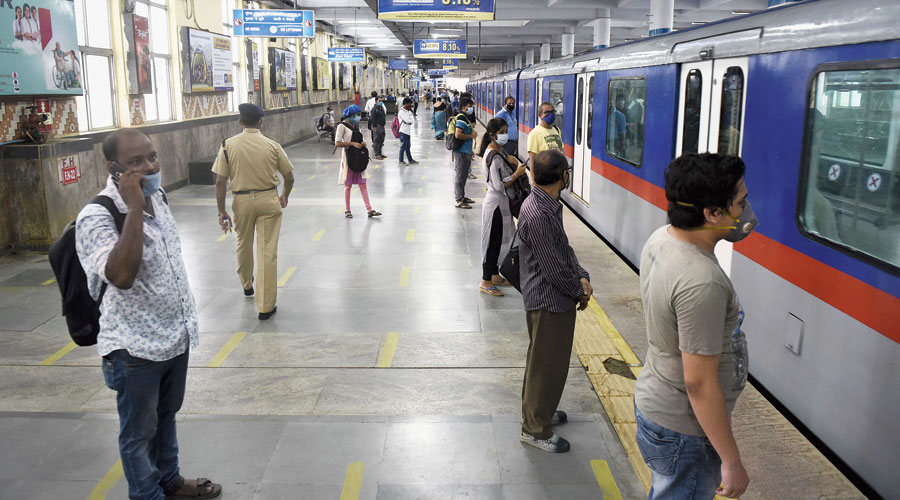 ---
|
Calcutta
|
Published 16.09.20, 04:34 AM
---
Metro trains ferried a little over 27,000 people on the Noapara-Kavi Subhash (New Garia) route on Tuesday, a jump of 7,000 over the previous day when the carrier had resumed commercial service for all following the Covid-induced suspension.
On Tuesday, Metro announced that "senior citizens" (60 years and above) would be able to enter stations without e-passes from 11.30am to 4.30pm. The first and last trains leave the terminal stations at 8am and 7pm, respectively.
Senior citizens have to bring an identity proof — PAN card, Aadhaar card, driving licence, passport or voter card — to enter the station and will need a smart card to board a train. The tech barrier had prevented many aged people from availing themselves of the service and most of the seats reserved for senior citizens on trains were vacant on Monday and Tuesday.
"Many senior citizens might have problems in getting familiar with the technology of booking e-passes. They can now enter Metro stations by showing an identity proof," Metro spokesperson Indrani Banerjee said on Tuesday.
Metro officials said 27,100 passengers travelled by Metro on Tuesday, compared with 20,000 the day before.
Around 57,000 passes were booked on Tuesday, compared with the 53,000-odd on Monday, said the developer of the e-pass technology. An e-pass is needed for entry into a Metro station and a smart card for boarding a train.
"The gap between bookings and actual trips will come down gradually," said a Metro official.
Like the previous day, the morning and evening office hours saw queues at some stations, most notably Dum Dum and Tollygunge, on Tuesday.
From 9am to noon, the queue at Tollygunge kept getting longer every time a new slot was approaching. The 8am to 8pm operations have been divided into 12 one-hour slots.
Around 9.55am, there were over 50 people in the queue. Around 10.40am, Metro tried booking a pass for the 11am-noon slot but none was available.
Several passengers were yet to get familiar with the system of booking passes. Across stations, there were people seeking help from Railway Protection Force and police personnel for booking a pass. Around 10.15am at Tollygunge, a civic volunteer who seemed well versed with the system was surrounded by at least 10 passengers who sought her help.
One of them was Durgacharan Dutta, who sells card-swiping machines for a private bank. The Bansdroni resident saw the civic volunteer helping others in booking passes and approached her for help. Dutta, however, could not find a pass for the 10am-noon slot and booked one for the next slot.
"It's okay. The system is new and people will take time to adjust. But Metro resumption is a big help. Riding a scooter from Tollygunge to Dalhousie takes over 40 minutes. An air-conditioned Metro ride takes half the time," he said.
In the evening, scores of passengers were seen trying to book passes outside Dum Dum, Esplanade, Park Street and Tollygunge stations.