How Calcutta is preparing to tackle cyclone Yaas
Calcutta Municipal Corporation and Bidhannagar Municipal Corporation will deploy small teams in each wards to deal with emergency situation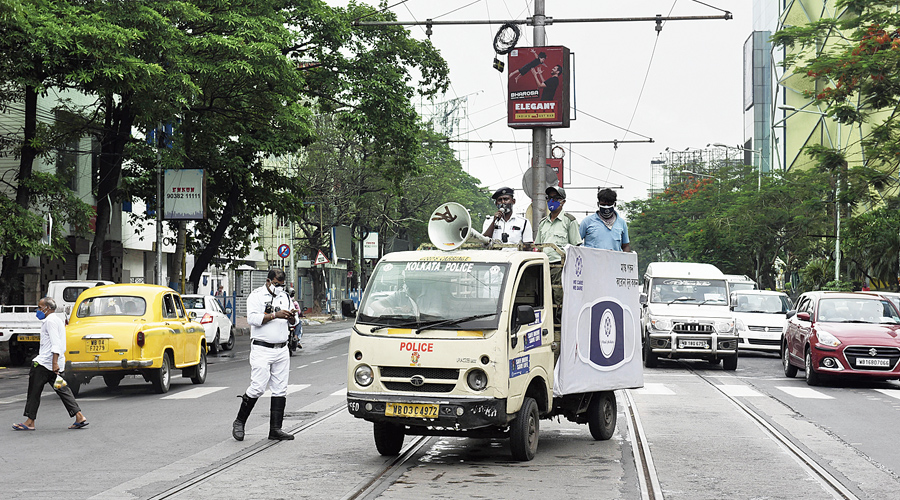 ---
Calcutta
|
Published 25.05.21, 01:17 AM
|
---
Every ward under the Calcutta Municipal Corporation will have a team comprising personnel from the civic body, police and the power utility so the response to the impact of the impending storm is better coordinated than it had been after Amphan had devastated the city a year ago.
The decision to have many small teams stationed locally was made at a meeting attended by senior officials of several agencies and presided over by the chairperson of the Calcutta Municipal Corporation's board of administrators, Firhad Hakim.
The Bidhannagar Municipal Corporation, too, will deploy such a team in each of its wards.
This is a change from how several agencies delivering utility services performed after Cyclone Amphan in May last year. The Telegraph had reported then that the first such coordination meeting involving multiple agencies took place after the storm had wreaked havoc.
Teams are being stationed at the ward level to ensure faster movement and action and mitigate people's sufferings at the earliest.
Following Cyclone Amphan last year, the delay in movement of relief and rescue teams had led to delays in salvage operations.
Delays created newer problems. In a Lake Gardens neighbourhood, a CMC team had reached first to remove fallen branches of a tree. But the civic team could not begin work as no team from the power utility company, CESC, was present.
Later, when a team of the power utility company arrived, they did not cut off the power line in the absence of a civic team.
In many places, internet services were restored only to be snapped again as civic teams cut the internet cables to chop off broken and hanging trees and their branches. Officials of civic bodies said people would not be harassed so much this time because there is better coordination.
"The clear instruction is that the power supply has to be restored as fast as possible. People should not have to be in a situation where they do not have water in their taps, and the fans and lights in their homes do not work," said a senior CMC official who attended the meeting presided over by Hakim on Monday.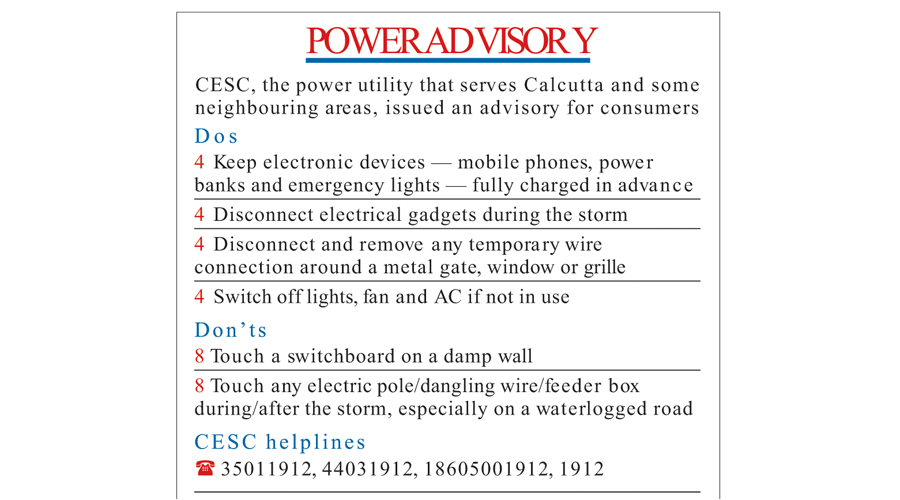 "The civic teams will go with power utility teams to any place from where we receive reports of tree branches hanging on electric cables. We will work together. CESC will cut the power supply. Our teams will remove the tree branches and power will be restored again."
The civic teams in the wards will have hydraulic ladders, earthmovers and other necessary equipment. Some of the ladders have been hired from private agencies so that relief operations are not halted because of lack of equipment.
Apart from the teams in every ward, the CMC will keep hydraulic and other teams on standby in strategic locations like the Ruby crossing and the Science City crossing so that these teams can rush to any location where additional help could be required, said a CMC official.
Each ward of the Bidhannagar Municipal Corporation, too, is going to have a team consisting of personnel from the West Bengal State Electricity Distribution Company Limited (WBSEDCL), the civic body and the police.
Avijit Ghosh, vice-president (distribution services), CESC, said the company's primary responsibilities were to restore power and cut off supply where necessary to chop off trees or branches hanging precariously over a road or electric cables.
"We will work in close coordination with the police and the civic body," Ghosh said. "We will also do preventive power cuts where necessary, especially low-lying areas prone to waterlogging. Also, we will focus more on all Covid centres and hospitals to ensure power supply is not interrupted. We are also trying to create a database of safe homes and beds with oxygen for Covid patients set up by the community. We will try to provide uninterrupted power to these places."